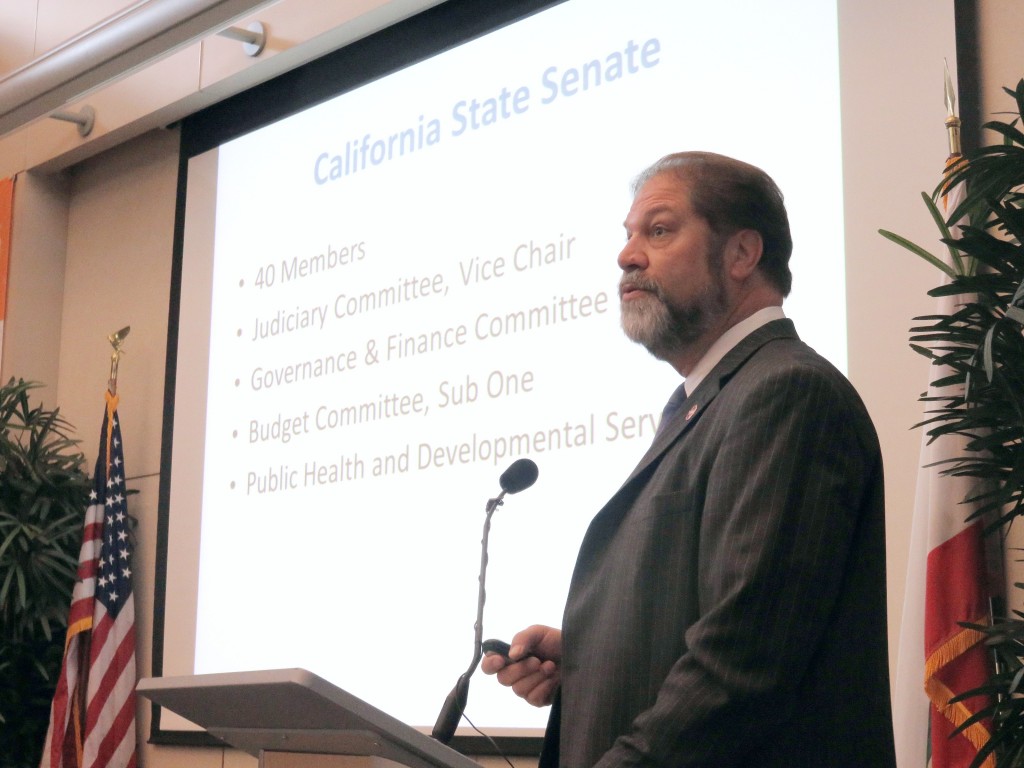 Newporters got the inside scoop on Sacramento straight from the source last week at an early morning meeting with a California politician.
Former Orange County Supervisor and current Senator John Moorlach spoke at the Newport Beach Chamber of Commerce's monthly Wake Up! Newport meeting, held Dec. 3 in the Friend's Room at the library.
Moorlach spoke about the fiscal health of the state, budget priorities, transportation and Caltrans reform, and more.
"I want to focus on fixing California's finances," Moorlach said.
The California fiscal condition ranks poorly, he noted.
The unfunded pension is one of the biggest problems. California has the nation's highest unfunded pension obligations at $140 billion, which a conservative number, Moorlach said. Reform is needed, he added.
Another issue is that companies are leaving California because of a number of issues that make it difficult for them to prosper. The state's major export is people, Moorlach joked, because residents are moving elsewhere for better business opportunities. The goal is to have a business friendly state where they can thrive, he commented.
The budget priorities have changed in recent years. During the 2008-2009 fiscal year the state spent the most money in k-12 education, just under $40 billion, according to a graph Moorlach displayed. The budget for the 2015-2016 year revealed that health and human services took the top spot this time around. While the budgets for both grew, each hovering around the $50 billion mark, education came in at a close second.
The budget priorities also showed that the state has paid the least amount of attention to transportation. The state has not made it a priority, he noted.
"The state has intentionally not done anything with fixing our roads," Moorlach said.
California outsources about 10 percent of transportation and maintenance projects, which is tiny compared to other states that outsource between 50 and 80 percent. It would save a significant amount of money if California stepped up and started contracting projects out, he noted.
Caltrans reform needs to be a priority, Moorlach said.
He mentioned a report from the State Legislative Analyst's Office that came out in May of 2014.
The report explained that out of the 20,000 Caltrans employees, about half are architects and engineers. They found that they are overstaffed in that area by 3,500 employees.
"It's just staggering," Moorlach commented. "There are 3,5000 of these guys that have nothing to do."
That group of 3,500 overstaffed people are paid an average of $143,000, he continued, which totals to about half a billion dollars that taxpayers are paying "for people to do nothing."
"The math is not pretty," he added.
These are just a few of the issues that face California, Moorlach noted.
For more information, visit district37.cssrc.us and newportbeach.com.