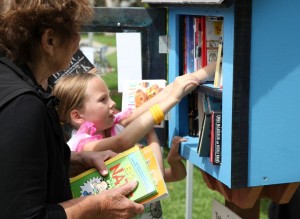 Newport Beach has a main library and several branch libraries, but recently a new independent library opened in Eastbluff at a neighborhood park on the corner of Basswood and Alta Vista Drive—but don't drive too fast or you'll miss it.
The new library is called the Little Free Library, part of a worldwide movement launched five years ago in Wisconsin to promote literacy and the love of reading through free book exchanges.
According to information provided by Eastbluff resident Sharon Esterley, the Little Free Library (about the size of a large wooden bird feeder) contains "books for children and adults that may be borrowed for free, with book donations refilling the shelves though a continuous flow of quality reading material."
Built and supported by volunteers, it's a "take a book, return a book, or both" gathering place where neighbors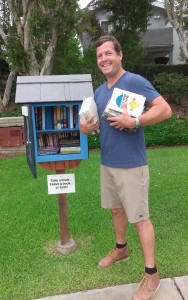 share their favorite literature and stories.
"In its most basic form, a Little Free Library is a box full of books where anyone may stop by and pick up a book (or two) and bring back another book to share," said Esterley, whose chance encounter with a Little Free Library "in the wild" in Connecticut led her to convince the Eastbluff Homeowner Association Board of Directors to approve adding one to the park.
Esterley said local resident Chad Sparks, who makes one-of-a-kind furniture using naturally distressed slabs of timber, volunteered to donate the materials and build it.
"Children and adults alike have visited to borrow books, donate others and add a note to the guest book," said Esterley. "Library steward Nancy Kerr lives nearby and looks over the collection with other volunteers from the neighborhood. She stores extra books to replenish when needed and recirculate if some don't move out."
Esterley noted that "the enjoyment of literature at all levels helps build a sense of community as we engage skills, creativity and wisdom across generations."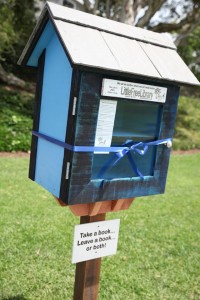 The Little Free Library was officially dedicated on June 28 with a ribbon cutting ceremony and book exchange. It was stocked and opened in time for the community's July 4 Picnic in the Park.
"I wanted to give it lots of exposure so people will find and use it," said Esterley. "We started out the day overflowing with books, so I set up a table for extras. By party's end, the remainder all fit back in with room to spare."
The Little Free Library holds 50 to 80 books, depending on size. There are two shelves that hold paperbacks, larger hardbound, and a few giant children's books, plus a guest book where people can leave notes and kids can draw pictures.
"We rack the books upright, then pile a few in front without hiding the ones in back," explained Esterley. "It magically gets stuffed again. We may need to add a third shelf soon. The contents ebb and flow—sometimes they're falling out the door, sometimes space is visible on the shelf."
When asked if this is the first Little Free Library in Newport Beach, Esterley said "I hear there's a Little Free Library on Balboa Island, and I saw one in a front yard on Ebbtide in Harbor View Hills. There's allegedly one at the Great Park. It's a growing movement. I've got to say, the kids love it and adults are poking around in the stack too. It's a great way to bring the neighborhood together."
For more information on the Little Free Library movement, visit LittleFreeLibrary.org.