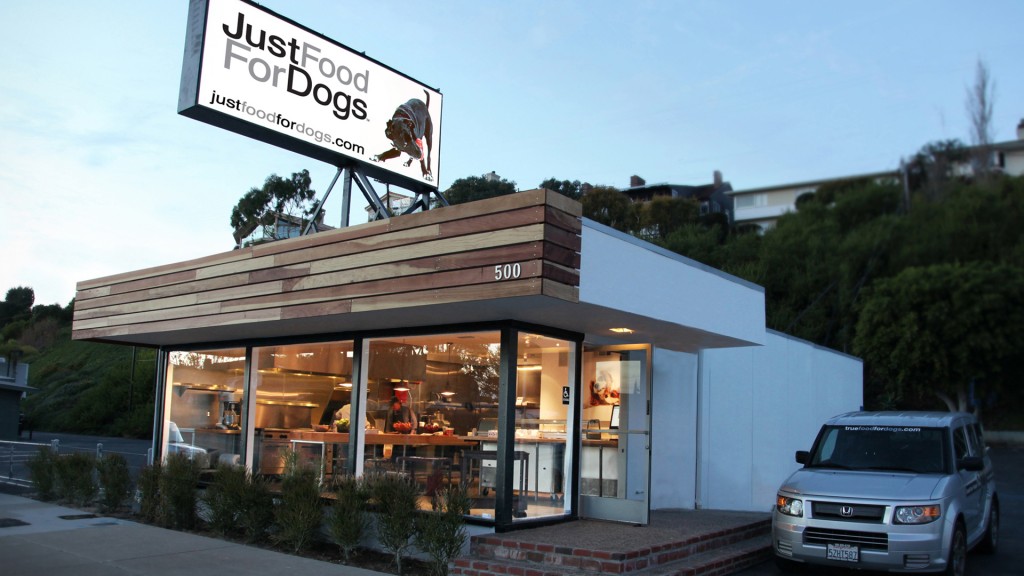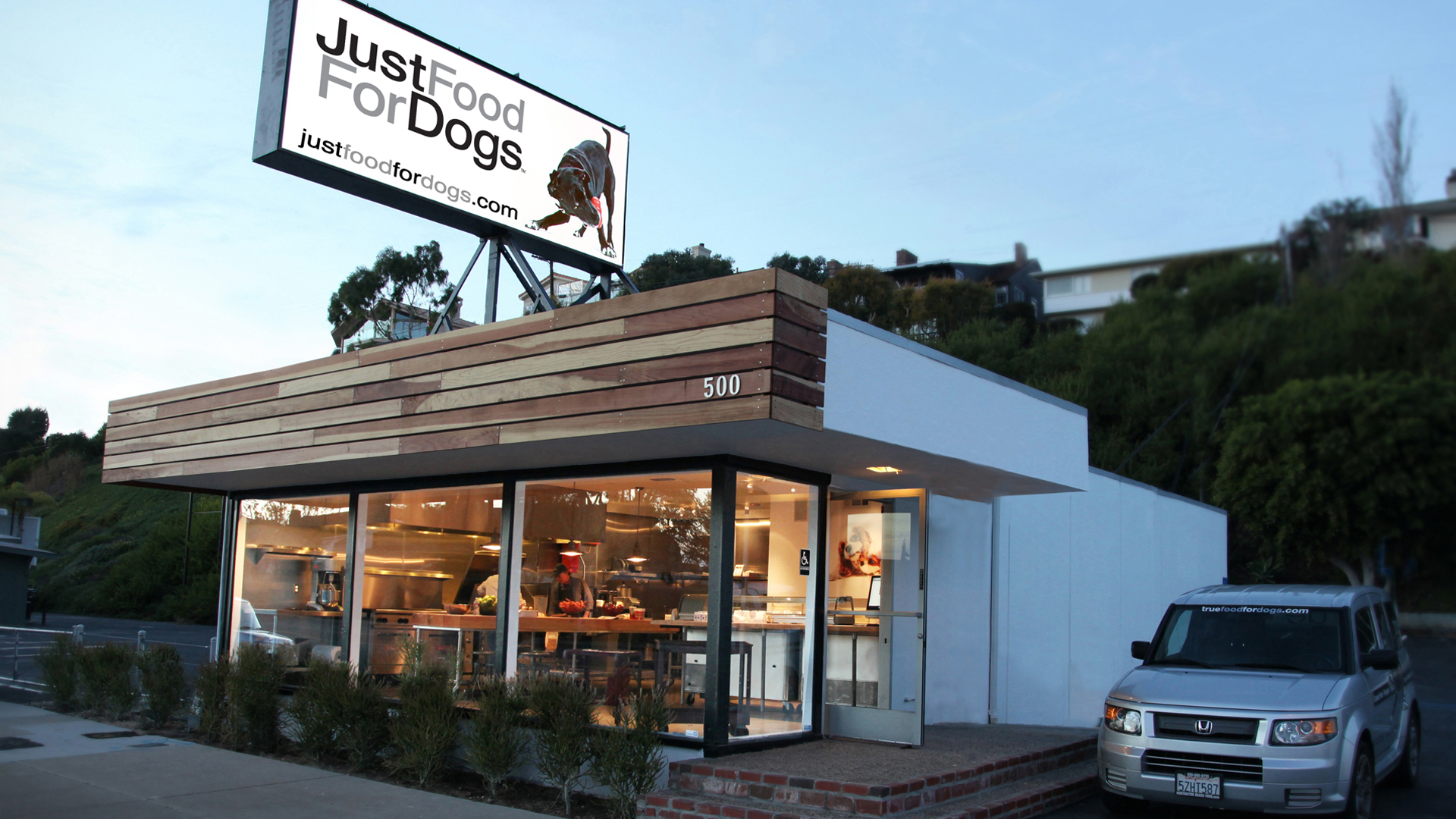 Like most drivers who were stuck in traffic along Mariner's Mile during the months of road construction, I had a chance to look around at the business along Coast Highway that I previously had sped past.
One of those kept catching my eye—Just Food for Dogs, a small stand-alone building that looked like some sort of fast-food restaurant for canines.
Eventually, my constant curiosity made me contact Just Food for Dogs founder Shawn Buckley to learn what his business was all about.
"It started four years ago because I wanted to make the lives of dogs longer and better," Buckley told me as we toured the flagship Newport Beach store, one of five Just Food for Dogs locations with more on the way.
"I found out what was in dog food and said we have to do something about it," he continued. "We found this location and opened our doors. Coast Highway is busy, people drive by and wonder what we are, because we have big windows and you can see us actually cooking stuff."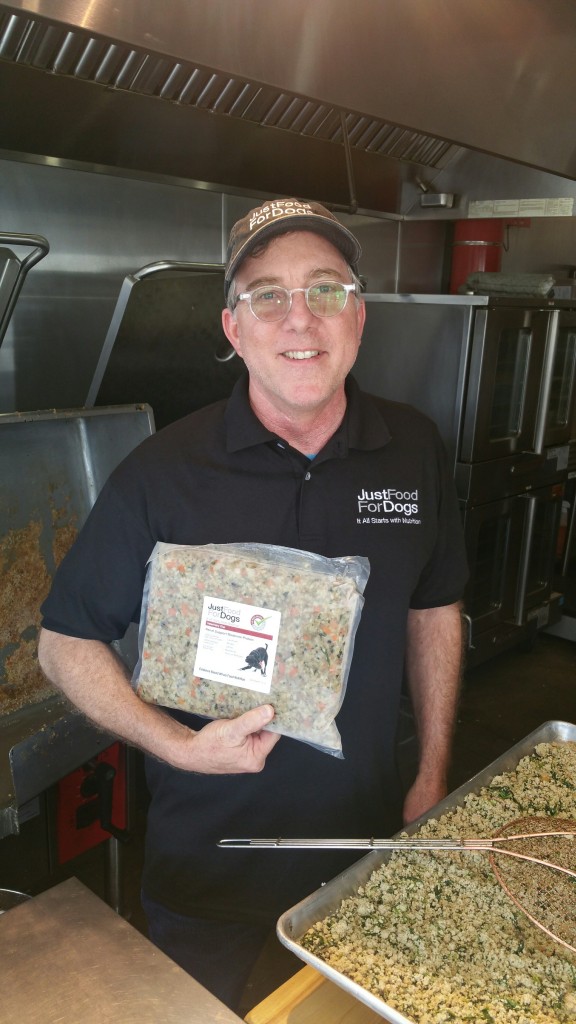 Buckley, who used to live in Newport Beach but sold his house to help fund his fledgling business, said that when the Newport store first opened, they were making around 500 pounds of food a week. Now, between all five stores, they make 28,000 pounds of food a week.
This is no ordinary dog food. Everything is made by hand in small batches. Ingredients are locally sourced and certified by the USDA for human consumption, with no preservatives, fillers or by-products, and many ingredients are certified organic. Meat and poultry is hormone and GMO free, and all the fish used in the recipes is wild caught and sustainable.
"We use real food—chicken, chicken thighs with skin or skinless, spinach, carrots cooked in the oven. It's all restaurant grade," confirmed Buckley. "We use the same company that A Market down the street buys from. They deliver to A Market, then to us, then to Panini Grill. You can eat anything we make."
Buckley said when he started, he consulted with a veterinarian who specialized in canine clinical nutrition. The vet now works for Just Food for Dogs, and a second vet was hired last year. They contributed to the regular selection of foods sold by Just Food for Dogs as well as a line of prescription diets used to manage diseases. The food is sold to more than 80 veterinarians in Southern California, and they can make custom formulations for sick dogs.
The Newport store is so popular that they can only make about 80 percent of the food that is sold there; the other 20 percent comes from another location.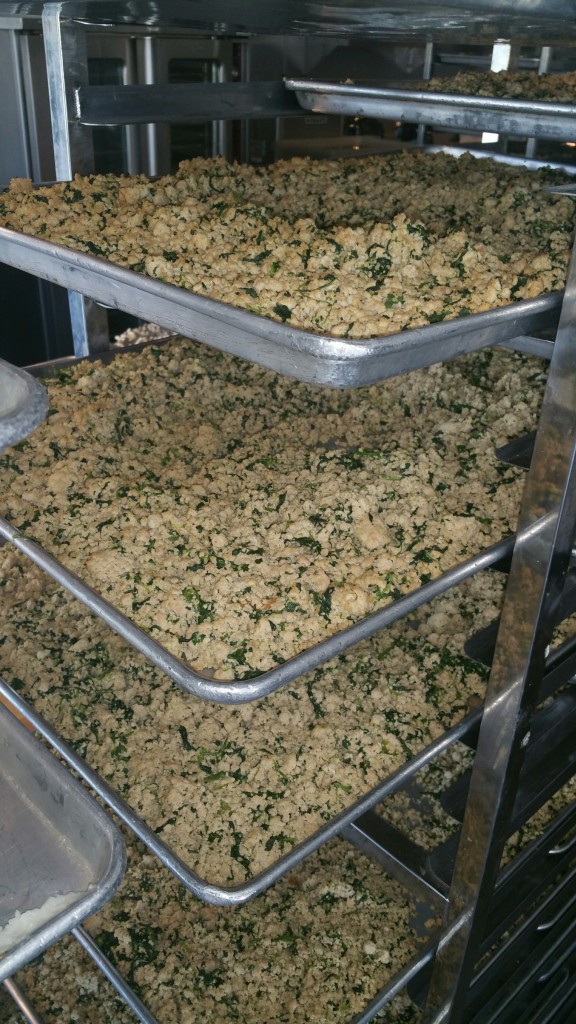 People in Newport Beach love their dogs, and they want the best," noted Buckley. "It might cost about $35 to $40 more a month than regular dog food if you have a 30 pound dog, but it's a magnitude better."
Another interesting aspect of Just Food for Dogs—the recipes for the various blends that the company makes are available on its website.
"From day one, we gave away our recipes, we have made them free," said Buckley. If you don't want to buy anything, you can get the recipe. We just want people to stop feeding their dog from a can or a bag."
Naturally, I wanted to see if Spencer, our unofficial Indy mascot (a Maltese and poodle mix) liked the Just Food for Dogs recipes. Buckley suggested gradually weaning him off of his normal canned food by introducing small amounts of Just Food for Dogs with the other food, and gradually increase the amount.
However, Spencer scarfed down the chicken and rice blend and wanted more. He also enjoyed the venison and sweet potato blend, but turned his nose up at the beef formula—although when I gave the beef package to fellow Indy writer Catherine Del Casale, she said her dogs gobbled it up.
For more information, visit JustFoodForDogs.com.