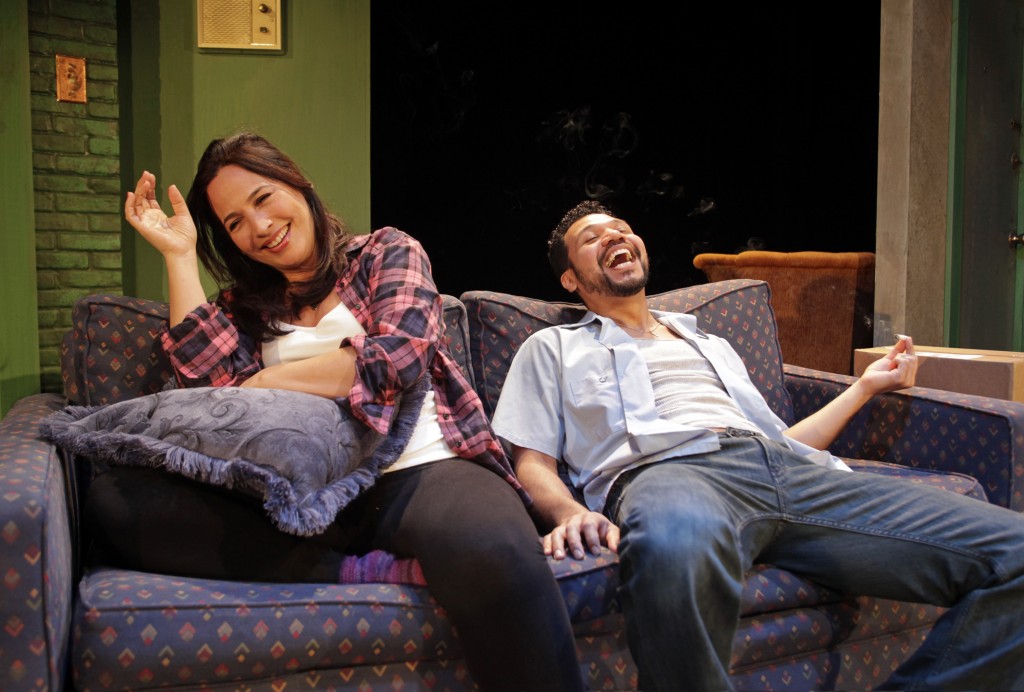 By Tom Shelton │ NB Indy
It's too bad that all the kerfuffle over a play's title – "Motherf**ker with the Hat" – might keep some audiences away from a worthy new American play.
They'd miss a play that is accessible, painfully funny and never less than supremely human.
They'd miss a tour de force tsunami of fresh, ferocious language by a gifted writer who hasn't forgotten that the power of the live spoken word is the theater's not-so-secret weapon; the thing it can still do better than any other medium.
And this just in: all that filthy language is not so shocking after all.
Nor, importantly, is it gratuitous. It's raw, but it's justified.
The time is now and the place is a series of less-than-upscale Manhattan apartments. Veronica and Jackie have been dating since the 8th grade. Now 30-something, Jackie has recently landed a job as a porter in an apartment house, a tremendous step forward toward normalcy and stability. Jackie has been in jail a lot, in connection to his intractable booze and drug addictions. Jackie loves Veronica, Veronica loves Jackie, and they're just about to celebrate in the sack when Jackie spots another man's hat on Veronica's table. Veronica denies everything, but Jackie, in a rage, vows he will stop at nothing short of uncovering the whole, awful truth.
Jackie's platitudinous AA sponsor, Ralph, gets pulled in to the quest, as does Ralph's malcontented wife Victoria, as does Jackie's wise and long-suffering cousin Julio. What follows is one part suspense drama to one part sex farce – albeit one that wears a grotesquely tragi-comic mask.
We soon enough learn there isn't anyone onstage who isn't addicted to something. None of them is "clean" enough to resist betraying someone else. Including themselves.
Addiction, its insidious power, is central to the play's story, and Guirgis neither glamorizes it, nor moralizes against. They are fighting the good fight and he is right there beside them. That they are, more often than not, losing the good fight inspires the comedy. We like these people, and despite their all-too-human foibles we are rooting for them to succeed, to become "clean" for good. Our initial indifference (even revulsion?) evolves into compassion, and by play's end into something very close to heartbreak. It is the remarkable achievement of the play.
South Coast Rep should be very proud of this production. The actors (Christian Barillas, Larry Bates, Elisa Bocanegra, Cristina Frias and Tony Sancho) are fearless in the face of the raw emotional honesty the play demands from them. They are a magnificently committed ensemble of artists at the top of their game.
Yes, the language is hard, and sometimes hard to take. But the so-called dirty words act as connecting tissue, making rhythmically possible the swooping flights of quirky, sometimes even delicate imagery. This is contemporary New York City street patois that is downright Elizabethan in its punch, density, and musicality. It's assault upon the ear (and heart and mind) over 120 intermission-less minutes is at once exhausting and exhilarating.