Everyone starts out the new year with a bang — on fire to lose twenty pounds, or go back to school, or stop smoking. But as we reach the twilight days of January, many of us are running out of steam, and all those resolutions are starting to drop like flies.
That cheeseburger is looking really good, you realize you are still too busy to take those classes, and darn it, you deserve a cigarette, right?
Under Cover is here to help. While it might be difficult to stay on top of all your goals individually, if you can double up, it should be easy, right? And, by killing two birds with one stone, you can add multitasking to your list of resolutions fulfilled.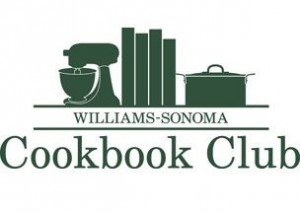 Maybe you wanted to prepare more meals at home, and learn to cook healthier. Perhaps you intended to join a book club. If both of these items fall in line with your personal agenda, Williams-Sonoma may be the answer to your self-improvement woes.
Enter the Williams-Sonoma Cookbook Club. Part book club, part cooking class, and part gourmet sampling, it is a tasty way to stay on top of your checklist, and keep those goals on track.
Each month, the South Coast Plaza location holds a cookbook club meeting, showcasing that month's book selection. The classes last between one and a half to two hours, and the $75 fee includes a signed copy of the selected book, and a ten percent discount on in-store purchases the day of the class.
Each class also features cooking tips and techniques from one of the store's skilled chefs, as well as a three course tasting menu, chosen from the book's best recipes, and prepared while you watch.
The next selection, coming up for February's club meeting will be "Good For You," a book from the store's own line of cooking manuals. Sounds like a slam-dunk for those wishing to incorporate more healthful dishes into their home cooking rotation.
The class will be led by Chef Joffrey, and he graciously gave me a sneak peek of the night's menu selections. On February's prep table, attendees can expect to see (and taste!) a pretty stellar menu.
The evening will start off with Coconut Curry Butternut Squash Soup. Even for someone like me, who has lukewarm feelings for all things butternut, this sounds spectacular. The Indian inspired flavors of sweet coconut and savory curry are sure to please even the most refined palate.
Next up is the main course of Barley Risotto with Chicken, Mushrooms, and Greens.  Always a crowd-pleaser, risotto sometimes gets a bad rap for being a rich dish that while delicious, is often without a lot of redeeming nutritional value. In this version, however, the presence of barley, chicken, and greens give the connoisseur a delicious way to incorporate fiber, protein, and antioxidants into a sophisticated, company ready entrée.
Rounding out the night's menu will be Spiced Mango Pavlovas, another intriguing melding of flavors that promises not to disappoint.
After reviewing the menu, I'm no longer sure if this is the fast track towards resolutions accomplished, or the highway to gluttony, but either way, it sounds mighty good.
Cookbook Club students can choose to attend February's class on either Tuesday, February 5, or Wednesday, February 6, from 6:00-8:00 p.m. Please remember that, as with all Williams-Sonoma events, space is limited, and reservations are required.
For more information about the Cookbook Club, please visit williams-sonoma.com, or call (714) 751-1166.
Edie Crabtree is an avid reader and mother of three who resides in Newport Beach. She can be reached at [email protected]