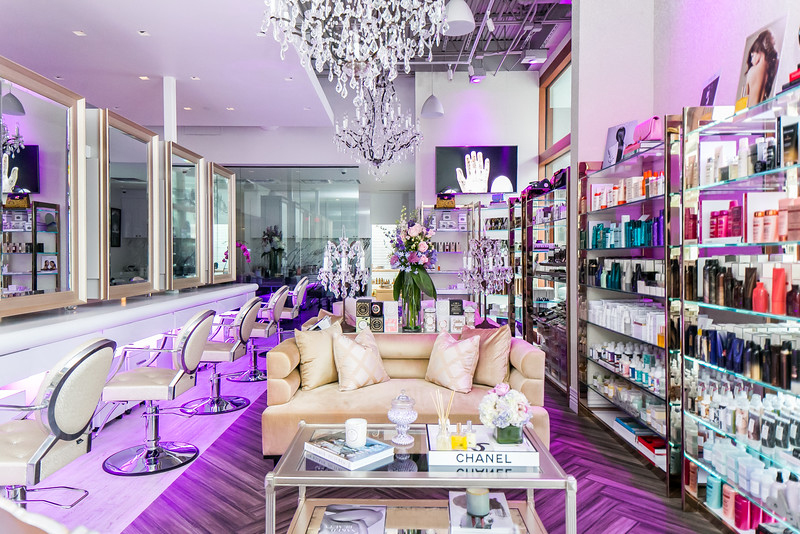 I was transported to another world the moment I stepped into Lavender Salon & Boutique. The luxurious space features handmade glass chandeliers, violet marble countertops, bespoke cabinetry and furniture, and original commissioned artwork.
The receptionist offered me a variety of beverage choices including Starbucks lattes, Lavender bellinis, fruit- and herb-infused water, and my personal favorite, a rosè champagne from Paris.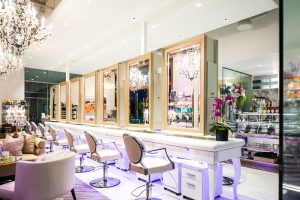 "Throughout my frequent travels to Paris, I have been constantly wowed by the Parisians' attention to detail when it came to all things beauty and hair," says Heather Hart, the salon's creator and owner. "I've searched for more than a decade to find that same level of artistry, service and experience here in the U.S. Not finding it, I decided to take the best aspects of Paris' most luxurious and exclusive salons, and meld them to create what is now Lavender Salon & Boutique.
Hart succeeded with her goals. Lavender Salon & Boutique is one of the most thought out and marvelous salons I have been to. It's not only beautiful but also extremely functional with its state-of-the-art technology and experienced staff. I loved the Takara Belmont shampoo bowl chairs that really support your neck (very important for those with neck issues or thick long hair, like me).
As I leaned back in the chair, I was pleasantly surprised to find 52-inch HDTV screens mounted to the ceiling for clients to watch during the shampooing.
The color processing room also has personal TVs for each client with access to Apple TV alongside advanced dryers that feature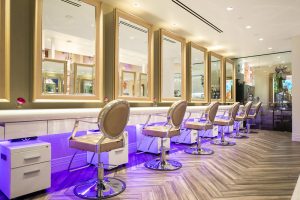 infrared domes with a rotating ring mechanisms that dry hair while staying completely silent.
My stylist, Sarah, made sure to cater to my hair specific needs, using the best products for my unruly curly hair and giving me a blow out that I could sustain for a few days before I washed my hair again. She was friendly, knowledgeable and professional.
I was excited to find an array of exclusive beauty product brands including Kerastase, Oribe, R+Co, RMS, Smith & Cult, and Newport-based Voluspa Candles, among others. These brands are available for purchase from Lavender Salons boutique (perfect for holiday gifts!).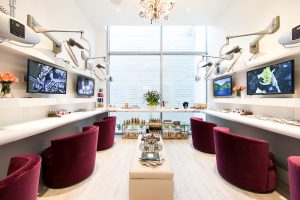 Lavender salon also offers makeup applications including airbrushing, facials, waxing, microdermabrasion, eyelash extensions and more. Whether you need a quick touch up for lunch with the girls or a full look for a special gala, Lavender Salon can and will deliver.
"From the moment they enter the Lavender Salon space, I want our clients to feel instantly transported, pampered and relaxed," says Hart. "We intentionally designed the salon to be inspiring in its beauty and indulgent in its attentive, five-star service."
Having now had a truly luxurious Parisian beauty experience I felt thoroughly pampered and left the salon feeling rejuvenated, confident and ready to conquer the day.
Please visit lavendernb.com or call (949) 515-2900 for more information or to book an appointment.
Lavender Salon is located in Castaway Commons next to Gratitude and Ra Yoga at 1617 Westcliff Dr, Suite 102, in Newport Beach.