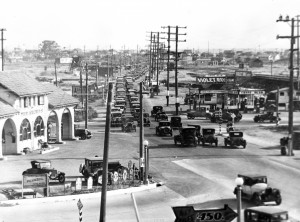 "Meet me at The Arches!"
That was a popular phrase for travelers driving up or down the Southern California coast between San Diego and Los Angeles. They often needed a place to meet, and the halfway point seemed to be a gas station and café called The Arches, named for its distinctive architecture.
Located at what is now the corner of Newport Boulevard and Coast Highway, The Arches was a hangout for celebrities such as Gary Cooper, Tyrone Power, Frank Sinatra, Humphrey Bogart, John Wayne and many others. Even Shirley Temple reportedly dined there in 1936 after cutting the ribbon at the dedication ceremony for Newport Harbor.
The gas station is long gone, but the separate restaurant that was constructed there lived on in one form or another.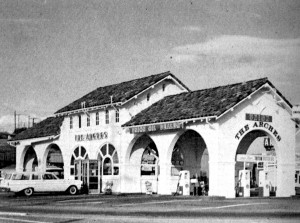 Danny Marcheano purchased the restaurant in 1982 and kept the old school ambiance intact. He moved The Arches in 2007 to Westcliff Drive, where it closed several years later. However, the original structure on Coast Highway was purchased by Hollywood director and producer McG (who grew up in Newport Beach) and a few friends and investors who wanted to see the Arches concept continue.
The building was gutted and rebuilt as a modern version of a classic steak house, complete with red leather booths and wood trim. In a nod to its history, the restaurant was christened A Restaurant.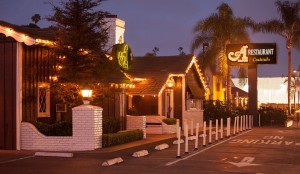 This month, A Restaurant celebrates its 90th anniversary.
"This was McG's vision," confirmed Jordan Otterbein, A Restaurant's operating partner. "It's a tip of the hat to what had been here previously. We wanted that old steak house feel, with red leather booths, wood panel walls, black and white art, but make it contemporary and bring in new blood and new generations."
Otterbein has known McG since they were kids growing up in Newport Beach.
"McG went to Eastbluff Elementary, Lincoln Junior High, Corona del Mar High, UCI. He has a successful career in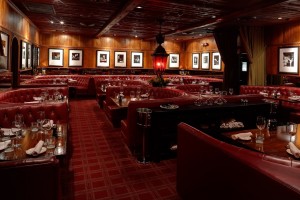 Hollywood, and has a home on the peninsula—he's here whenever he can be," said Otterbein. "He loves this place. He was so excited when it all came together."
And what's not to love when the restaurant is so successful.
"We had our best year ever last year," said Otterbein. "The holidays were fully booked, we had the biggest Valentine's weekend ever, December was the biggest month we've ever had, and January started out well. We have people come in all the time and say they had been driving by the restaurant for so long they finally came in, or they read about us and decided to come in, and they say 'we're so glad we did, thisd is our new favorite place, we can't believe we did not come in before.'"
The secret to their success, said Otterbein, is that they have all the components that make a successful restaurant.
"The vibe is great, it feels good here at night, people love it. And the cuisine—we talk about it al the time, the food is so good here, people love it. There is an increasing appreciation for what Jon (chef Jonathan Blackford) is doing. The word of mouth is so positive. Our loyal customer base continues to grow. It really is a local place—we get a high percentage of consistent regulars. And the service staff has never been better."
Service, food, ambiance and loyal customers add up to a superior experience for diners, who expect and receive that consistency every time they walk through the door.
Naturally, the food is a key component of any quality restaurant. Chef Jon has been with A Restaurant for five years, and said he had some initial challenges in getting the menu in focus.
"Did we want it to be a steak house, are we some sort of weird hybrid, how does that work? Yes, we have great steaks, but we're not limited to being a steak house, although that is about 50 percent of our sales," said Chef Jon. "We have many chef driven, composed dishes, and the a la carte menu mostly for steaks. The seafood and appetizers are all composed. I try to keep it seasonal and modern, and try to keep up with trends."
"Classically hip" is the catch phrase he uses to describe the restaurant, and the menu. "You have to keep the guests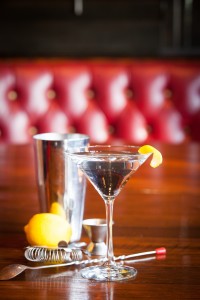 interested. If we did not change the menu often, we would not have the people that come here three to four days a week," he said.
Chef Jon purchases steaks from several suppliers, ensuring he gets the best cuts of beef. All the produce comes from within 200 miles of the restaurant, helping ensure a seasonally-driven menu.
For the 90th anniversary, Chef Jon is introducing a $90 steak ("it's an incredible cut of meat"), and the bar will offer a Black Tie martini.
Other than that, the goal, said Otterbein, is to keep evolving and meeting people's expectations.
"We continue to take it up another notch," he said. "It's running really well, it's dialed in."
So is the lively bar scene, which Otterbein acknowledged is "very active Thursday through Saturday. It turns into its own thing after 10 or 11 p.m. We feel fortunate that people like to come here, and it's a big part of our business, but our emphasis is always going to be on the quality of the cuisine."
Ultimately, said Otterbein, "We're really grateful for everyone that loves this place."
For more information, visit ARestaurantNB.com.