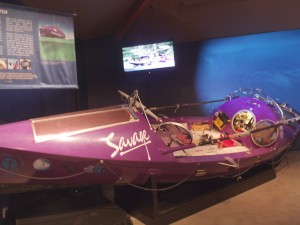 I attended a unique event a few weeks ago definitely worth mentioning, and once again shows not only the special traits of Newport Harbor with regards to our area, state and country, but the international stature of our residents and boating community.
Our own Newport Harbor Nautical Museum (now re-launched by its present board of directors as ExplorOcean) hosted Roz Savage of Great Britain. This was to launch a new display including the 23-foot custom designed vessel Roz built to single handedly row the Atlantic Ocean, then the Pacific Ocean, and for a trifecta, the Indian Ocean. Truly an international and world champion event!
Roz was present and spoke, and took questions for a brief period, providing information on her accomplishment. There were a few displays that enhanced the museum space. A quite simple portable rowing device was available to the opening participants which a 10 year old girl found irresistible. A Newport adventurer in the making!
Prior to Savage's visit, I envisioned only a manly amazon would be capable of such a huge accomplishment. Boy was I surprised when a medium-sized, healthy looking young woman walked up to introduce herself. Her example speaks loudly to the fact that boaters are a hearty bunch not limited by stature and motivation, and can truly allow us to cross oceans.
I've included a photo I took of this too small-appearing vessel that has been rowed thousands and thousands of miles in calm and extreme ocean conditions. I recommend all parents visit the exhibit and provide their children the opportunity to expand their horizons and learn that dreams can come true and that hard work will allow monumental accomplishments.
My Dad told the story that some of his Newport Harbor High School mates were invited to become crew members of a large yacht owned by a local businessman following graduation. The yacht owner would take them along for a voyage around the world. These lucky few saw the world and upon their return became ship's captains and naval architects, to name a few. For boaters in Newport Harbor, the world truly is our oyster!
This weekend was the 40th annual Newport Boat Show. Yes, it's that time again! Boating fans viewed all the newest models of our yacht dealers which encompassed 200 boats open for inspections and scores of displays. It was truly a "yachties" paradise.
Sea Ya,
Skipper Steve