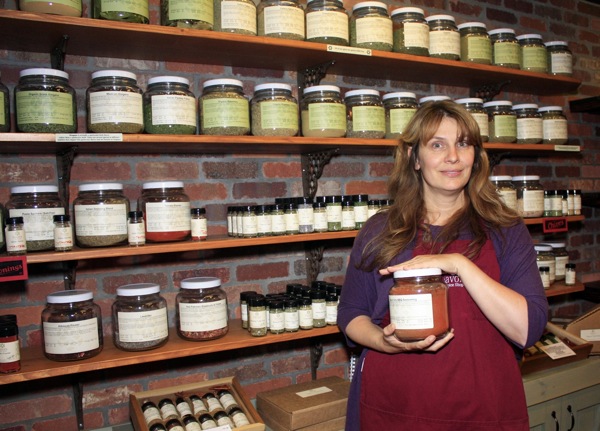 Walk into Savory Spice Shop in Corona del Mar Plaza and you're instantly confronted with row after row of fresh herbs, spices, seasoning blends, organics, extracts, sauces, and other items essential to home chefs.
It can be an overwhelming experience for first-time visitors like me, but co-owner Laura Shute says I'm not alone.
"We have some people who come in here and are like a kid in a candy store, but others are completely overwhelmed, so we'll help direct people to what they need," explains Shute. "We'll ask them what they like to cook, how they cook, and we'll help make it make an easier choice for them."
Shute and her knowledgeable staff dole out advice as they help customers select the perfect product for their specific needs – and there are a lot of products (more than 500) from which to choose.
Their advice bleeds over to their cooking classes, which are $30 per person and include generous helpings of dishes prepared during the classes, as well as recipes to take home.
"We can fit up to 15 people in each class," says Shute. "We normally do one or two a month. The one next week on Wednesday, Nov. 14, covers easy holiday hors d'oeuvres, and is our final one for the year. We start back up in January."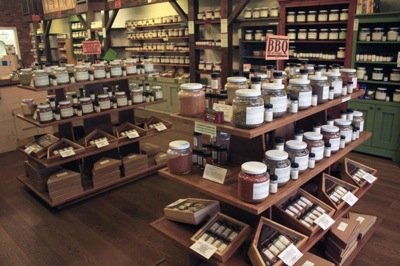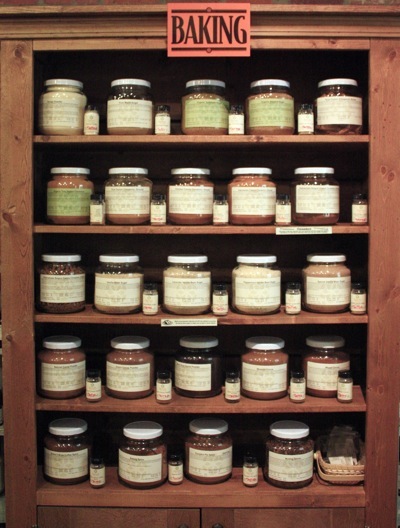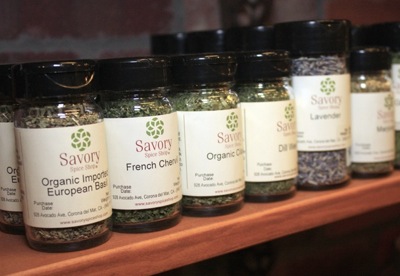 The class runs 90 minutes (6:30 to 8 p.m.) and will walk participants through the steps to make a White Bean Herbed Dip with Spiced Pita Chips, Savory Butternut Squash Mini-fritters, Truffled, Piment d'Espellete, and Herbed Deviled Eggs Trio, and Porcini Pate on Crostini.
Attendees are encouraged to bring their own adult beverages.
Also, in case you're wondering, Savory Spice Shop caries a variety of gift items perfect for the amateur (or professional) chef on your list, and they can create custom gift blends.
Class reservations can be made by calling 949-717-7776. For more information, visit SavorySpiceShop.com.
***
Bluewater Grill Seafood Restaurant in Newport Beach has some advice for the holidays: Stuff the Lobster instead of the Bird!
Starting next week and continuing through the end of the year, Bluewater Grill will serve a signature, sustainably harvested version of Holiday Baked Stuffed Maine Lobster, the classic New England holiday family meal that originated in Boston-area seafood restaurants.
The festivities will kick off on Tuesday, Nov. 13 with a special tasting event featuring a whole Maine lobster with shrimp and panko-crumb stuffing, served with a choice of New England or Manhattan Clam Chowder, two sides, unlimited fresh sourdough bread, and a Bluewater Grill bib, all for $29.95.
Paired with the feast will be two hand-picked Sauvignon Blanc selections.
But if you can't wait until next week, I suggest you visit Bluewater Grill now to try the local spiny lobster dinner: 1.25 pounds of lobster tail, split and flat grilled with garlic and butter, served with drawn butter, two sides and hot bread.
My assistant Stephanie and I tried the spiny lobster last week ($38.95), and it's a decadent treat. I brought my own bottle of Tobin James Chardonnay (no corkage fee for the first two bottles), which paired well with the lobster. Stephanie and I also ordered two appetizer salads (Arugula Crab for $10.50, and Roasted Beet and Spinach for $8.95), but they were so large we ended up taking some home.
For more information on Bluewater Grill, visit BluewaterGrill.com, or call 949-675-FISH.
***
My assistant Catherine told me her father, an Italian, was coming to town, and she needed a place to take him to dinner. I suggested several spots, and she settled on Alessa on Coast Highway.
Here's her take on the experience:
"The atmosphere was cozy and authentic Italian. Once seated, we were served warm bread and a tasty pesto and olive oil combination that I now constantly crave.
"When I found out that the chef and owner, Alessandro Pirozzi, was born in Naples, Italy, I knew that we must order the pizza. My father and I split the Pizza Picante, which had mild spicy Italian sausage, spicy salame, and smoked mozzarella over an arrabbiata sauce. The best pizza I have ever had was in Naples and this pizza brought me straight back there. It had a perfectly crisp crust and the slight spice from the fresh meats was delightful. My father and I had to fight over the last piece.
"I then ordered the Gnocchi alla Sorrentine: homemade potato dumplings in a pomodoro, garlic and fresh basil sauce topped with fresh mozzarella. This is my special test for Italian restaurants to see how authentic they are. If they can make properly prepared gnocchi, they can make anything. Alessa passed the test. The gnocchi was soft but firm, and the sauce a perfect blend of simple ingredients.
"For dessert we enjoyed Leche Lemonchello: a soft lemon cake with a black cherry drizzle. The two flavors complemented each other well, and the dessert was light enough to be enjoyed after so much delicious food."
Appetizers are $5 to $15; entrees are $10 to $30. For more information, visit CucinaAlessa.com, or call 949-645-2148.