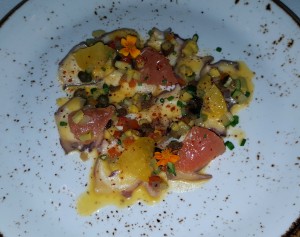 By Christopher Trela & Catherine Del Casale | NB Indy
 Among the hundreds of musicals that have come and gone over the years, only a handful have transcended their traditional theater roots to become bona fide phenomena.
"Wicked" certainly falls into that category.
The story of what happened in Oz before Dorothy dropped in, "Wicked" is the tale of Elphaba, born with emerald-green skin, and Glinda, blonde and very popular, and how they respectively became the Wicked Witch of the West and Glinda the Good.
Last month, the Broadway production of "Wicked" became the tenth longest running show in Broadway history, and shows no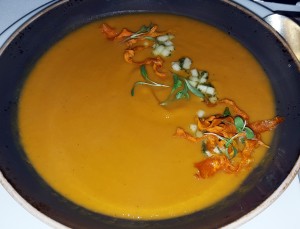 sign of slowing down. Since it opened on Broadway in 2003, "Wicked" has won three Tony Awards and a Grammy Award, and spawned several national and international tours, breaking box office records around the world.
Now, the touring production of "Wicked" has returned to Segerstrom Center through March 6, and it's as fun and "popular" as ever.
Of course, the return of "Wicked" means the return of another wicked menu at Leatherby's Café Rouge, courtesy of the brilliant Chef Ross Pangilinan.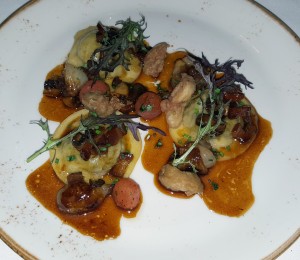 We love dining at Leatherby's prior to a show at Segerstrom Center, because Chef Ross always creates a clever and tasty themed menu to match each musical that comes to town.
For "Wicked," we were delighted with both of his first course dishes. The aptly named Munchkinland featured octopus carpaccio with tiny ratatouille, fennel, citrus, tiny croutons, capers, and cute tiny flowers. The "Cyclone" was carrot soup that tasted like carrots pulled from the ground, pureed and served hot with crispy noodles and other garnishments.
The main courses were both familiar yet unique. "March of the Witch Hunters"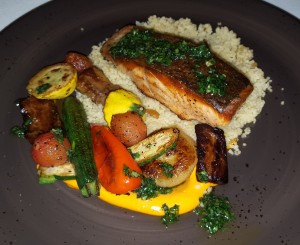 had veal ravioli, sweetbreads, bacon, onion, cremini, tomato, and hunter sauce, while the "Dancing Through Life" was a wild isle Scottish salmon with Mediterranean vegetables, couscous, golden raisins, pine nuts, lemon confit, and piquillo emulsion. Each dish was a perfect blend of flavors and textures, and kept with the "Wicked" concept.
However, it was the dessert that visually nailed the "Wicked" theme.
Diners can choose between the Elphaba cup cake (chocolate, mint, mint ice cream on a yellow brick road bed) or the Glinda cup cake (vanilla, strawberry, raspberry sorbet on a yellow brick road bed). They each came topped with either a small chocolate witch hat or a white candy crown.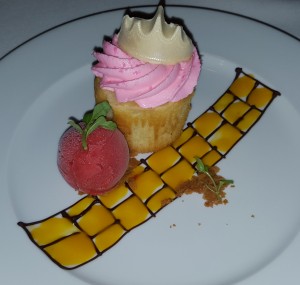 The "Wicked" dinner is $47 per person.
After dinner, it was show time. From the opening notes to the final bows, this production of "Wicked" (which we've seen several times) felt as fresh and new as it did the first time.
The roles of Elphaba and Glinda catapulted Idina Menzel and Kristin Chenoweth to stardom in the original Broadway production of "Wicked," so you need strong singer-actors in those two key roles to make the musical work.
This "Wicked" certainly has that in Emily Koch (Elphaba) Amanda Jane Cooper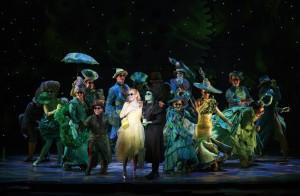 (Glinda). Both actresses provide pitch-perfect vocals and a stage presence that builds momentum from their characters' early personalities to the dramatic dynamics that encompass the end of act two.
There is not a weak link in the entire ensemble, nor in the staging. This "Wicked" is exciting and still feels fresh. Its messages of tolerance and acceptance while offering subtle social and ethical commentary on the nature of good and evil are wrapped around a terrific score, so while you may leave the theater singing "Popular," it will make you think long after the music has faded.
For reservations at Leatherby's Café Rouge, visit PatinaGroup.com.
For tickets to "Wicked," visit SCFTA.org.