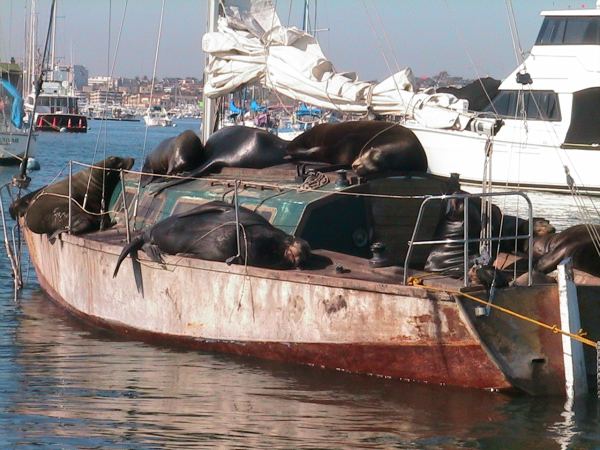 Last November, the 40-foot fishing trawler Shamrock sank at its mooring in Newport Harbor.
It was not the first time.
According to Harbor Patrol officials, the Shamrock also sank a few years ago, but was refloated and put back on its mooring by the owner.
The story of the Shamrock illustrates a longstanding and seemingly intractable problem: amid the beautiful sun-drenched postcard views of sailboats and yachts gliding on the glistening waters of Newport Harbor there are also many "derelict" boats, floating junk heaps that remain moored and seemingly ignored for years by owners who cannot or will not pay the costs of having them repaired or scrapped.
City and Harbor Patrol officials are quick to cite myriad causes for the problem. But solutions are much harder to come by.
Getting a mooring in Newport Harbor is no simple matter.  There's been a waiting list for years. Openings have become more scarce in recent years, and in turn more valuable, and the willingness of boat owners to turn them back over to the city has long since disappeared.  Newport moorings have become a hot commodity – the rights to a mooring can be bought and sold, with or without a boat to go with it.
Then, there's a cold economic reality: it's less costly to keep a boat, any boat, on a mooring than to get rid of it. Disposing of a boat can be a very expensive proposition. And it's illegal to just take it out in the ocean and sink it, although that hasn't stopped some owners from doing so rather than pay to have the boat moved and destroyed.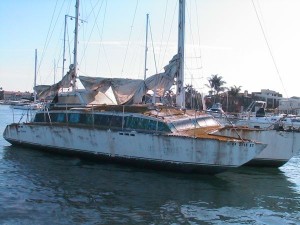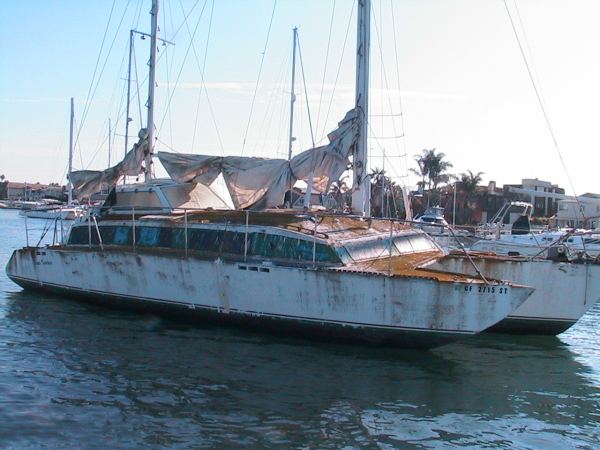 Marshal Duffield, a local businessman well known to boaters as the owner of Duffy Electric Boats, is one Newport Beach resident who thinks it's about time the city took the lead in helping clean up the problem, before it gets worse.
Duffield, who sits on the city's Harbor Commission, has become the commission's  point man on the problem.  The commission has been looking at new approaches to the derelict boat issue since early last year, and it is slated to take up the issue next month in a serious way.
Duffield says a new approach is needed to properly address the issue.
"I did my own survey of derelict boats in the harbor and found almost 40 boats that I would consider derelict," he said
And that gets to one of the many sticky issues surrounding this problem: the definition of a derelict boat is still a matter of some dispute, even among those who want the problem dealt with more effectively.
Duffield says the boats he has noted and photographed are clearly eyesores and may present safety problems.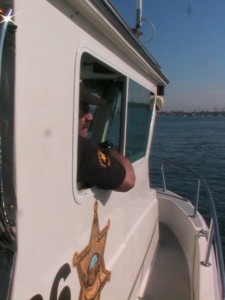 Deputy Carlos Contreras, the OC Sheriff's liaison officer for tracking and dealing with derelict boats, says the Sheriff's Harbor Patrol and the city use a practical test to determine whether to designate a boat as derelict: the boat has to be seaworthy enough to get from its mooring to the outer end of the harbor entrance and back under its own power, either sail or motor. If it can't, the boat is derelict and the owner must make it seaworthy or risk the city and Harbor Patrol seizing it.
Contreras says "the problem is not a new one" and that it takes a lot of work to deal with the many causes and remedies to it.  Boat ownership, compliance and seaworthiness are all issues he deals with on a daily basis.
He says' "it's not an easy process, and there is a process that has to be followed' that involves giving the owner of a derelict boat a chance to bring the boat into compliance with safety and seaworthiness standards.
According to Contreras , the city currently has an inventory of 6-8 seized boats. He also explained that throughout the year, boats also come into the possession of the City when they are found unmoored in the bay or just abandoned in local waters.
Seized boats are auctioned by the city about once a year, on an irregular schedule that depends mostly on how many boats are in the inventory.
A ride with Contreras around the harbor to take a look at derelict boats revealed that they come in all shapes and sizes, from a large oceangoing yacht, to sailboats of various makes and sizes, all the way down to small dingies.
One boat, the Jubilee, is one of the larger boats that are considered derelict, Contreras said.  It was clear to the naked eye the yacht had seen much better days and was in no shape to do anything but float on a mooring.
Another large boat was tri-hull that was so beat up it seemed little more than floating museum of neglect.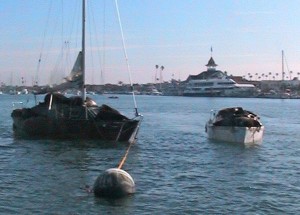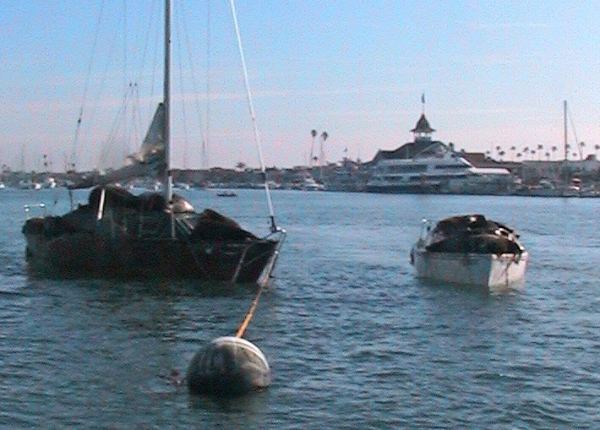 But as our tour approached the Balboa Pavilion, the two most glaring examples of derelict boat realty were dead ahead: two medium-sized sailboats hosting a large number of slumbering sea lions.  The boats were not only derelict visually, the stench from the seals permutated the air as we motored alongside to take pictures.
The ride also made clear that the problem was not going away anytime soon.
"I've been working here for over 16 years," Contreras said, seemingly resigned to the fact that, despite his work, the problem of derelict boats wasn't going to go away any time soon.
For more information on the City's boat auctions, visit newportbeachca.gov/index.aspx?page=452