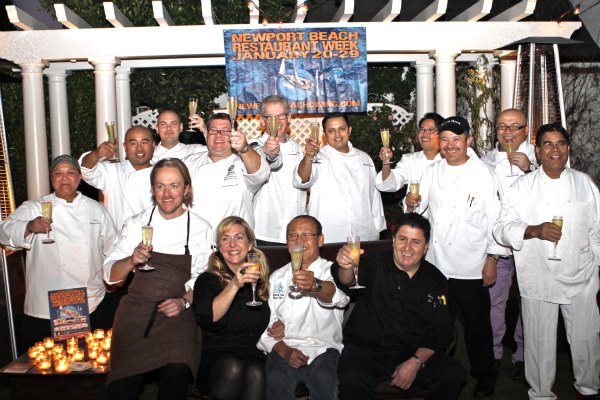 We love dining out in Newport Beach, especially when it means trying new restaurants or sampling new menus at our favorite culinary haunts.
There's no better time to do this than during Newport Beach Restaurant Week, which starts today and runs through Jan. 29.
During those 10 days, dozens of restaurants throughout the city will be serving prix fixe gourmet meals at value prices: $10 to $20 for lunch, and $20 to $40 for dinner.
Stasha and I visited several terrific restaurants during last year's Restaurant Week, but Stasha just started rehearsals for a theater production in Los Angeles and will miss the delicious dining opportunities this year. I, however, cannot wait to sample some of the delicious menu items created by many of the top chefs in OC.
With 60 restaurants serving lunch, dinner, or both, it's impossible to hit every restaurant and sample every dish – especially since most restaurants are offering several choices of appetizers and entrees for each prix fixe meal.
So, with that in mind, I decided to peruse the menus and pick out some of the more interesting dishes, plus a few of my go-to favorites.
Speaking of favorites, Chef Pascal Olhats made news recently when he announced that he was closing his flagship Tradition by Pascal restaurant on February 15. Fortunately, he's offering special lunch and dinner menus during Restaurant Week, so take advantage of this master chef's culinary prowess while you can.
Two items that caught my eye on Pascal's menu: Traditional Boeuf Bourguignon: a Red Burgundy Wine Beef Stew with Carrots, Celery, Onion, and Bacon, with Fettuccine (served during lunch), and Escargot Cassolette with Toasted Pine Nuts, Raisins, and Garlic Butter (a dinner menu item).
SOL Cocina Executive Chef Deborah Schneider's menu takes much of its inspiration from her many culinary trips to Baja munching fresh fare at street taco stands, so it's a treat to see her  Street Taco Combo on both the lunch and dinner menu: choose either Mezcal Chicken, Carne Asada or Pork Carnitas Ttacos, served with Borracho Black Beans, Spinach Garlic Rice or Avocado Ceasar Salad.
Leave it to Port Restaurant to list two breakfast items on their prix fixe lunch menu: Breakfast Pizza with Two Eggs Scrambled, Mushrooms, Chicken-Apple Sausage, Sliced Green Peppers, Mozzarella Cheese, Baked on Organic Crust; and Port Hotcakes—Three Homemade Fluffy Pancakes, Served with Maple Syrup, Fresh Berries & Whipped Cream.
Burger fans may want to head straight to Crow Bar and Kitchen, because a dinner menu option is the Crow Black Label' Burger: an 8 oz signature blend that includes 21 day, dry aged prime rib eye with bone marrow butter and
caramelized onions.
We love dining at Pelican Hill Resort, and have enjoyed exceptional meals in all three of the resort's restaurants. This year, the resort's Pelican Grill and Coliseum Restaurant are participating in Restaurant Week. Pelican Grill has Butternut Squash Ravioli with Pancetta and Sage Brown Butter as a lunch offering, which I've savored before and plan to again this week. But being a Bread Pudding lover, this one got my attention on the Coliseum menu: Warm Pear Bread Pudding with Valrhona Chocolate Sauce. Never had Pear Bread Pudding before…but I will now.
Vegetarians and those demanding a gluten free menu already know that True Food Kitchen is the place to go, particularly during restaurant week. Their $20 prix fixe dinner menu is a real bargain. Highlights include their famous Tuscan Kale Salad, and Spaghetti Squash Casserole.
Muldoon's Irish Pub has a $20 dinner menu that's also a steal. Featured items include their traditional Irish Stew, but one of the desserts has me intrigued: Victorian Parlour Sundae with Warm Chocolate Sauce & Mrs. See's Toffee. Just the name alone is fun—like Muldoon's itself.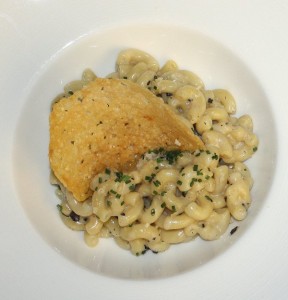 Locals often forget about Palm Terrace Restaurant at The Island Hotel, but the prix fixe dinner menu may change that. Starters include the restaurant's signature Macaroni and Cheese (Elbow Pasta with Taleggio Cheese, Crushed Truffles and a Parmesan Tuile), one of the best mac and cheese combos anywhere. One of the desserts sounds sensational: Valrhona Manjari Chocolate Obsession with Pecan Coated Caramel Ice Cream and Crème Anglaise.
And what dining experience would be complete without bone marrow? Those who have never tried this delicacy can head to Brasserie Pascal in Fashion Island, where the dinner menu includes Beef Bone Marrow With Warm Toast & Pascal's Favorite Condiments.
My introduction to bone marrow was nearly two years ago at Brasserie Pascal, and I became an instant fan.
To become an instant fan of Newport Beach Restaurant Week and view the list of participating restaurants and menus, visit NewportBeachDining.com.