By Christopher Trela & Catherine Del Casale
New Sriracha Burger at Islands
Sriracha has become one of the most popular condiments in stores and on food, so it's no surprise that Islands Restaurant has added a new Sriracha Smack burger to its menu.
The Sriracha Smack burger ($11.95) is served with Sriracha cream cheese, lettuce, sliced onions, pickled peppers, and topped with pepper jack cheese, crispy bacon and a soy-Sriracha glaze.
Christopher went to Islands in Newport Beach to try the new burger, and found it suitably spicy but not overpowering.
"Great flavor, nice heat that quickly calms down on the palate," said Christopher. "And I love the fries that come with the burger—thick cut and perfectly fried."
The burger is available for a limited time, so grab one soon. For more information visit islandsrestaurants.com.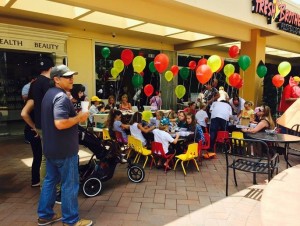 Make Your Own Pizza Party at Fresh Brothers
We're fans of Fresh Brothers Pizza in the Harbor View Shopping Center, and not just because they serve a variety of tasty pizza pies, including vegan and gluten free varieties.
Fresh Brothers hires local drivers and staff (including high school students), and they give back to the community by donating food to charity events.
Now, Fresh Brothers is offering a 10 percent discount on their make your own pizza birthday party for kids.
"Fresh Brothers birthday parties are fun and provide a great and creative experience for children. The ingredients are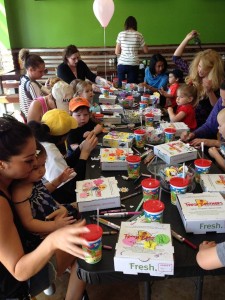 all very fresh; they eat it up," said Debbie Goldberg, co-founder and chief marketing officer of Fresh Brothers, which has more than a dozen locations throughout Southern California.
According to Goldberg, kids get a Fresh Brothers pizza box plus stickers, markers and crayons to decorate it. Everybody gets dough to play with plus a Fresh Brothers t-shirt. And of course, all kids get to make their own kid sized pizza using a variety of toppings.
Party packages start at $250 for 12 children. Costs then vary depending on the amount of children and the various add-ons (apron and cupcake decorating, face painting and balloon artists). Princesses and other characters are also available.
If you book your party at Fresh Brothers in the Harbor View Center at 1616 San Miguel Drive before April 15, you get 10 percent off your entire bill.
Call (310) 642-0533 or email [email protected] for more info and to book your date.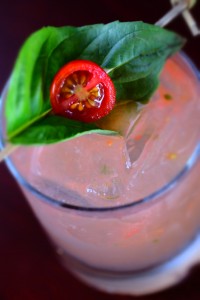 Spring Cocktails at SideDoor
Spring is a time most chefs introduce new menu items, so it makes sense for SideDoor in Corona del Mar to unveil new spring cocktails.
They include "Stop and Smell the Rose" (rose wine, grapefruit juice, simple syrup, egg white), "Blame it on the Rain" (tequila, cherry tomatoes, basil, lemon, fire water), "Love Me Tendril" (avua cachaca, spring peas, mint, lime, green chartreuse), "Spring Chicken" (lemon verbena infused vodka, spiced honey, lemon, amaro, egg white), and "Hush, Madeira" (rye, madeira, alessio vermouth, aperol, absinthe rinse).
Check them out at SideDoor in Corona del Mar (next to Five Crowns) or visit SideDoorCDM.com for details.
Aussie Pies Comes to Whole Foods
Next time you're at Whole Foods in Fashion Island, why not pick up Pie-Not.
Yes, the notable Australian savory pie shop in Costa Mesa is now offering its savory meat and vegetarian pies in the frozen entrée section of Whole Foods markets in Orange County and San Diego.
Whole Foods now carries three of Pie-Not's individually-wrapped savory selections, all offered frozen and ready to bake-at-home.
They include "The Dog's Eye Pie" (the classic Aussie meat pie with grass-fed ground beef and finely diced onions in a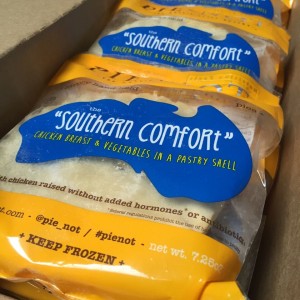 shortcrust pastry shell with a puff pastry lid, $7.99), "Southern Comfort" (white meat chicken breast with peas, carrots, potatoes, celery and thyme in a white wine cream sauce with black pepper in a shortcrust pastry shell with a puff pastry lid, $7.99), and The Hippie Roll (spinach, ricotta, walnuts, Swiss and Gruyere cheeses, and cayenne, $4.99).
"We took three of our most popular offerings and perfected them for Whole Foods Market's discerning clientele, and we now are thrilled to offer a taste of Pie-Not throughout Orange County and San Diego," said Australia-born Jai Snowdon, who with co-founder Ryan Lopiccolo, an Orange County native, opened the first Pie-Not bakery in Costa Mesa nearly three years ago to cater to the region's Australians, South Africans and other fans of the classic meat pie.
We've tried all three, and yes—we loved each one (Catherine's favorite is the "Dog's Eye Pie," while Christopher is partial to the "Southern Comfort."
For more information on Pie-Not, visit PieNot.com.