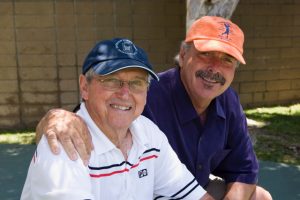 For 56 seasons, tennis legend Roy Emerson and his wife Joy, have hosted the Roy Emerson Tennis Classic to benefit a charity close to their hearts: Holy Family Services and Foster Care Agency.
Funds raised at this event, along with those raised at the Guild's Patroness Luncheon, go directly to support the services provided by HFS. The massive undertaking is being co-chaired by Chris Garber and Katie Richardson.
The Palisades Tennis Club is set to host the event over the Memorial Day holiday weekend. They will be joined by other local tennis facilities including The Tennis Club, The Racquet Club of Irvine and Mesa Verde Country Club.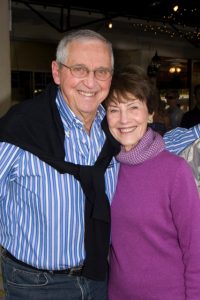 Up to 400 local players will compete in matches at all the venues leading up to final play on Memorial Day at Palisades Tennis Club.
Adoption Guild tournament volunteers have planned a series of special events including a lavish "Just for Fun" Tournament Party on May 28 starting at 6 p.m. at Palisades Tennis Club. It will feature local food vendors, complimentary beer and wine and entertainment. The "Just for Fun" party is free to tournament players. Guests wishing to attend the party can purchase a ticket at the door for $20. Those attending must be 21 years or older.
During the tournament, players and guests will enjoy shopping at the boutique featuring tennis accessories and jewelry with wine tasting courtesy of One Hope Wines. Also featured will be a raffle booth with over 25 prizes.
On Monday, May 29, a "Sponsor Garden" will welcome VIP sponsors with a champagne reception, gourmet food and premiere seating for viewing the Finals play.
For more information, visit adoptionguild.org and click on the events link.