By Amy Senk | Corona del Mar Today
The South Coast Air Quality Management District has released information about air samples collected this spring from near beach fire rings, according to the agency's website.
The website, updated this afternoon, also states that a decision on whether to ban beach bonfires throughout Los Angeles and Orange counties could be delayed from the board's June 7 meeting. Spokesman Sam Atwood said in an email that the board instead will vote at its July 5 meeting or later.
The agency's air quality samples did not exceed federal standards, the website states, but pollution from wood smoke was higher near the beach bonfires and exceeded public health guidelines for short-term exposure.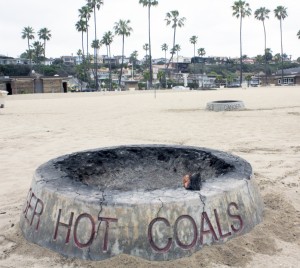 "One fire pit in one evening estimated to emit as much PM2.5 as one Heavy-Duty Diesel Truck driving 564 miles," according to a preliminary assessment.
"Measured levels of particulates varied widely depending on weather conditions, the level of beach fire activity, and location," the website states. "In parking lots near beach fire pits, fine particulate pollution concentrations from wood smoke were as much as 10 times higher than typical background levels. In nearby residential areas, particulate concentrations were up to three times higher than background levels."
The air monitors were placed at Corona del Mar, Balboa Island, Huntington Beach and Dockweiler State Beach since late March using both mobile and fixed air monitoring devices, the AQMD website states.
"Tests were conducted for particulate matter (PM10 and PM2.5) as well as black carbon and ultrafine particles," the website states. "These levels of fine particulate from wood smoke did not exceed the federal 24-hour standard for PM2.5, but they did exceed public health guidance levels for shorter-term exposures."
The website notes that wood smoke contains toxic, cancer-causing chemicals as well as "common combustion pollutants such as nitrogen oxides."
"Numerous health studies during wildfires, and in communities where large amounts of wood or other biomass is burned, show that wood smoke causes respiratory irritation and an increase in hospital admissions for respiratory problems," the website states.
The AQMD will continue "air monitoring at fixed sites near beaches in the near term, and will report results to the public as they are available," the website states.
In March, technicians from the South Coast Air Quality Management District installed air quality monitoring equipment on the roof of the concessions building at Big Corona State Beach. Prior to the installation of that equipment, technicians took air samples during the Persian New Year celebrations, where all the beach's 27 fire rings were in use.
AQMD staff previously declined to say specifically where other tests were being conducted, citing worries that the results could be tampered with if the public knew where the equipment was placed.
Meanwhile, Newport Beach Mayor Keith Curry and other local mayors met today to discuss the proposed beach fire ring ban.
The proposal to ban all beach bonfires grew out of a request by the City of Newport Beach to the California Coastal Commission, seeking permission to remove the city's 60 fire rings because of concerns from liability over injuries at the fire rings and the dangers of wood smoke.
The Coastal Commission in March delayed a decision because the SCAQMD was going to consider an overall ban.
If the AQMD board votes on July 5, their decision would still be before the Coastal Commission's July 10 meeting, which is the last meeting that the commissioners could consider the Newport Beach permit to remove the rings while still meeting regulatory timelines.