Arbor Real Estate in Newport Beach, a leading luxury real estate brokerage, has launched its 2016 "Stoke a Student" campaign in partnership with Surfside Sports in Costa Mesa.
"Stoke a Student" is aimed to inspire surf-loving students in the Newport-Mesa area to value education and to succeed in school.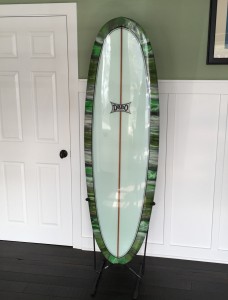 Running through June, 2016, the "Stoke a Student" contest will award a surfboard to one lucky surf-loving elementary, junior high school, or high school student in the Newport-Mesa area every two months via a drawing (no purchase necessary).
The student whose name is drawn as the winner each month must show proof of having a B grade average or better over the past semester in order to be eligible.
"I have deep, lifelong roots in Newport Beach and a longtime love of surfing," said Chris Brigandi, founder of Arbor Real Estate, who keeps a surfboard in his office. "Our company launched the 'Stoke a Student' campaign to support and promote the importance of education as well as to celebrate the surf culture that makes our community one of the best places to live in the world."
To enter the contest, students can visit Surfside Sports at 233 East 17th Street and ask for an entry form.
For more information, visit arborrealestate.com.