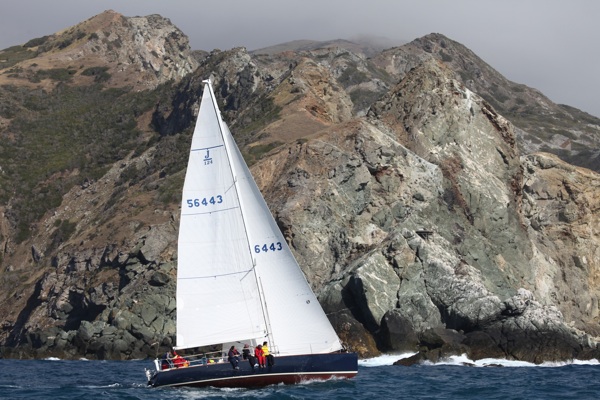 Over Memorial Day weekend I had the pleasure of racing around Catalina Island on Seth Hall's J124, Marisol.  This is one of my favorite local races because it's long enough to feel like you've gone somewhere, but you are typically back home and in your own bed the next day.
The "Around Catalina Race" is a 75-mile sprint that that starts in LA Harbor, runs around Catalina Island, and wraps-up with a finish just off the entrance of Dana Point Harbor.  This year's race started off in LA Harbor with brisk 20-plus knot breezes, but there were still more than 40 boats out for this year's event.
We started conservatively, with Marisol flying her No. 3 jib and a reefed mainsail.  About halfway across the Catalina Channel the wind started to drop off, so we shook out the reef and changed up to our bigger No. 1 jib.  After we rounded Catalina, the wind would continue to drop, but our crew worked hard to keep the boat moving and the bow pointed at Dana Point.  A midnight tacking duel also helped energize our crew as we repeatedly crossed tacks with Wes Selby's TNT most of the way back from Catalina.
Based on our 2:59 a.m. finish, the final results show that we were second in Class B, and won the inaugural J-Boat perpetual for this event.  A half-model of Marisol is now being made to serve as a new perpetual trophy, and the Marisol trophy will be given annually for the first J-class boat in this event.
Other winners last weekend included Jack Taylor's well-sailed SC50 Horizon, winning first-to-finish and Class A honors.  Ralf Butz's Carrerra won class B (correcting out just a few minutes ahead of us).  Ron Simonson's Sleeper won class C and overall first-in-fleet honors.
But the best part of the event is that even after a really fun 75-mile race, I was still back home in time to watch the sunrise.
Baker Team Racing Championships – MIT, Boston (High School Team Racing Champs)
Newport Harbor High School finished ninth at this year's Baker Team Racing Championships, sailed at MIT in Boston.  Point Loma High School followed their win two weeks ago in the 2012 Mallory Trophy (the high school fleet racing championships) with this victory in the Baker Trophy over the defending 2011 champions from Tabor Academy (Marion MA).
Upcoming Events:
June 1-3 – Leukemia Cup Regatta, BCYC (Offshore/PHRF)
June 2 – Bettina Bents Regatta, NHYC (Women's H20's)
June 3 – Senior Sabot Regatta – NHYC (Sabot)
June 8-10 – Round the Islands Race, BCYC, June 8-10 (Offshore/PHRF)
June 9-10 – BASC (Balboa Advanced Sabot Clinic) – BYC (Junior Sabot)
June 24 – Junior Commodore's Regatta, LIYC (Junior, One-Design)