Crystal Cove Conservancy and Crystal Cove State Park welcome the return of Art in the Park to the Crystal Cove Historic District on Saturday, April 1 from 10 a.m. to 4 p.m.
After a 3-year hiatus due to the pandemic, Art in the Park will offer a day of art and culture for all ages featuring a variety of activities including yoga on the beach, guitar lessons, basket weaving, watercolor and squid ink painting, jewelry making and other fun activities.
The day-long celebration will also include an Arts & Crafts Bazaar, where guests can shop a selection of fine art paintings, candles, sea glass and upcycled jewelry, and painted wood wall hangings created by local artists. Vendors include Crystal Cove State Lifeguard Association, Kim Gordon, Serenity Candles, ReNvinted Jewelry and Art by Kimberly Nicole, Michael O. Smith, Laura Klepfer, Donita Lloyd, Gobind Boyes, Adornament, and Sluggy Shug.
The day begins with a Tribal Blessing at 10 a.m. featuring Jacque Nunez, a descendent of Crystal Cove's local tribe, the Juaneño Band of Mission Indians, Acjachemen Nation.
A full schedule of events can be found at www.crystalcove.org/event/art-in-the-park.
All events are free to join, unless required registration is noted. Schedule of events are subject to change.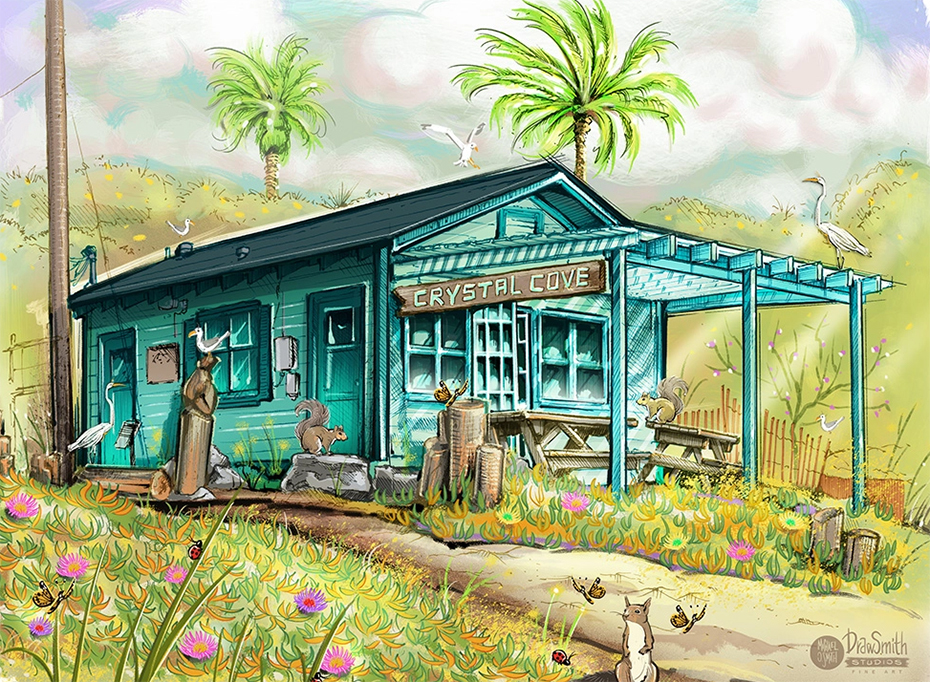 Art in the Park takes place in Crystal Cove State Park Historic District, Los Trancos, Newport Coast. Parking is available at the Los Trancos Parking Lot located inland off Pacific Coast Highway. Day use parking is $5 per hour, up to a maximum of $15 per day.
To get to the Historic District, follow the trail located on the south side of the parking lot down to the beach. It is about a 15-minute walk. The Beachcomber shuttle (cost $2) runs between the Los Trancos Parking Lot and the Historic District every 15 minutes.
Crystal Cove Conservancy works to protect the historic, natural, and cultural resources of Crystal Cove State Park. The unique public/private partnership with California State Parks means that all revenue raised is reinvested into programs that use the park as an outdoor classroom for STEM education. These programs will cultivate our planet's next generation of environmental stewards, ensuring that Crystal Cove and places like it live on for generations.
For more information, visit www.CrystalCove.org.