By Lila Crespin, Ph.D. | Newport Beach Arts Foundation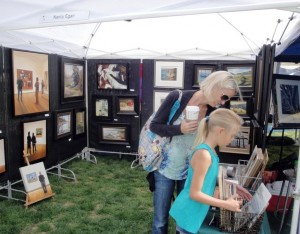 Art in the Park 2013 is happening on Saturday, October 12 in Newport Beach, and the Newport Beach Art Foundation who sponsors this well-attended event is celebrating its 10th anniversary.
Adding to the excitement this year is the fact that it will be held on the Civic Green at our new City Hall.
Every year since 2003, Art in the Park has gotten bigger and more well attended as artists and artisans from our city and from around the southland display their unique and wonderful creations. 
This year attendance is expected to grow even greater as families enjoy a day filled with eye arresting arts and crafts and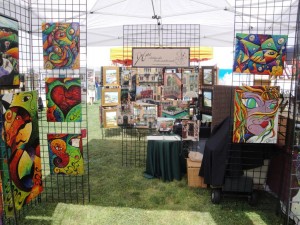 food from the brand new "24 Carats" café at the adjoining Central Library.
And, for the first time, there is convenient and ample parking on the City Hall grounds.                  
Ten years ago when the first Art in the Park was held at Grant Howald Park, it consisted of 34 marvelous artists from a single organization: the Southern CA Plein Air Painters Assoc. (SOCALPAPA).  These incredible artists were the entirety of the 2003 Art in the Park, and some of them still sell their beautiful work at this yearly event.
It was only a few years later that Art Foundation members realized that Grant Howald Park, although beautiful and inviting, was no longer large enough for the many artists and artisans who wanted to participate, nor was there enough parking for locals and visitors and vendors who wanted to attend.  These factors necessitated the move to a much larger park; thus the second venue became Mariners Park. This decision was met with great success.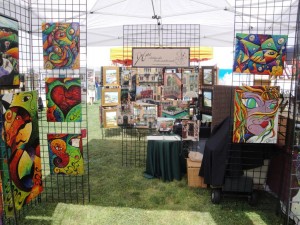 It is the mission of the Newport Beach Arts Foundation to help our city sponsor public arts. To this end, the NBAF has contributed funds to a variety of city-driven projects such as the McFadden Square refurbishment, Shakespeare-in-the-Park, and the Marine Memorial honoring the Marine 1/1 Marine Battalion to name a few.  These public arts events are part of what makes our city as unique as it is, and events like "Art in the Park" help to sponsor each type of public art for all of us to enjoy. 
Today, the Newport Beach Arts Foundation is considering partial sponsorship of a piece of sculpture to add to the grounds of the new City Hall. Once our city Arts Commission and our City Council choose the work, the NBAF will put funds toward the piece and we will have one more lovely public sculpture to admire and treasure.
You can help bring a greater variety of arts to our city in all of its various forms–please plan to attend Art in the Park on October 12 from 10 a.m. to 5 p.m. 
For more information, visit newportbeachartinthepark.vpweb.com.