By Christopher Trela & Catherine Del Casale | NB Indy    
 We dressed in our best formal evening wear last week and joined 270 classical music lovers at the Pacific Symphony's 35th anniversary season opening night celebration, "Rachmaninoff—From Russia with Love," hosted by the Symphony's board of directors and co-chaired by Ruth Ann and John Evans and Karlyne and Nick Greenko, at the Center Club in Costa Mesa.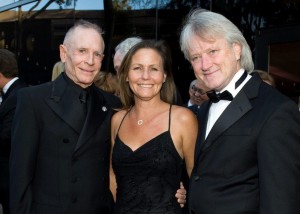 The event started with a pre-concert reception that highlighted that evening's Russian-themed concert. Guests mingled and sipped wine and "Tolstoy Tangs" (lemon and vodka cocktails) while enjoying hors d'oeuvres that included potato blinis, caviar, compressed watermelon, aged balsamic feta, smoked chicken and fig-jam pecan crostini, and other delights.
The musical trio Third Wheel performed while members of the UC Irvine Claire Trevor School of the Arts, Department of Dance demonstrated Russian folk dances.
For dinner, the Grand Ballroom was adorned in Russian elegance with teal tablecloths and gold and crystal candelabra centerpieces decked out with candles, purple roses, and white hydrangeas.  
The Symphony's new board Chairman, Michael Kerr, welcomed guests and thanked fellow board members and event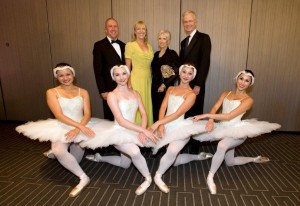 sponsors.
Dinner started with a roasted beet and goat cheese tower with mixed greens and toasted pine nuts, followed by a duo of petit filet mignon and local sea bass with stacked potatoes, red wine reduction and citrus beurre blanc. Dessert was Russian bird's milk cake.
The dinner and party—presented by South Coast Plaza with support from retail partner Omega at Tourbillon Boutique—raised $165,000 in support of the Symphony's artistic and education programs.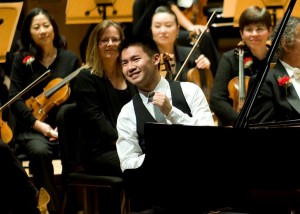 After dinner came the symphony's opening night concert, featuring 19-year-old piano sensation Conrad Tao performing Rachmaninoff's Third Piano Concerto.
"My first time at the Pacific Symphony didn't disappoint," noted Catherine after the concert. "The acoustics were magnificent, allowing symphony-goers to hear Rachmaninoff's Piano Concerto No. 3 the way it was meant to be heard; the romance, melodies and complexities all moving through the individual. Conrad Tao was inspiring with his talent and humble reception of praise."
After the concert it was back to The Center Club for an after-party that included libations and desserts.