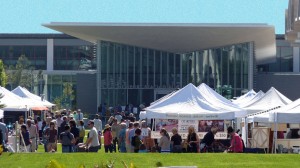 The Newport Beach Arts Foundation is one busy nonprofit organization!
Founded in 1998, the Newport Beach Arts Foundation's mission is to raise funds to support, promote and extend cultural activities of the Newport Beach Arts Commission organizing cultural fundraising events.
One of those events occurs this weekend: the annual Art in the Park, an arts and crafts fair that will be held on Saturday, October 11, from 10 a.m. to 4 p.m. on the Civic Green at the Newport Beach Civic Center. Admission and parking are free.
This is the 11th annual Art in the Park, and it promises to be bigger than ever. According to Arts Foundation President Carmen Smith, more than 100 artists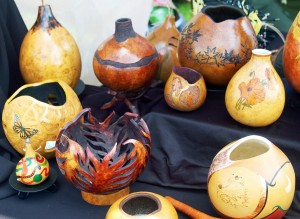 and artisans from throughout Southern California will be exhibiting their works for sale.
Among the many mediums: oil paintings, watercolors, pastels, acrylics, mixed media, sculpture, glass art, textiles, jewelry, woodcrafts, photography, and more.
"Art in the Park grew out of a dream Lila Crespin and other early members of the Foundation had to promote the fine arts and artists," said Smith, who noted that the event has moved from Grant Howald Park to Mariners Park and now to the Civic Center Green. "As the event grew, it evolved from a pure artist format to one that included artisans as well. We will also be showcasing high school student artists who will be donating their funds to their favorite charity from the sale of their art."
New this year will be an arts and crafts booth hosted by the Foundation. Volunteers from the National Charity League will help interested guests learn how to make hand painted silk scarves and unique Halloween mask.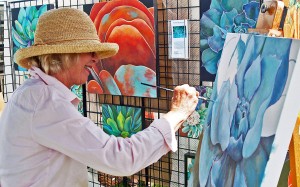 In addition to coordinating Art in the Park, the Arts Foundation contributed to two major public sculptures: The 1/1 Marine Memorial at Castaways Park, and the McFadden Square Centennial Legacy Sculpture at Newport Pier.
The Foundation members volunteer to work the annual Newport Beach Art Exhibition and Sale, and in September the group volunteered to help host the Opening Ceremonies for the Inaugural Sculpture Exhibition in the Newport Beach Civic Center Park.
This November, they are contributing to the placement of a plaque honoring well-known Newport Beach artist Rex Brandt and his wife Joan Irving to commemorate his 100th birthday.
For more information on Art in the Park and the Newport Beach Arts Foundation, visit newportbeachartinthepark.com or email [email protected]