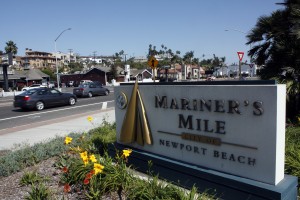 Mariner's Mile (that stretch of Coast Highway between Dover Drive and Newport Boulevard) has become a mile-long construction zone that's scheduled to last until next spring.
But the City of Newport Beach and the Congress for the New Urbanism California Chapter want residents to look beyond the construction.
The Congress will be conducting their Annual Charrette from October 17-21, focusing on Mariners' Mile. The five-day planning and design charrette will test new ideas to improve the Mariners' Mile corridor. With public participation and local knowledge, the design teams will identify design techniques focused on improving vehicular flow, the pedestrian experience, and bicycle access.
The term "charrette" is most often used by architects and urban planners to describe a series of focused and rigorous planning sessions where community members and designers collaborate on a vision for designing, developing or planning a project.
The Mariners' Mile charrette will be held in the Community Room of the Newport Beach Civic Center, 100 Civic Center Drive, on the follow dates:
Friday, Oct. 17, 5:30 p.m. – 7 p.m. / Opening Presentation. The Mariners' Mile charrette study area will be reviewed for its current strengths and weaknesses, with a particular focus on the nature of the pedestrian, vehicular, and bicycle experiences, which clearly need improvement. With extensive harbor frontage and good visibility and accessibility, this district has great potential. Some proven New Urbanism principles will be considered as part of the toolkit for enhancing this important and heavily travelled area in the heart of Newport Beach.
Saturday, Oct. 18, 5 p.m. – 6:30 p.m. / In-House Studio. Come visit our charrette studio after hours to see the progress that our team is making in evaluating potential solutions for Mariners' Mile. Your feedback and comments are welcome and encouraged. Light refreshments will be available.
Monday, Oct. 20, 5 p.m. – 6:30 p.m. / In-House Studio. Same schedule as Monday.
Tuesday, Oct. 21, 5:30 p.m. – 6:30 p.m. / Final Presentation. After five days of intense planning/design activity and extensive public input, the CNU-CA team will unveil some proposals for the transformation of parts of Mariners' Mile. Come see whether the team was able to identify solutions that simultaneously improve vehicular flow, the pedestrian experience, and bicycle access—goals that seemingly are at odds with each other—as well as improve access to the waterfront.
Another event, a Public Walking Tour of Mariner's Mile, occurs on Sunday, Oct. 19, from 5 to 6 p.m. and begins at the southeast corner of Tustin Avenue & Coast Highway.
All activities are free and open to the public.
Community participation is welcomed and encouraged. The various activities provide good opportunities for members of the public to weigh in on this neighborhood's needs. Space and safety limitations may limit attendance at some of events, so participation will be on a first-come, first-served basis. RSVPs are encouraged, but not required. Those interested in attending should contact Brittany Ramirez at [email protected], or (949) 718-1865 to indicate which days/events they wish to attend.
For more information about the Mariners' Mile Planning & Design Charrette, please visit newportbeachca.gov/charrette.