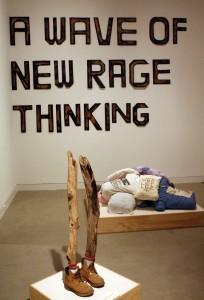 By Christopher Trela & Catherine Del Casale | NB Indy
The Orange County Museum of Art hosts a pair of exhibitions through May 24 that may seem alien, but are actually of "the times," and timely.
The first, "Alien She," is billed as the first exhibition highlighting the lasting impact of the pioneering punk feminist movement Riot Grrrl on today's artists and cultural producers.
The second, "Fred Tomaselli: The Times," could almost be called "Alien He." This first West Coast museum exhibition dedicated to artist Fred Tomaselli offers dozens of the artist's twisted take on front page images from the New York Times.
 Alien She
Christopher toured the exhibition with curators Astria Suparak and Ceci Moss, and then we both returned for another look after doing more research.
According to OCMA notes on the exhibit, Riot Grrrl was formed in reaction to sexism, racism, and homophobia in the punk music scene and in the
culture at large.
Riot Grrrl emerged in the early 1990s and inspired many people around the world to pursue socially and politically progressive careers as artists, activists, authors, and educators.
This self-organized network made up of teenagers and twenty-somethings reached one another through various platforms, such as letters, zines, local meetings, regional conferences, homemade videos, and later, chat rooms, listservs and message boards.
The OCMA exhibition contains approximately 900 historical and contemporary objects, including sculptures, photographs, videos, artist publications and drawings, as well as self-published zines and hand-designed posters from institutions and private archives worldwide.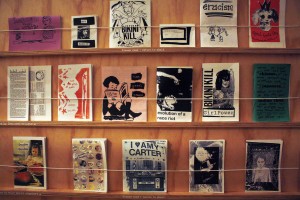 The artists highlighted in Alien She work in multiple disciplines, such as sculpture, installation, video, documentary film, photography, drawing, printmaking, new media, social practice, curation, music, writing, and performance.
"I wasn't well versed in the punk feminist movement of Riot Grrl, so beyond the artistic aspects it was also a very historically impactful exhibition," said Catherine after touring the exhibition. "I listened to playlists of punk music from different countries during the 1990s era. There was an interesting collection of photos titled 'Lesbians Beds' with just photos of every day beds with sheets, blankets, pillows and all. I thought it really brought home the fact that we are all the same no matter our sexual orientation; a bed is a bed, a person is a person."
"I was part of the early punk rock movement in Los Angeles back in 1978, and it struck me how similar the Riot Grrrl flyers and music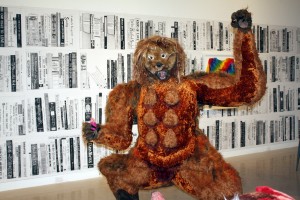 is to what we were doing in 78," said Christopher. "And the display of fanzines was fascinating—I was associate published for a short-lived punk fanzine called Nihil in 1978, so to see the Riot Grrrl-influenced zines was like a punk flashback. Interesting to note that the sexism and homophobia in the punk music scene came later—I saw little of that in the early days, but punk morphed and mutated in various directions in the 80s. Still, I can see the connection and evolution from early punk to Riot Grrrl. 'Alien She' is a fascinating exhibition worth lingering over."
Fred Tomaselli: The Times
Born in Southern California and a graduate of California State University, Fullerton, Fred Tomaselli now lives and works in New York.
The exhibition "Fred Tomaselli: The Times," is as the title describes. Tomaselli takes the front page of the New York Times and adds artistic elements to the front page photo, thereby offering commentary on the news in a unique manner.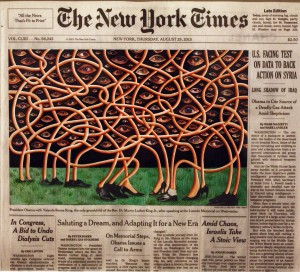 According to notes from OCMA, a newspaper's front page records in the present tense what will eventually become history. Tomaselli reinvents the news through complexly layered collages superimposed onto recent cover illustrations in The New York Times.
"I loved the Tomaselli exhibition. It was really interesting to see his perspective of what the cover articles of The New York Times papers could be," noted Catherine. "The photos actually intrigued me to read the articles, I wonder how many more readers a newspaper would gain if their front cover photos were as bold and interesting as Tomaselli's artwork. One of the more current New York Times covers was an article titled 'Clinton Delivers Stirring Plea for Obama Second Term.' The photo illustrates the two embracing in an abstract and interesting way. I love that the photos get you to think about the article before you even read it."
For additional information, call (949) 759-1122 or visit ocma.net.