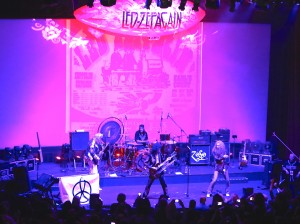 By Madison Desler | NB Indy
The Lido Live Theater, built in 1938, has all the adornments of a jazz-age venue: a stunning marquee, old-timey popcorn maker, art deco light fixtures, and cushy theater seats.
However, a newly installed stage riser, heavy duty light rigging, and a standing-room-only pit area have made the Lido ready to rock.
Last Saturday night, that's exactly what world-renowned tribute band Led Zepagain did, transporting the audience out of the thirties, and right into 1975.
This year marks the 40th anniversary of the Earls Court concerts, a string of five shows played by the actual Led Zeppelin in London after the release of the quintessential "Physical Graffiti" album in 1975. These classic shows, widely recognized as the British four-piece's best, were celebrated by Led Zepagain as they played the exact set list, from start to finish, of those illustrious concerts.
The compact Lido, filled to capacity, was set to explode when the performers hit the stage. The uncanny likeness of Swan Montgomery, Jimmy Sakurai, Jim Wootten, and Jim Kersey to their counterparts in the actual Led Zeppelin (Robert Plant, Jimmy Page, John-Paul Jones, and John Bonham respectively), brought cheers from the audience. As the band ripped into the Zeppelin standard, "Rock and Roll," the fired-up crowd surged toward the stage, recognizing that the resemblance did not stop at the costumes.
Frontman Swan Montgomery has mastered Plant's iconic wail, as well as his pursed lips and vacuum-sealed jeans. Jimmy Sakurai is a revelation, a spitting-image of Page with guitar skills to match, while multi-instrumentalist Jim Wootten and percussion virtuoso Jim Kersey fill their roles with gusto.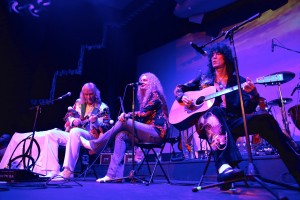 They know how good they are, working like a well-oiled machine through ambitious tracks like "Dazed and Confused, and "Over the Hills and Far Away." The Lido crowd loved every second.
Highlights included the recreation of classic Zeppelin moments like Page's double-neck guitar, a stunning acoustic interlude ("Going to California, "That's the Way", Bron-Yr-Aur Stomp"), the violin bow guitar solo, and the epic drum composition known as "Bonzo's Montreaux" which brought the entire audience to its feet and set the camera phones flashing.
The thumping "Trampled Under Foot" seemed to be the crowd favorite, prompting dancing in the aisles and the upper-level balcony. The set closed with the enduring "Stairway to Heaven," a fitting end for a nostalgic night.
Upcoming shows at the Lido include Hot August Night (a tribute to Neil Diamond) on Aril 11, and The Ultimate Stones & The Who Generation (tributes to The Rolling Stones and The Who) on April 18, and The Legacy: The Music of Michael Jackson (a celebration of the King of Pop) on May 8.
Visit LidoLive.com for more information.