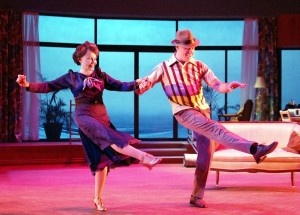 By Haylee Barber | NB Indy
Legendary actress and dancer Leslie Caron returned to the Southern California stage last Saturday, and it was an evening to remember as people from Orange County and beyond arrived at the Laguna Playhouse for the much-anticipated opening night of "Six Dance Lessons in Six Weeks."
"Tonight is such a special night," said Dorothy Bendetti, a Playhouse season ticketholder, during the pre-show reception. "They wanted it to feel almost like a red carpet. There's been a lot of buildup, and we are all so excited to see Leslie."
Preceding the show, guests enjoyed hors d'oeuvres on the theater's patio and buzzed about the great Leslie Caron, known for her roles in the 1950s films "An American in Paris" and "Gigi."
When the curtain opened (and the house nearly full), Ms. Caron, 83, took the stage with a boisterous attitude and a round of applause to match.
Caron was accompanied on the stage by her exuberant co-star, David Engel.
Two hours with just two actors could in other instances be monotonous, but Caron's and Engel's character immersion and fancy footwork did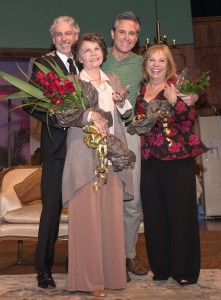 not disappoint.
"The chemistry between the two of them is unbelievable," said Jeff Brandt, a soon to be member of the theater's Board of Trustees, said during intermission. "This is one of the best shows I've seen all season."
"Six Dance Lessons in Six Weeks" follows the story of Lily Harrison, an elderly woman living in a retirement home who accepts the "invisibility of age." Lily hires a larger-than-life dance instructor for a few at-home lessons, and the two become unlikely yet beautiful companions.
The content is both layered and complex as the two friends begin to explore and questions life, love, and age. The humor was delicately crass and allowed for an evening that produced tears and laughter from the adoring audience.
Caron's dancing maintained impeccable timing and allowed for graceful transitions—not surprising for someone who has danced with such greats as Fred Astaire, Gene Kelly and Mikhail Baryshnikov, to name a few.
"Just the concept of dancing with Leslie, I often have to slap myself when I'm out there with her," said Engel after the show. "Leslie is a love, she is wonderful to work with."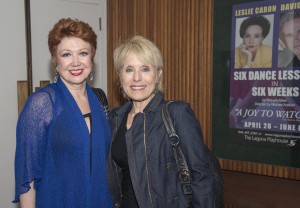 The costuming was bright and believable, and the choreography was created by another living legend, Donna McKechnie, best known for her starring role in the musical "A Chorus Line."
McKenchnie, too, spoke warmly of working with Caron and noted that many of the play's dance styles included in the "six lessons" were new to Caron. The process, she said, was integrated and creative, and made easy by Caron's impeccable acting ability.
Following the performance, guests enjoyed champagne and dessert. Caron and Engel made an appearance and were dearly welcomed by guests.
Caron embraced the audience warmly, posing for photographs with fans and "chatting with old friends."
As Caron says in the play's opening scene, "I'm just dancing!"
That she is.
For tickets to Laguna Playhouse, visit lagunaplayhouse.com.