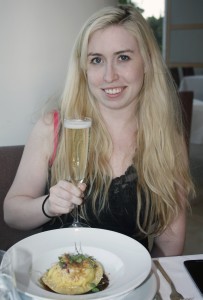 By Christopher Trela and Catherine Del Casale | NB Indy
Sold Out!
That's the word on trying to buy tickets to "The Book of Mormon" that runs through May 25 at Segerstrom Center for the Arts.
For those that do have tickets and are looking for a fun pre-show dining experience, Leatherby's Café Rouge adjacent to Segerstrom Concert Hall has just the thing. In fact, you might call it a religious dining experience.
Leatherby's Executive Chef Ross Pangilinan's cuisine is contemporary Californian with international influences, which is on full display in his themed "Book of Mormon" three-course, prix fixe menu ($45 per person), available each night that "Book of Mormon" has a performance.
"I used the show's songs for inspiration," Chef Ross told us. "This first course is called 'Hello.' Mormon's go up to the door and knock and say hello, so when you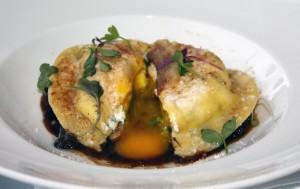 open this soft egg ravioli, the egg oozes out—hello! Or you can have the 'Baptize Me' soup, which is our soup of the day. Today we have chilled tomato gazpacho."
"The gazpacho is practically bursting with fresh tomato flavor, and I really love this ravioli with three different mushrooms and the egg in the middle," said Christopher after trying both dishes.
For entrees, we sampled both options: "Making Things Up Again" (grilled barramundi with Moroccan couscous), and "Sai Tiay Ka Siti" (sweet corn mezzelune with baby corn and artichokes).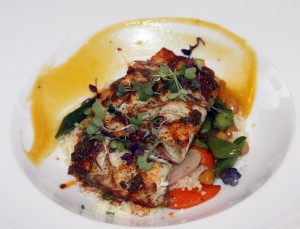 "The grilled barramundi had African flavor influences that I was able to pick up right away," said Catherine. "The slight spice paired with the sweetness of the apricot chutney was a perfect combination. I also loved the 'Orlando' dessert—white chocolate lime bar with whipped lime ganache, raspberry lime sorbet, coriander coulis and raspberry chips. The dessert was sweet without being overpowering and the sorbet added a nice tangy flavor and cool texture. And every dish tonight was beautifully presented."
For more information, call (714) 429-7640 or visit PatinaGroup.com.
More Mormon
Scott's Restaurant & Bar also has a special three-course, prix-fixe menu for "Book of Mormon," but even better is that Scott's will be staying open until midnight through May 25 during the two-week "Book of Mormon" engagement. So after the show, instead of being stuck in traffic, stroll over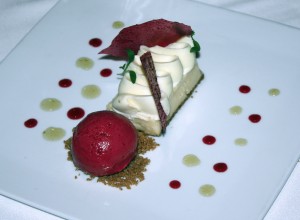 to Scott's and enjoy a drink and dessert.
If you go to Scott's on a Thursday, bottles of champagne and sparkling wine are half-off.
ScottsRestaurantandBar.com.
New Sandwich & Deli Shop on Balboa Peninsula
Sessions West Coast Deli opened on Balboa Peninsula last month, and it's quickly garnered a reputation as having some of the most flavorful and creative sandwiches in town.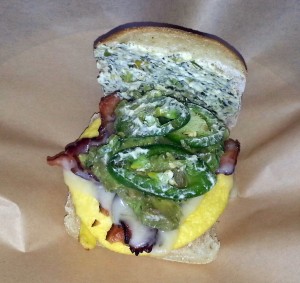 Owned by a trio of local entrepreneurs – Matt Meddock (Chief Shaka Giver), Maxmilian "Max" Schlutz ('Wich Doctor) and Beckham Thomas (Man with the Plan) – they mix gourmet beach influences with a dash of surf and skate culture. Sessions serves 16 different sandwiches and four gourmet hot dogs (aka "Longboards").
But lunchtime is not the only time to visit Sessions. Christopher had breakfast there recently, and was impressed that they serve Kean Coffee as well as a variety of breakfast sandwiches and specialty pastries.
"I had a vanilla latte that had well-rounded flavors, a perfect temperature, and a clever design among the frothy foam," said Christopher. "I also love their Wake & Bake sandwich: egg, bacon, pepper jack, guacamole, and jalapeno layered between two slices of ciabatta. So much better – and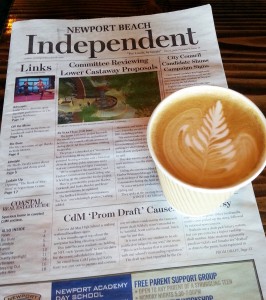 faster – than standing in line at Starbucks, and the ambiance is fun and upbeat."
Sessions is at 2823 Newport Blvd. They open at 6 a.m. for coffee and breakfast, and recently added dinner hours.
Visit SessionsSandwiches.com for more information.
Vin Goat
We remember when Vin Goat opened its cheese shop three years ago in Corona del Mar.
As they say, time flies when you're having fun and eating cheese! The store is holding its 3rd Anniversary Open House on Saturday, May 17, from 10 a.m. to 2 p.m.
Festivities include butter churning demonstrations (11 a.m. and 1 p.m.), food, drinks, and plenty of cheese.
Vin Goat is located at 3326 East Coast Hwy. For more information, visit VinGoat.com.
Foodie Nirvana at Ren Faire
May 17-18 is the final weekend for the 2014 So Cal Renaissance Pleasure Faire at Santa Fe Dam Recreational Area in Irwindale (a surprisingly easy drive from Newport Beach), and we highly recommend spending a day there. It's like stepping back in time 400 years to Shakespeare's era, where hundreds of authentically-costumed wenches, knights, royalty and peasants co-mingle. You can shop for period-style clothing and jewelry, enjoy entertainment from jugglers to musical acts, play various games of chance, watch jousting and fencing, and – best of all – indulge in a culinary feast.
Among the many food items are turkey legs, a trio of sausage, bread and cheese (the most traditional item at the Faire), British bangers, crepes, toad in a hole (chicken and pork stuffed in a pastry), meat pies, and much more.
The Faire is open from 10 a.m. to 7 p.m. Tickets are $28 for adults and $15 for children. Visit renfair.com/socal for details.
Wine Workshop
On Tuesday, May 20, from 6 to 9 p.m., Newport Beach Winery is hosting a Sommelier Guided Intermediate Blind-Tasting Workshop presented by The Wine Elite.
Blind tastings are a great way to really focus on the flavors and styles of wine, which makes this evening intriguing. Participants will taste and evaluate eight high-quality wines. If you're not at a higher level of wine insight afterwards, regardless of your current knowledge, you get a full refund! Beginners welcome as well as experts. Cost is $69 and includes all wines plus bread and cheeses. For more information, visit nbwine.com or wineelite.org.