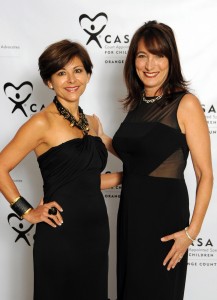 By Christopher Trela & Catherine Del Casale
Many nonprofit organizations in Orange County are focused on children, including one that's been around for nearly three decades: Court Appointed Special Advocates (CASA) of Orange County, which trains and supervises community volunteers to mentor and advocate for children in the foster care system.
We were honored to be among the 450 guests at the recent "Celebration of Children" Black & White Ball at The Island Hotel, when CASA honored some of its leading supporters and volunteers.
The 29th annual gala was chaired by Lourdes Nark and Wendy Tenebaum, The event is CASA's largest fundraiser, and this year netted over $780,000.
Lisa and Stephanie Argyros of the Argyros Family Foundation (based in Newport Beach) each received CASA's highest award, "Children's Champion," for their many years of support and personal dedication to children's well-being.
Newport Coast resident Larry Wilson was honored as "Outstanding Advocate" for his dedication to child abuse victims as a Court Appointed Special Advocate, an Educational Representative, and a Family Connections Advocate.
The evening's youth speaker, Ty, has been an advocate for seven years.
"That was a special moment when Ty shared his story of how the program changed his life," noted Catherine. "He was able to get on track with school, felt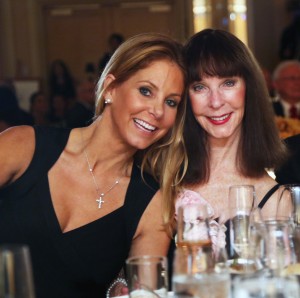 empowered to have goals and dreams, and eventually feel loved like all children should. He was honored as an "Outstanding Youth" during the program, an award that was well deserved."
In addition to presentations that honored all of the past recipients of the Children's Champions award, keynote speakers Vanessa Diffenbaugh (author of The Language of Flowers) and former Juvenile Court Presiding Judge (currently Supervising Judge of the Harbor Justice Center) Douglas Hatchimonji, discussed their experiences with the foster care system.
"Diffenbaugh spoke about taking in abused children from the school where her husband worked. It was inspirational to hear her story and the struggles and rewards that come with taking in children who have dealt with abuse and neglect," said Catherine. "The gala did a wonderful job overall of showing the impact CASA has both on the advocates as well as the children. It was inspiring to see how people can help one another and both become better as a result."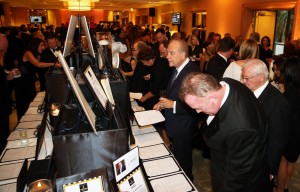 The evening began with a cocktail reception and silent auction, followed by a gourmet dinner and a live auction that included a five carat Ceylon Blue Sapphire from Lugano Diamonds, a Once in a Lifetime Anaheim Angels Experience, and more. The evening concluded with an after-party featuring desserts and dancing.
Because only four percent of the budget comes from government agencies, CASA relies on individuals, foundations and corporations for support. The event proceeds directly benefit the more than 800 children served by CASA.
For more information, visit casaoc.org.