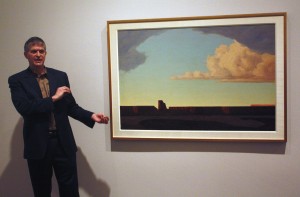 By Christopher Trela & Catherine Del Casale | NB Indy 
For most people, the word "landscape" means a picturesque countryside setting with colorful foliage and snow-capped mountains.
For the artists whose work is included in "California Landscape into Abstraction," the exhibit that runs through March 9 at Orange County Museum of Art in Newport Center, a landscape can indeed evolve into varying levels of abstraction.
More than 120 artwork by a variety of photographers, painters and others are on display, and range from traditional art to abstract and conceptual pieces. They are all works that are part of OCMA's permanent collection.
"This is the first exhibition dealing with the collection at OCMA," noted Chief Curator Dan Cameron. "The collection is unique, and it's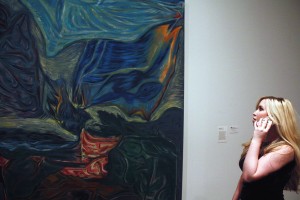 tied to the place we're standing in. This is really an effort to impose one factor over the long and complex history of the relationship between landscape and abstraction, and that factor is continuity. A lot of the history of modernism stresses the ruptures and fights and feuds between cubists and realists. In the 21st century, we're taking a time out to see the history as a gradual unfolding of certain themes and principles. The exhibit has works from different eras, so what I hope to bring is a new appreciation of works you may have known or in some cases are brand new and created by the artist not just for our collection but for this wall."
We attended the opening night reception and strolled through the exhibit, taking everything in yet occasionally confused by the artworks—not that they were confusing, just our perceptions of what we were experiencing.
Among the artists attending the opening reception for "California Landscape into Abstraction" was Alan Sonfist, whose "Nine works from the series Earth Paintings of U.S.A.," a 1969 piece made of acrylic, canvas and actual earth, was on display.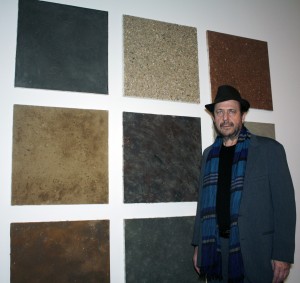 "Each of the paintings represent a different segment of the United States," he said. "We always think of earth as one color, but it has a diversity of colors. I took pure earth from each segment of the country—California, New York, Vermont, Texas, several others. Each has a unique coloration. We often take the earth for granted, so I wanted to create an awareness of the environment."
Having an artist explain his own work is invaluable to visitors like us, who may not understand a particular work or how it fits within the context of an exhibit. However, that is not always possible or practical, but OCMA has helped replicate that experience for some of the works in the collection.
Visitors can dial a phone number on their cell phones and listen to the artist or an art expert describe the work a visitor is viewing. Small signs throughout the galleries also help visitors understand more of the context of the exhibit, as do brief bios posted next to all of the works on display.
Those with ample time to listen and read will garner a greater appreciation for how landscapes can indeed morph into abstraction.
"I enjoyed that the exhibition wasn't in any type of chronological order but was organized by thematic design," said Catherine. "It allowed me to appreciate how one theme was developed by different artists throughout the decades with all the changing techniques and styles."
"An interesting portion of the exhibit was an animated movie that is mostly soundless and shows clips of random desert scenes," she added. "During our guided tour, we learned that we
were watching all the subliminal landscape clips from "Roadrunner" cartoons."
Two of Catherine's favorite works: Conrad Buff's "Desert Scape," which focused on the geometrical aspects of the landscape and had clean lines and a strict contrast of dark and light, and Brian Fahlstrom's "Visilation," an abstract oil painting with vibrant colors and a landscape open to interpretation with curving lines and interesting shapes.
Orange County Museum of Art is located at 850 San Clemente Drive in Newport Beach. Hours are 11 a.m. to 5 p.m., Wednesday through Sunday, with extended hours Thursdays evenings until 8 p.m. Admission is $12 for adults and $10 for seniors and students. Children twelve and under and OCMA members are free. There is no charge for parking. All facilities are handicapped accessible. For more information, call (949) 759-1122 or visit ocma.net.