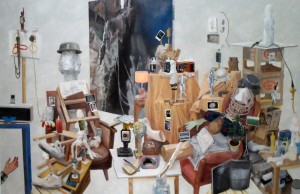 Hugo Crosthwaite put the finishing touches on a mural gracing the entrance hall of the Orange County Museum of Art shortly before the opening of its 2013 California-Pacific Triennial show.
The Tijuana native introduces viewers to the chaotically charged ambiance of his home city by drawing intricate black and white images taken from Carpa theater, a form of Mexican folk entertainment (Spanish for tent) resembling the humorous/serious skits of Vaudeville.
A thought-provoking story teller and facile draftsman using graphite, acryl and charcoal, he adapts folk characters into the likes of "La Narizona" or "Miss Balla" to skewer his home's shortcomings but also to wield more or less subtly incisive criticism at those who deride his compatriots.
"I put political statements into my work that are easily deciphered on both sides of the border, but not facile propaganda," he explained.
Welcome to the 2013 replacement of the Biennial shows staged at the Orange County Museum of Art until chief curator Dan Cameron, hired early last year, chose to expand the survey of California artists to include the entire West Coast and the Pacific Rim.
Overall, one gets an impression of looking at a traveler's eclectic art collection that includes works from China, Korea, Japan and Thailand, from Australia and Latin America as well as Central America and Mexico.
It's a young show, with artists not necessarily young such as Pedro Friedeberg who is enjoying something of a revival. "Bouquet de perros," 1969, was created in the heyday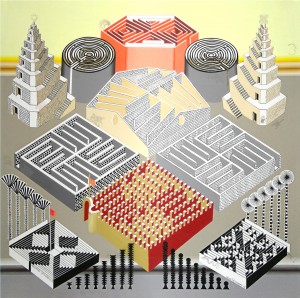 of op and pop-art but has retained its freshness, as have other pieces like "Monumentos para 5 paquidermos."
"We thinking of Biennial exhibitions in a more global, cultural context of the 21st century and to catch up to the latest developments in the Pacific Rim," said OCMA director Dennis Szakacs.
Even viewers who still don't get much out of video will become engrossed into Koki Tanaka's "A Haircut by 9 Hairdressers at Once," 2010, where a young woman undergoes tonsorial transformation by nine men and women wielding scissors. Warning: It's not for beauty shop phobes.
More trying on the psyche are the tormented cries emanating from the gallery holding Kim Beom's "Yellow Scream," 2012, a painting accompanied by the artist expressing the frustration inherent in creation–an expressionist painting in the truest sense.
Thai artist Araya Rasdjarmrearnsook wittily sums up the cultural reach of globalization and its inherent mysteries in her "Village and Elsewhere" series of digital prints. Here, one sees a group of Asian museumgoers studying works like Artemisia Gentilschi's "Judith Beheading Holofernes" or a piece by Jeff Koons or a painting by Rembrandt.
It's safe to venture that these representations of Western culture pose as much of a mystery to those visitors as it may be for Westerners trying to pronounce her family name.
Even though some may still grouse that the Orange County Museum of Art continues to veer ever farther away from the OC part of its moniker, it's shows like this Triennial that really serve the community by not aiming to please everyone but showing the world like it is now.
Szekacs called the exhibition the first of its kind in the Western Hemisphere, and promised to continue examining the theme of cultures overlooked or on the periphery of the art world such as South East Asia.
One might mention in closing that the speed bump, undoubtedly tripping up a few visitors on the path to the entrance to the museum, is a work of art by Sebastián Preece.
"It's the art you don't see yet, the archeology of the future," said Cameron.
 The 2013 California-Pacific Triennial Exhibit at the Orange County Museum of Art is the only exhibition devoted to contemporary art of the Pacific Rim and offers an international dialogue with artwork by 32 artists from 15 countries. Exhibit is curated by Chief Curator Dan Cameron, and runs through Nov. 17. For more information, visit ocma.net.