I wanted to give special thanks to our city council for dropping their permit to remove the fire rings with the Coastal Commission. Since the ball started rolling we may have to make some changes. I'm relieved to know sometimes they listen to residents instead of what I consider to be misguided city staff.
This came to mind when I read a new letter to residents from the city manager. I will explain in a moment.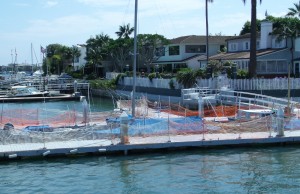 I've included a photo of the dock at the former residence of Elmer Hehr. Elmer invented and patented an aluminum framed window that became very popular and in turn allowed him great wealth. Shortly after he moved into the home, Ditmar and Donaldson started constructing an almost 80-foot motor yacht to replace Hehr's 60-footer.
The large slip allowed it to be parked in front of the house with a plank on the bow so Mr. Hehr could pursue his love of harpooning swordfish from this immense vessel. During the mid-seventies I helmed a commercial swordfish boat and I must say this large yacht could be spotted miles away.
Elmer passed, and the residence was sold, for – I believe – close to ten million dollars due to the huge home, swimming pool, and a boat slip which could accommodate a 90 to 100-foot yacht.
I became very fond of the new owners taste in small wood and fiberglass yachts of the present, but especially a bygone era. At the dock he berths a Leham 12, Lido 14, and Harbor 20 built by Newport's Schock family.
In my youth there was a large adult fleet of wood Luders 16 sailboats which is also tied there. I believe years ago I also noticed an Albatross wood sloop. A couple of older Boston Whalers tied up remind me of our family Whalers.
An older Duffy hardtop that seats passengers under cover and in the elements is a classic. Adjacent to that is a wooden lapstrake launch built at South Coast Shipyard which was very popular prior to the introduction of the Duffy launches.
I've left out a few others, but all of the residences' owners have nostalgic meaning to folks our age and older who have sailed and boated in Newport Harbor.
Included in the note from the city manager is a photo of the above mentioned slip as an example of someone who rents out his slip. Plleeesssse!
All of the vessels at this dock are very special and unique. I sincerely doubt the owner of a ten million dollar home wants noisy people traipsing beside his home yelling and shouting on boats at the rented slip. Give me a break!
Mr. city manager; your audacity, arrogance and jealousy is showing.
Sea Ya,
Skipper Steve