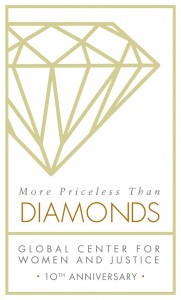 At the invitation of Newport Beach's First Lady Pamela Curry, I recently joined her, co-chairs Darrellyn Melilli and Mary Beth Molnar, as well as other Orange County women leaders, at a meeting to plan the Global Center for Women and Justice at Vanguard University's 10th Anniversary Celebration Luncheon.
The goal of the September 21 luncheon, entitled "More Precious Than Diamonds," is to raise funds and awareness in combating human and sex trafficking, cyber exploitation and violence against women in Orange County and around the world.
Truthfully, when Pam asked me to come to the meeting, I wasn't very familiar with the proliferation of human trafficking throughout Orange County. I suspect I wasn't alone in thinking that the issue was mostly a third-world country problem.
How wrong I was.
The subject started making local and national headlines these past few weeks when Saudi princess Meshael Alayban, 42, of Irvine was arrested for holding her domestic servants against their will.
In a separate case in Garden Grove, prostitute Cierra Melissa Robinson, 28, was the first person to be convicted under the anti-human trafficking Prop 35 for recruiting and trafficking a minor into prostitution. Her victim was only 14 years old; Robinson faces up to 12 years in state prison. Her pimp, Chuncey Tarae Garcia, 33, faces more serious charges with a maximum penalty of 28 years.
During our meeting, Vanguard University's Global Center for Women in Justice Director Sandra Morgan, RN, MA, informed us that human trafficking "has no socioeconomic boundaries. Even in beautiful Newport Beach, there are cases. It's just not something people want to bring up or discuss in great detail."
The answer in part, she said, is providing law enforcement with the training and resources necessary to identify and help the victims.
Morgan gave us some staggering statistics. For example, in 2012, 213 human trafficking victims in Orange County were identified and treated by local agencies. At least 60 of them were minors. In one case, an online predator was convicted after recruiting three girls from out of state with the promise of making them models, only to sell them online. He is currently serving a Federal sentence of 17 ½ years in prison.
The National Center for Missing and Exploited Children received and reviewed 17.3 million images and videos of suspected child pornography in 2011 – more than four times the number received in 2007.
Around the globe, it is estimated that 27 million people are held as slaves.
As I read the 2011-2012 Orange County Grand Jury's "Sex Trafficking of Girls" report that was based on a study conducted "to raise awareness of the sex trafficking of girls under the age of 18 in Orange County," it was clear the problem is escalating at alarming rates – largely due to the 'anonymity' of the Internet.
The report stated "the Grand Jury is sending a message to law enforcement and governmental agencies emphasizing the need to more effectively combat this injustice through greater communication and collaboration."
In response to the Grand Jury's findings, in September 2012, Newport Beach Police Chief Jay Johnson agreed that "more law enforcement training in sex trafficking is needed."
In a letter to the Honorable Thomas J. Borris, Presiding Judge of the Superior Court, Chief Johnson stated, "The Newport Beach Police Department is committed to the identification and safety of victims of human trafficking and sex trafficking of girls. We look forward to working with the Orange County Grand Jury, as well as other agencies and groups, to positively impact this growing issue."
KOCE's Ed Arnold will host the September luncheon at the Balboa Bay Club, featuring keynote speaker Ernie Allen, President and Founding Chairman of the National Center for Missing & Exploited Children.
Event and table sponsorships are currently being sought. For more information, visit GCWJ.VANGUARD.EDU/10TH or call the Center at (714) 966-6360.