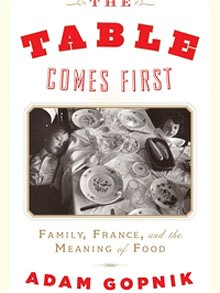 "Never before have we cared so much about food. It preoccupies our popular culture, our fantasies, and even our moralizing. With our top chefs as deities and finest restaurants as places of pilgrimage, we have made food the stuff of secular seeking and transcendence, finding heaven in a mouthful."
So says the book description for Adam Gopnik's new book, "The Table Comes First:  Family, France, and the Meaning of Food."
A collection of essays covering everything your average gastronome might want to ponder, Gopnik's latest endeavor above all explores the pleasures of sitting around a table and sharing a meal with family and friends.
Gopnik, a longtime writer for the New Yorker, and a prolific author to boot, is uniquely qualified to hold court on the issue. After having lived with his family in Paris for five years, while on assignment, he has not only observed the American love affair with food, but participated in French mealtime traditions as well.
Next month, Gopnik will bring his savory savvy to Newport Beach, when he is set to visit the Newport Beach Public Library as part of the 16th season of the Witte Lecture Series.
Attendees will have two options to choose from if they wish to hear Gopnik wax prophetic on all things food. On Friday, March 8, the library will host a wine reception beginning at 6:30 p.m., which will be followed by a lecture and Q&A, a book signing courtesy of Lido Village Books, and a dessert reception.
The following day, Saturday, March 9, Gopnik will appear for an encore engagement, consisting of the lecture, Q&A, book signing, and dessert. Saturday's festivities will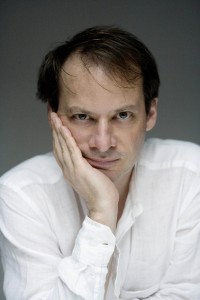 begin at 2:00 p.m.
The cost for Friday night's lecture and the accompanying activities is $55 per person, and for Saturday's "matinee" event, a bargain $35 each. Tickets may be purchased online at www.nbplfoundation.org.
Best known for his nearly three decades writing for the New Yorker, Gopnik is also the author of "From Paris to the Moon," an anthology of his "Paris Journal" columns written during his time in France, "The King in the Window," and  "The Steps Across the Water," both novels for middle-grade children, "Angels and Ages:  A Short Book About Darwin, Lincoln, and Modern Life," and "Through the Children's Gate," a portrait of a post 9/11 New York, as told through various essays and New Yorker columns.
The wide array of topics Gopnik's writing has covered, coupled with his widely credited abundance of wit and charm, is sure to make him an engaging speaker.
Nigella Lawson, famed British food writer and star of the new television show, "The Taste," had this to say about Gopnik and his new book:
"I need to read anything that Adam Gopnik writes, and this book on food, eating, and life is a particular feast. His acuity, grace, sensitive intelligence (in short, his brilliance) are, as ever, dazzlingly displayed, and yet with the lightest of touches."
Additionally, the Chicago Tribune gushes, "Gopnik would surely be the world's greatest dinner guest; he can make any subject fascinating, and always backs up his curiosity with unhurried research, and an acute eye for the telling detail."
I can think of no higher praise than this for one who has set out to remind us of the simple pleasures of breaking bread with one another, and no reason why anyone would want to miss this event.
For more information on the Witte Lecture Series, or to purchase event tickets, please visit nbplfoundation.org, or call 949-548-2411.