"I believe that Public Art attracts attention and influences people's attitudes toward their surroundings and often stimulates an exchange of ideas that can be enriching emotionally, intellectually and aesthetically."
–Ray Katz
"Art is what you can get away with."
― Andy Warhol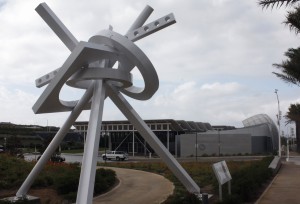 Seems like everyone, particularly artists, have their own definition of art.
Newport Beach residents and visitors can experience 10 different definitions of art at the grand opening event for the inaugural Sculpture in the Civic Center Park Exhibition on Saturday, September 13, from 2 to 5 p.m.
The event includes walking tours of the Sculpture Exhibition, art activities in the Civic Center Park coordinated by the Orange County Museum of Art, a presentation by the City Arts Commission and City Council at 3 p.m., and a reception in the Civic Center Community Room.
Activities in the park include art stations where children can create origami animals, build a wire sculpture using pipe cleaners, wire and beads, or mold a sculpture out of clay.
The 10 sculptures in the park were chosen from 260 submissions from around the country by a six member jury panel made up of arts professionals: Dan Cameron, Interim Director and Chief Curator, Orange County Museum of Art; Richard Turner, Artist, Professor Emeritus of Art and Co-Director of The Guggenheim Gallery, Chapman University; art conservator Christina Varvi; and three members of the City Arts Commission.
Another 10 sculptures will be added in 2015, for a total exhibition of 20 sculptures.
It was a long process that actually dates back several years to when I served on the Arts Commission (2009 – 2013). I was on the Art in Public Spaces committee with fellow commissioner Robert Smith, and – knowing that the new Civic Center Park was being designed to include art pieces – we spent months researching what other cities from San Diego to Seattle had created for their public art projects, and the funding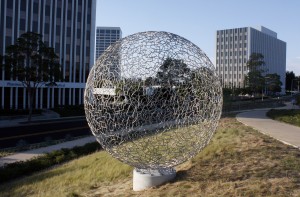 mechanisms needed to pay for that art.
After delving into the various models initiated by various cities, I became convinced that Newport Beach had an opportunity to establish itself as a destination for public art.
We made presentations to the city council, met with artists and OCMA staff, and gradually over time helped develop what has turned into the Sculpture Exhibition.
According to material provided by the city of Newport Beach, the ten sculptures and their descriptions are: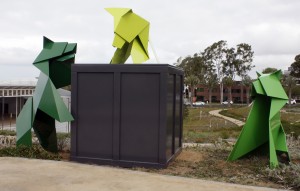 Cub Triptych (2013) by Gerardo Hacer
Medium: Powder-Coated Steel
Introduced to the art of Origami when he was age seven and living in a foster home, Gerardo Hacer took inspiration from his childhood joy of making paper animals and his fascination with Alexander Calder's bold, playful sculptures to create his own large-scale metal menagerie.
Red Gateway (2014) by Chris Rench
Medium: Powder-Coated Steel / 8 foot tall by 20 foot long
The red steel abstract sculpture was created by Chris Rench, who works primarily with stainless and mild steel. He aims to create a thought-provoking architectural sculpture that enhances its surroundings and instigates an artistic experience for its viewer. "I love to see my art bring people together with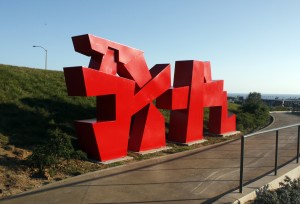 community pride, artistic experiences and intoxicating smiles. I like to use bold colors in my work, after all life is colorful and exhilarating."
Double Doily (2013) by Jennifer Cecere
Medium: Waterjet Aluminum
Double Doily is a double-sided bench resembling two doilies, put together back to back. Visually enticing, yet functional, the laser cut aluminum piece sits under a shady tree at the top of the park, making it a perfect resting spot with a view. Double Doily was inspired by Cecere's interest in needlework and a direct outgrowth of her days as a 4H girl in Indiana when she began collecting dollies, laces and antimacassars.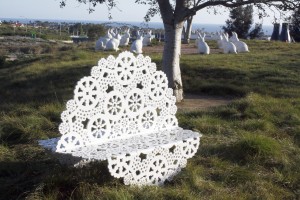 Brandi (2004) by Curt Brill
Medium: Bronze & Granite
The larger-than-life bronze sculpture of a woman sitting on a large slab of granite measures five feet by five feet and is placed in an upper park location, perfect for photo taking with view of the Civic Center. "Brandi" has been shown publicly in San Francisco at the MOMA plaza, in a Connecticut city square and in a sculpture park in Manitoba, Canada.
Sphere 112 (2014) by Ivan McLean.
Medium: Stainless Steel Rods
According to McLean, "I've built functional things since I could hold a hammer but the sculpture I make now is based on the desire to create pieces that have no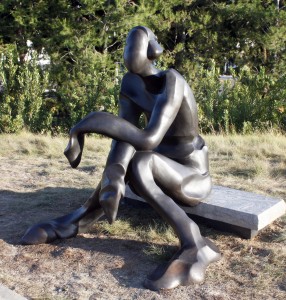 use other than to make people smile." The transparent quality of the sphere presents a different view from every angle of reference, whether looking upward toward the sky or through the structure to the view beyond.
Big Wet Dog (2014) by Matt Babcock
Medium: Powder-Coated Steel
Just off the pathway and visible from Avocado Avenue near the Dog Park, you'll see "Big Wet Dog," seemingly shaking the water from his seven-foot long, powder-coated blue steel frame. Babcock states, "I make art to expose odd and hidden facets of familiar subjects, to learn, to set strange and interesting challenges for myself, to have fun, to surprise and delight, to give something back to my community, and to make the world a better place."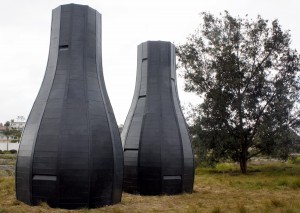 Wintering (2005) by Arny Nadler
Medium: Painted Steel
Nadler meticulously crafted "Wintering" by cutting, fitting and welding over 1000 pieces of steel into vessels standing 12 feet high and 5 feet in diameter. The larger than life unifiable vases resonate as enormous artifacts, suggesting qualities of preservation and endurance.
Pretty Boy (2012) by David Buckingham
Medium: Welded Recycled Steel
One man's trash is another man's treasure, so believes self-taught sculptor, David Buckingham, who scours alleys, abandoned factories, industrial area and low deserts of Southern California in search of discarded and forgotten materials. "Pretty Boy," standing eleven feet tall, is a composite of many of Buckingham's found materials and a full-bodied and multi-dimensional version of the smaller tribal masks he has exhibited. It is the largest piece the former writer and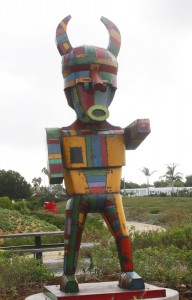 advertising creative director turned "neo-Pop" artist has ever created.
Odyssey (2004) by Ray Katz
Medium: Fabricated and Bolted Steel, Painted
The largest sculpture in the exhibition, "Odyssey" measures 22 feet at its highest point and straddles a pathway in the lower park area. The monumental white sculpture mimics the white architectural elements of the
new Civic Center and for that reason was positioned as a visual gateway near Civic Center entrance.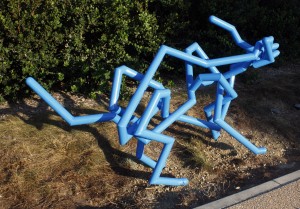 Red (2014) by Jonathan Prince
Medium: Black Zimbabwe Granite
The installation of "Red" will take place in early 2015, due to current refurbishing by Massachusetts-based artist Jonathan Prince. "Red," created with black granite sourced from Zimbabwe, is part of Prince's on-going investigation into geometric form, inspired by nature. The biconcave disk replicates the shape of a red blood cell and stands about five feet five inches high.
The city has developed a cell phone app that includes an audio tour of the civic center sculpture park, as well as a map of the park with descriptions of each artwork.
For more information on the event or exhibition, visit newportbeachca.gov/culturalarts, under Public Art/Sculpture, or contact the Newport Beach Cultural Arts Services Office at (949) 717-3801.