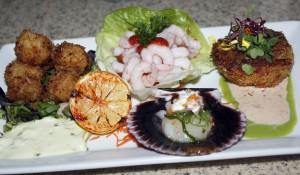 By Christopher Trela & Catherine Del Casale | NB Indy 
Sustainable seafood is a familiar phrase at Bluewater Grill, which is featuring a Sustainable Seafood Feast throughout September that showcases seafood and shellfish that has been sustainably caught or farmed according to standards established by the Monterey Bay Aquarium Seafood Watch program, the Aquarium of the Pacific in Long Beach Seafood for the Future program, or the Marine Stewardship Council.
The Newport Beach restaurant features a menu with more than 90 percent of its seafood offerings labeled sustainably caught or farmed, which according to Jimmy Ulcickas (Bluewater Grill co-founder) is among the highest of any seafood restaurant in California.
Christopher attended the kickoff event last Tuesday and sampled several dishes, including a started platter of Maryland style crabcake, panko scallops, Canadian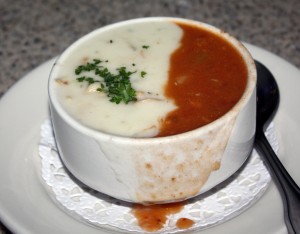 bay shrimp cocktail, and punzu sashimi sea scallop—all labeled Seafood Watch Best Choices.
"This was one of the best seafood samplers I've had—it looked pretty on the plate, and each seafood was prepared differently, so it was fun to have that variety. I could easily eat the panko-crusted scallops all night."
The second course was a choice of New England Clam Chowder or Manhattan Clam Chowder (both labeled Seafood Watch Best Choice). When Christopher couldn't decide, the waitress offered to bring him a half and half bowl.
"I've never had both in the same bowl side by side, and it worked perfectly—you eat from one side or the other, and then combine both flavors. I'll ask for this every time from now on."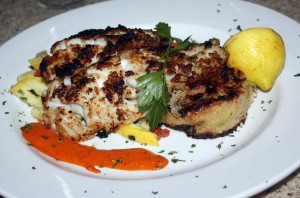 After learning that The Monterey Bay Aquarium had just upgraded 21 species of West Coast fish to sustainable status, including rockfish (snapper), Christopher ordered the Romano crusted Pacific Rockfish (hook and line caught) with risotto cake and romesco sauce.
"The fish was excellent—perfectly cooked, firm yet still delicate on the palate, and the risotto cake was a fun twist on standard risotto."
Christopher also tried the Acrobat Pinot Gris and the Acrobat Pinot Noir, both from Oregon. Both went well with seafood, particularly the Pinot Gris.
The Sustainable Feast menu was $34.95, but all items can be ordered a la carte throughout September.
For more information, visit BluewaterGrill.com.
La Vida Cantina, an authentic yet modern Mexican restaurant and bar, opened last month at The Triangle in Costa Mesa and has been popular since day one.
Catherine recently attended a media tasting at La Vida and discovered why.
In addition to the inviting décor featuring a spacious patio, lounge seating, and five fire pits, the restaurant is serving darn good food.
"The Tostaditas De Ahi is an appetizer that I would share between three people," noted Catherine. "You get three small crispy tortillas topped with house chipotle sauce and layered generously with large diced ahi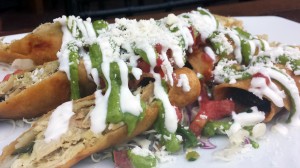 mixed with mango, red onion, cilantro and serrano pepper, and garnished with thinly sliced avocado. The appetizer is refreshing with a combination of sweet and spicy."
"I got to try the shredded chicken and the beef taquitos, which were fresh and surprisingly easy to eat without making a mess. It helps that the taquitos are made with fresh fried tortillas that are a little thicker than normal and don't crumble to pieces after taking one bite. My favorite was the beef which was topped with a guacamole sauce that was creamy without being thick, salsa fresca, Mexican cream and cotija cheese."
"The Steak Fajitas marinated skirt steak was cooked to perfection. I was able to roll it into the fresh tortillas and bite into it easily without ending up with an entire piece because it was cooked too long. The steak also had great flavor as it was sauteed with onions, garlic, Poblano peppers and red bell peppers. The dish was served with guacamole and sour cream with a side of Spanish rice which they deep fry before cooking to give it a little crisp."
"The desserts were my favorite part of the meal, and I'm not usually a huge sweets person. The housemade churros were fluffy on the inside and softly crisped outside. I could have finished the entire plate (including the caramel dipping sauce) even though I was already very full from the satisfying meal. I also tried their traditional flan as well as their corn flan which were both very tasty and light (great after a filling meal if you want something sweet). The corn flan had more of a grainy texture that made it stand out among traditional flans."
Most menu items are in the $10 to $15 range. We also enjoyed their creative margaritas on a previous visit, including the blueberry margarita ($12).
For more information, visit LaVidaCantina.com.