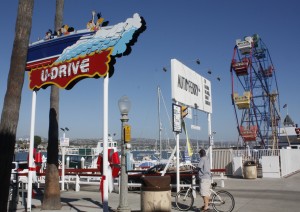 Plans are almost complete for a revitalization of Balboa Village (home of the Fun Zone) that will "increase the economic vitality of the area, improve the aesthetics of the neighborhood, and create a stronger identity and connectivity in the community," according to press material.
One identity that has stood for decades is the iconic and historic "U-Drive" sign next to the Balboa Ferry entrance.
A ribbon cutting ceremony complete with a barbershop quartet was held this week to commemorate the refurbishment of the "U-Drive" sign.
Originally built in 1933 by Roland Vallely, the sign was updated once before in 1969. Current city councilman Mike Henn, Balboa Boat Rentals, Balboa Village Merchants and other community members made contributions totaling $5,000 to have Superior Signs restore the sign.
"We're trying to keep the village beautiful," noted Ralph Rodheim, who along with his wife, Penny, owns Balboa Boat Rentals. "It's a harsh environment down here with the salt water and the sun. Over time the sign became faded with paint peeling, so the merchants in the village got together with the support of the city and we renovated the sign. It's a symbol of the renovations that we're doing here in the village. We're working hard, good things are happening, we have good merchants and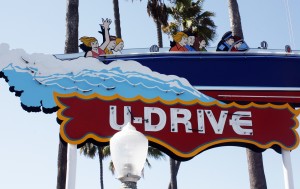 restaurants. Balboa Village is the heart and soul of the city. It's not a Fashion Island. When you come down here and see the old entertainment and history, it's a legacy."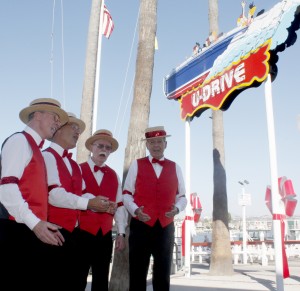 "It's a great sign," agreed Councilman Mike Henn, who attended the ribbon cutting ceremony. "We're working on a plan for a new entry archway for the ferry and Balboa Blvd., with big new archways. We're really enthusiastic hat this is all final coming together. We've been working for two years to put together a plan to revitalize Balboa Village. The plan is about ready to go to council for final approval, and I'm hoping that will occur in October. We'll still need approvals from the Coastal Commission, but I'd be surprised if they'll have serious issues because at the end of the day we're trying to revitalize this area and make it more attractive for public access and the public to enjoy. I am off council at the end of November, this is the last item on my bucket list that I wanted to get done before my term is over."