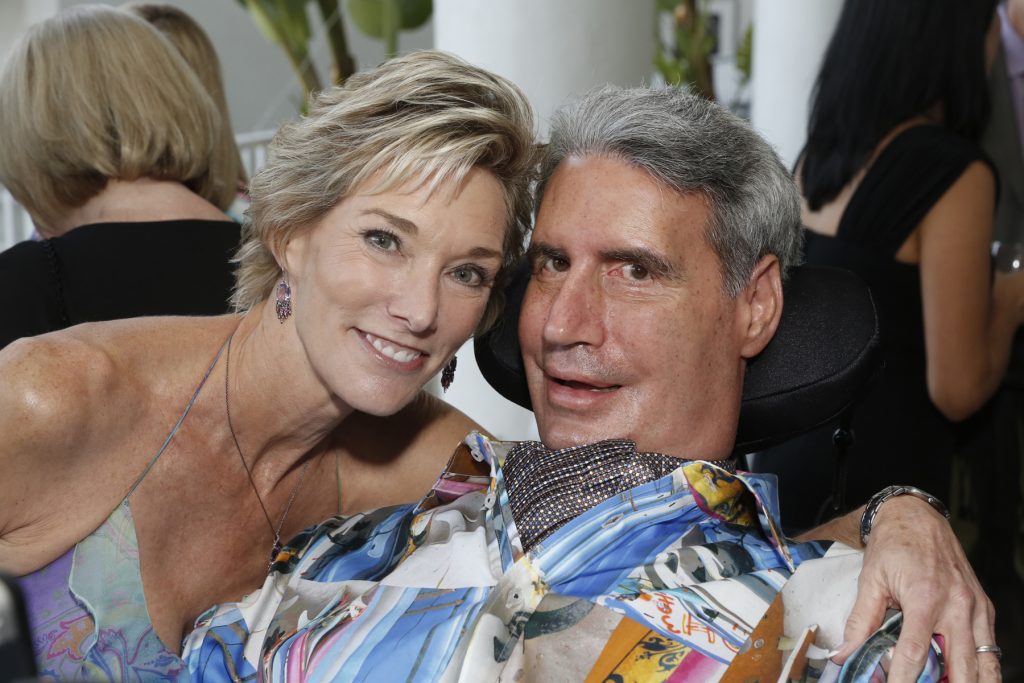 Moviegoers may not expect a film involving amyotrophic lateral sclerosis, or ALS, to inspire hope, but "Augie" certainly does.
The documentary centers on Augie Nieto, the fitness entrepreneur responsible for LifeCycle, and his fight with the disease.
ALS attacks nerve cells in the brain and spine, causing a patient to lose voluntary muscle control, as well as the ability to speak and walk. Also known as Lou Gehrig's disease, about 30,000 Americans suffer from the condition. It received renewed attention in 2014, when the "Ice Bucket Challenge" took social media by storm and raised over $220 million for research.
To say that Augie Nieto is stubborn would be an understatement. Decades ago, the mogul was described by associates as "arrogant and mean," but ALS has transformed him into a different kind of tough.
Powered by love of his wife Lynne, his children, and grandchildren, he faces each day with unexpected vigor and lots of jokes.
"Having a camera crew kept us on our toes. I think it was tougher on Lynne than on me, but then she wasn't part of the shower scene!" Augie said in an email. 
"He's got a wicked sense of humor," said director James Keach, who spent 14 months on the film. Keach also directed "Glen Campbell: I'll Be Me," which followed the singer on his farewell tour and battle with Alzheimer's disease.
As with the Campbell documentary, Keach weaves Augie's inescapable humor throughout the film, proving laughter might just be the best medicine.
Particularly memorable in this film is Augie's email list, which all of his friends and associates are very familiar with. The 300 lucky people on this list receive jokes and images of a very adult nature. Is Keach on that list?
"Definitely!" he laughed.
Augie communicates via text-to-voice technology that he controls with his toes, and is a frequent emailer. When he's not sending naughty emails, he's conducting business and serves as a director on multiple boards. Despite being in a wheelchair and on a ventilator, Augie's determination to beat ALS reminds us all to live life to its fullest.
"He's so alive," Keach remarked.
"We do really respect James and his team, and so enjoyed spending so much time with them," Augie said of Keach and the filming crew. "That made it workable."
Augie and his wife live in Corona del Mar, which is portrayed beautifully in the film. It's the perfect backdrop for an uplifting story, and a place that the Nieto family adores.
Years ago, Augie told his wife that he wanted to die in the Corona del Mar house that he loved so much. "Now," he says in the movie, "it's where I want to live."
 "I hope that people take away that no matter how things look – there's hope," Augie said
Director James Keach will join Augie, his wife Lynne, and producer Eric Carlson for a Q&A after the screening of "Augie" on Thursday, April 27. The screening begins at 3 p.m. at Island Cinemas. "Augie" will also be screened on April 23 at 5:30 p.m.
Visit NewportBeachFilmFest.com for more information.