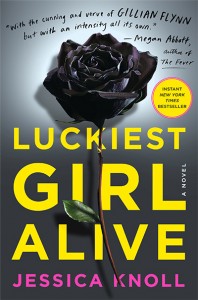 Most book to film adaptations start the journey towards their immortalization on film after becoming wildly successful in print form.
Every so often, however, there is a story so powerful that the movie houses jump on it, even before having the chance to gauge the public's reaction, as is the case with Jessica Knoll's recent novel, "Luckiest Girl Alive."
With the film rights purchased by Lionsgate before the book even debuted, and Reese Witherspoon on board to direct, it was certain that Knoll's was a story that would touch a nerve with both readers and movie-goers alike.
What those who have lauded the book as the next thriller in the vein of "Gone Girl," and "The Girl on the Train," in the months since its release last May, could never have guessed, however, was the bombshell the author would drop in the essay she published on Lena Dunham's website, Lenny earlier this week.
Since the book's release, Knoll has been careful to point out that, despite certain similarities between the book's protagonist, Ani, and herself, "Luckiest Girl Alive" is in no way a memoir. While both women were products of the suburbs, who attended tony, old-money prep schools and eventually found success in New York's magazine industry, the book is a work of fiction.
In this week's revelation, however, Knoll bravely shares that there is yet another parallel between she and her character:  both suffered a brutal sexual assault while in their young teens.
The book's main character, Ani FaNelli, formerly TiFani FaNelli, has worked hard to reinvent herself as the type of girl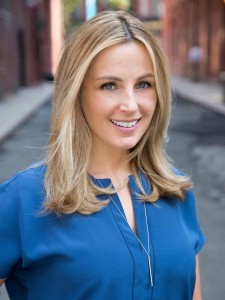 that would have seamlessly fit in with her prep school peers. Wearing only the correct designer clothes, snagging the right fiancé, at the right age, and always carrying herself in a manner that honors both her alma maters and her zip code, Ani seems to have gotten it all.
Like so many women, however, Ani has carried a secret with her, since her early high school years – she was the victim of a drunken gang rape.
Since her novel's debut, Knoll has had many women write her, thanking her for sharing their story. Women, who, for years, have suffered silently in a culture that refused to call what happened to them an actual rape, have thanked her for giving voice to their struggle.
They have asked her how she could have so accurately portrayed an event that only survivors could truly know. Now, Knoll has opened up to stand in solidarity with all those women by sharing that she too, is a survivor, of not only the attack itself, but the vicious shaming that came in its wake.
Knoll states in her essay that the first time she heard her attack labeled as a rape was seven years after the fact in a therapist's office. Today, with all the work being done to address the "rape culture" in our country, and redefine what can be considered a consensual encounter, she says, "I've come to a simple, powerful revelation: everyone is calling it rape now. There's no reason to cover my head. There's no reason I shouldn't say what I know."
She later continues, "I'm not fine. It's not fine. But it's finally the truth, it's what I know, and that's a start."
In her only stop in Orange County, Knoll will be bringing Ani's story, and her own, to the Newport Beach Public Library when she visits as the latest guest of the Library Live program. Appearing to promote the book's upcoming release in paperback, Knoll will be at the Central Library on Sunday, April 10.
Doors are set to open for the event at 2:30 p.m., with a book talk commencing at 3 p.m.  Following the talk, Knoll will host a Q&A, and the afternoon will conclude with a book signing and coffee reception. Tickets are $30 each, or $25 for NBPL Foundation members, students, or teachers.
For more information on the event, or to purchase tickets, please visit nbplfoundation.org. To read Knoll's full essay, please visit lennyletter.com.
Edie Crabtree is an avid reader and the mother of three active boys. She can be reached at [email protected]