"It's the great pumpkin, Charlie Brown!"
Much like Linus, who was always on the lookout for the great pumpkin, I'm always searching for dishes and drinks that offer my palate a plump pumpkin taste sensation.
That's one of the reasons I love fall–it's the time of year when restaurants roll out their autumn menus that feature heavier dishes, and – if 'm lucky – flavors of pumpkin incorporated into the dishes.
One of my first fall forays came earlier this week when I ordered a pumpkin latte at Kean's Coffee while meeting with a colleague. Normally the coffee of the day or a mocha serves its purpose, but it's October–time to switch flavors.
"What do you have with pumpkin in it?" I asked the guy at the counter after perusing the menu and not finding my favorite flavor listed.
"We have pumpkin latte, pumpkin…"
"Pumpkin latte. Perfect."
Several minutes later my hot beverage was placed on the counter. I grabbed it and sat down for my meeting.
"What did you order?" asked my colleague.
"Pumpkin latte." I took a sip, then another, then another. "Wow–this is a really good pumpkin latte. Try some."
I handed her the cup and she took a sip.
"You're right–this is really good, not too sweet."
"This may be the best pumpkin latte I've ever had," I enthused. "I know where I'm coming for my pumpkin coffee fix this fall."
Pumpkin coffee drinks are $3 to $5. Visit KeanCoffee.com for more info.
The only thing better than pumpkin coffee in the morning is pumpkin pancakes. Fortunately, IHOP just rolled out its fall menu, which includes pumpkin pancakes, carrot cake pancakes, and New York cheesecake pancakes. My recent birthday cake was a carrot cake with pumpkin cream cheese frosting, so I'm thrilled that IHOP has added those tasty treats to their menu.
I learned that IHOP uses 100 tons of pumpkin every fall, and plans to serve three million pumpkin pancakes between now and January. That's a lot of pancakes!
The pumpkin pancakes are made with real pumpkin, spices, and crowned with creamy whipped topping. The carrot cake pancake is an oatmeal spice pancake recipe featuring a mix of diced apples, shredded carrots, coconut, raisins, and crunchy walnut pieces, all topped with whipped butter and a drizzle of cream cheese icing.
My go-to IHOP is the one on MacArthur Blvd. across from John Wayne Airport. It's open 24 hours, so I can satisfy my pumpkin cravings any time of day or night.
The seasonal pancakes start at $4.99. For more information or to find the nearest IHOP, visit  IHOP.com.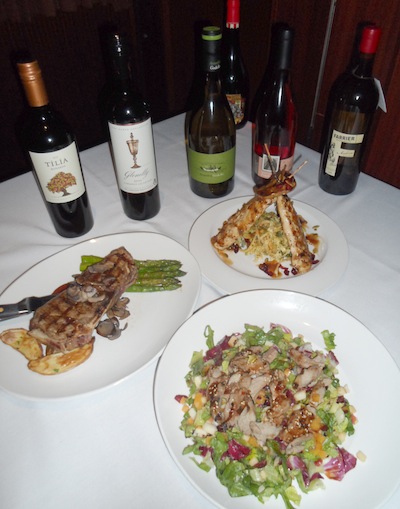 Seasons 52 at South Coast Plaza recently introduced its fall menu, and while none of the entree items feature pumpkin, the new Mini Indulgence dessert flavor for fall is Pumpkin Pie Mousse, which has two layers of ginger snap crust, in between layers of pumpkin mousse. It's topped with whipped cream and a ginger snap.
I attended a media tasting of Seasons 52's fall menu, and indulged in two of those delicious desserts, which – like every other item on the menu – is less than 475 calories.
Thr new seasonal appetizers include Portabello Mushroom Flatbread (featuring bleu cheese, goat cheese, garlic, and truffle cream), which they paired with a refreshing Orange Pinot Gris from Oregon (a blush wine made in an old world style with white wine grapes).
I also sampled the Cider Glazed Chicken Skewers (paired with Semillon from Alexander Valley), a Sesame Duck Salad (reminiscent of a Waldorf salad with apples and other goodies), and an all-natural Piedmontese Steak with roasted asparagus, crimini mushrooms and fingerling potatoes (paired with a Bonarda wine from Argentina).
The final course was Grilled Quail grilled over fire with sea salt and then given a balsamic glaze, accompanied by mushroom risotto and spinach. This was paired with two different wines: Petite Sirah from Lodi, and a Cabernet Sauvignon from South Africa.
The cab – made in a old world style – went well with the quail, but the Petite Sirah was a big-bodied wine that actually paired better with the steak.
One dish not sampled but added to the fall menu: Grilled Chicken with tamarind glaze, sweet potato mash, and … pumpkin seeds!
The Seasons 52 menu prices range from $10 to $30. Visit Seasons52.com.