It is gratifying, with that warm fuzzy feeling, to see our son and family at Andrews Air Force Base. We saw him in Texas when he graduated from boot camp about 15 months ago. We Skype a lot and visit with our granddaughter, but real life visuals and touching are irreplaceable.
A few days ago, we visited the national marina on the Potomac to check out life on the waterfront. The marina seemed relatively new, with about 100 yachts from 20 to about 90 feet. A beautiful 90-foot Burger named Silver Stream was berthed near the excursion boats.
Burger started making workboats and barges in Wisconsin in the early 1850s. They made some warships for the Civil War through World War I. Around the 1920s they started building yachts. From then to the present they are well known for fine craftsmanship with steel, fiberglass and aluminum vessels.
Over the years we have had many Burgers berth in Newport Harbor. From the 1960s to just a few years ago, the Edwards family, of Edwards Cinemas and many charities, tied their 60-foot Burger motor yacht beside their home on Newport Island. This yacht has always been the largest yacht berthed west of the Newport Boulevard bridge across from Lido Village. It's a good thing their yacht is low profile because of the bridge elevation, and they could only power under the bridge at low tide.
Some of my classmates from Newport Harbor High have told me we went to school with Jim Edwards, but I don't remember him. He must not have been rowdy like some of us. Over the years we have read about the many charities he and his wife, Patti, and their businesses have supported. Their activities are quite commendable.
I used my first press pass to visit the "In the Water Boat Show" at Lido Village. For boaters it is always fascinating to be able to see and board boats of other designs and purposes than your own.
I went aboard a 62-foot Azimut that was for sale for $1.2 million. These yachts are made in Italy and are known for speed and Italian flair. Inside, the modernist design was evident and the louvered salon windows allowed privacy from the outside but great visibility inside. The yacht can achieve an almost 40-knot top speed. That means Avalon is about 40 minutes away from our jetty. But an hour of running at this speed will consume about $500 of fuel.
The master stateroom had large windows and the bed was a little below sea level. There was a settee beside the starboard window for enjoying the outside area. The majority of these yachts are sold for cruising in the Mediterranean and many are berthed in the Fort Lauderdale area.
Another yacht that impressed me was a 33-foot Gemini sloop-rigged catamaran sailboat. It's hard to believe from the outside but there are three berths for six people below deck. Weekends and even longer are attainable with six people, but the small cabin design would be quite cramped with six on long voyages.
After reading and seeing pictures of these cats, this was the first time I was able to board one. They are well noted for being on the low end of catamaran costs and are affordable for charter use in the Caribbean and Mediterranean. They have a single diesel engine with outdrive that allows a cruising speed of 12 knots, almost double the cruising speed of a monohull. The fuel consumption was quite small compared to powerboats. A good wind would allow the boat to sail above the speed of powering. The cockpit, which also includes the helm, has seating for six adults. All in all, this small yacht allowed for short use for six adults and day cruising for up to about 15 people. That's a lot of bang for the buck!
I saw several brokers I've known over the years, and their mood was upbeat. Great acting, guys. The two I spoke with agreed that this show was quite smaller than in the past. One noted that the mood of boaters is in a holding pattern. They cannot comfortably guess what the future holds for us financially until after the election. Once the election is concluded we will all know which way the wind blows. We all hope the economy will improve in 2013. The tedious nature of our poor economy is beyond uncomfortable.
Wherever we travel we find ourselves near the water and boats. It could be rivers, lakes or oceans but we always find the water which always has boats of one kind or another. Almost every state we've visited we found Glaspar trailer boats. They were built from the '50s to the late '70s. In the '50s and '60s they built more boats than anyone in the world and built them in Costa Mesa and then Santa Ana. They are quite sturdy and can be used safely in the oceans. We haven't seen any here yet, but we will.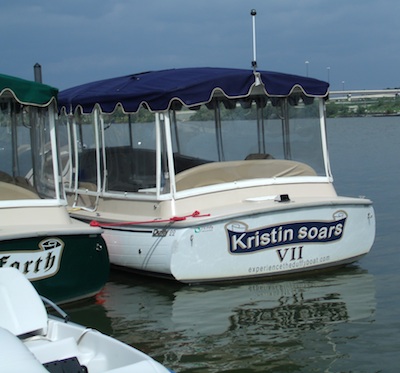 The national marina had mostly power boats and a couple of sailboats. On the east end were water taxis, large excursion boats similar to Newport's Hornblower vessels and small 20-foot electric boats. Yes, they were built by Marshall Duffield II in Southern California. Duffys, like Glaspars and MacGregors, are all over the country. The included photo is the Duffys on the Potomac in D.C. facing Alexandria, Virginia. Newport Harbor's footprint is everywhere!
Sea Ya,
Skipper Steve