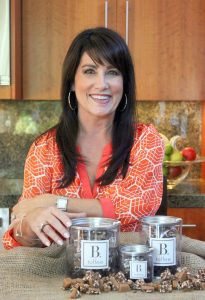 Some people bake cookies as gifts, other make fudge. Newport Beach resident Betsy Thagard decided to go one step further and make toffee.
"It's not the easiest thing to make—toffee is very temperamental," explained Thagard. "I love to cook, but wanted to make something that not only tastes good, but looks good. It has layers of toffee and chocolate and pecan nuts, and it's easy to package."
Her friends raved about the toffee, and insisted she had to share it with the world.   
"I decided to contact A Market, and I began creating gifts for businesses—they would gift it, and their clients would reach out and order it. It had a snowball effect."
That snowball has gained speed. A lot of speed.
Since officially launching B. toffee in 2009, Thagard has seen her brand grow beyond gifts and A Market (which still sells her toffee). A tireless promoter, Thagard has been a sponsor of numerous events where she was able to get her toffee in front of thousands of consumers. She also continued to add retail stores, culminating with being chosen by several national retailers including Whole Foods, Dean & Deluca and Bristol Farms.
Thagard has also grown an impressive corporate clients list.
This success has prompted Thagard to expand production and manufacturing facilities.  B. toffee has taken over a larger facility near John Wayne Airport, which features a commercial kitchen three times the size of the previous space. B. toffee hired more chefs and staff, purchased supplementary production equipment and expanded the packaging area to fulfill corporate and wedding gift orders.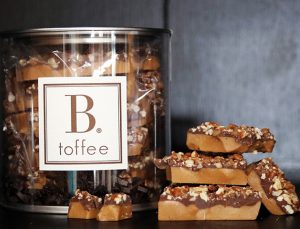 Did Thagard expect to have such a successful business this fast?
"No!" declared Thagard. "When I decided to start the company, I imagined it being just a hobby. I pinch myself every day. I am overwhelmed and excited to see the growth, which has all been word of mouth. We have not had a professional sales force that has pursued business because I wanted to keep up with demand. I took the time to reach out to Whole Foods and Dean & Deluca on my own. Once I hire a sales team, think of where the business can go."
"I'm thrilled to have our new space, which is three times as big as our old spot," added Thagard. "I hope we don't outgrow this one."
B toffee recently exhibited at the Fancy Food Show in San Francisco, where the toffee brand was introduced to buyers from specialty food stores across the country. Described as a "crunchy perfection of sweetness," B. toffee received honors for "Top Toffee" and "Best Packaging" by the Taste Awards in San Francisco.
"Packaging is what sets us apart from other candy companies," noted Thagard. "Customers are visual. They want to see what they are purchasing. Toffee is so beautiful, so I want customers to see what they are buying. And once they taste it, they're hooked."
People ask her if she still eats her toffee. Thagard admitted that one night in December, she was working late and grabbed some sample pieces to eat on her way home.
"My toffee is really good," gushed Thagard. "I had not had it in a while. It still is a special candy. But I also take great pride in building a wonderful team and the attention to details that my team puts forth in making each and every batch consistently the same for our clients."
Locally, toffee loves can find B toffee in A Market, Whole Foods in Fashion Island, Roger's Gardens, Hi Time Wine, Bristol Farms, and several other retailers. B toffee is also a sponsor of the Newport Beach Film Festival that opens on April 20.
For more information, visit the website at btoffee.com.