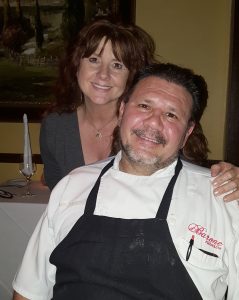 Newport's noted Italian restaurant Il Barone, opened in 2009 by longtime Antonello chef Franco Barone and his wife, Donatella, is on the move.
Not only are Franco and Donatella moving their much-lauded bistro (Chef of the Year and Restaurateur of the Year from the Southern California Restaurant Writers Association) to a larger spot on Bristol Street inside a shuttered Coco's Restaurant this summer, they recently opened Il Barone Sicilian Street Food at Pacific City in Huntington Beach. That location is run by Jonathan Barone, their eldest son.
Although the flagship Il Barone is tucked away inside a small strip mall near John Wayne Airport, it has become a go-to power lunch spot and a dinner mecca for those looking for an authentic taste of Italy.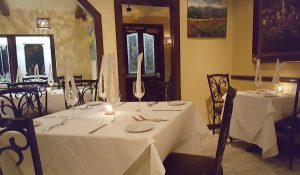 Franco spends most of his time in the kitchen when he's not out shaking customers' hands. Donatella is the de facto maître d' who knows most of her guests by name.
Many of those guests make the drive to Il Barone from Laguna Beach, but now Franco and Donatella have come to Laguna – make that South Laguna – as the new proprietors of Ti Amo.
Renamed Ti Amo by Il Barone, the announcement was made this week by Donatella, who contacted her regular customers and sent out an email blast. Naturally, we had to go check it out.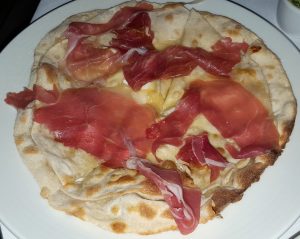 She was at Il Barone on Tuesday night, the restaurant's soft reopening. Franco was, as usual, in the kitchen, cooking classic dishes from his new Ti Amo menu—which looks in many ways similar to the Il Barone menu.
"This has been in the works for a while—since last year," Donatella revealed when she had a few minutes to sit and chat during the soft reopening. "The owner of Ti Amo kept asking us, saying this is up and running, just come in and start working."
She said that she and Franco were undecided about taking on the Ti Amo project because of the planned move of their Newport restaurant, but the Ti Amo partnership was too good to turn down.
"We decided we can eventually train the right people and put them here at Ti Amo, so we said yes," explained Donatella. "We partnered with the owner and said we'll see how it goes. Ti Amo is a name that everybody remembers. We just could not pass it up. But we had to clean it up, put some fresh paint on it. We went with light yellow and dark chocolate, warm colors. Franco took out the old kitchen equipment and brought in new ones."
Ti Amo will be open for dinner Tuesday through Sunday nights, and eventually for brunch on Sundays. Donatella said they already have several parties on the books.
"People know us," stated Donatella. "We want to make it a nice neighborhood restaurant. We've been training the staff for two weeks, but not just on the food. They have to bring what we have and take care of my customers. Our customers are protective of us. There are so many restaurants but few that make it right for you. The worst thing is to say no, I'm sorry. Customers will go somewhere else, and then it's our loss."
One last thing, said Donatella: "Everyone wants to know if we have the facci ri veccia (a thin pizza made with cheeses, prosciutto and truffle oil) on the menu. Yes, we do. It's our most popular item."
We order it every time we go to Il Barone. We're also partial to the Limoncello tiramisu—lady fingers soaked in limoncello, layered with mascarpone cream sprinkled with white chocolate shavings. And, if we're lucky, Franco sometimes has his homemade limoncello for sampling.
For more information, visit TiAmoLaguna.com and ilbaroneristorante.com.