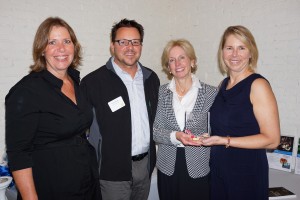 The city of Newport Beach was given an award of merit for Economic Planning and Development for the Balboa Village revitalization program by the Orange Section of the American Planning Association California Chapter.
The award was accepted by community development director Kimberly Brandt at a ceremony at Cooks Chapel in the historic Anaheim Citrus Packing House.
The award recognized the comprehensive and concerted efforts of the Balboa Village Citizen Advisory Panel and Balboa Village Advisory Committee since 2011.
Brandt said, "We are very pleased that this multi-pronged revitalization effort has been recognized by the American Planning Association."
The non-profit organization includes over 600 professional planners in southern California that represents the public, private and academic sectors; and is devoted to advancing the science of physical, economic and social planning at the local, regional, state and national levels.
Mayor Pro Tem Diane Dixon attended the ceremony and remarked, "The Balboa Village is transforming before our eyes and will be a revitalized commercial, residential and visitor-serving center for years to come."
Grateful for the past and current community leaders, staff and council members' participation on BVAC, she further noted, "They led the work to create and inspire a workable and livable plan for our community."
Regarding the work done by Brandt and her community development planning team, a five year process has brought dozens of community members and staff to create improvements to streetscapes, landscapes, signage and store fronts to the village, all of which complement the iconic historical and cultural roots of Newport Beach.