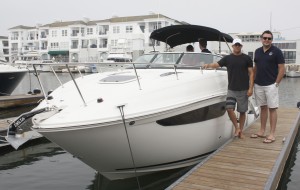 With nearly 10,000 boats in Newport Harbor, it seems like almost everyone either owns a boat or knows someone with a boat.
But there are still plenty of people, from locals to visitors, who want to try the boating experience but often settle for renting a Duffy electric boat and cruising around the harbor.
Enter Boatbound, a peer-to-peer (or make that "pier-to-pier") boat rental platform that launched two years ago in San Francisco and now has thousands of boats available to rent around the country, including nearly 30 in Newport Beach with more on the way.
Boats range from six to eight passenger models to larger yachts and sailboats, with half day, full day, weekend and longer rental periods available. Prices vary from a few hundred dollars a day to several thousand for larger boats or longer rentals.
Boatbound founder Aaron Hall was in town last weekend to host harbor cruises on one of the local rentals available, and to explain how Boatbound works.
"We have our core market (Chicago, New York, San Francisco), but Southern California is growing organically, and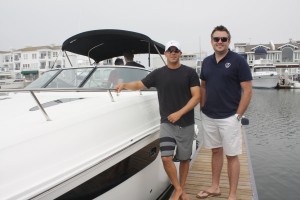 we're putting more effort into it," said Hall. "There are probably 20 to 30 boats you can book today in Newport Beach, but we have a waiting list of about 200 to 300 boats waiting for approval waiting to go live on our website."
"Boats are not used as often as people want to use them, maybe 14 to 17 times a year," explained Hall. Boatbound owners can rent their boat once or twice a month and offset the cost of the slip and the boat, although some owners rent their boats out 10 to 15 times a month. It's changing the way people are looking at boat ownership."
Hall said that when someone wants to rent a boat, no experience is required, although captains are available for most boats. To rent a boat with a captain, it's as simple as messaging the owner and booking the boat.
"If the renter is going to operate the boat, the owner will typically vet you," said Hall. "We prescreen all renters that want to rent a boat and operate it themselves. We look at driving history and criminal history to make sure they are responsible and safe, and then we leave the last step of the vetting up to the owner. There is a different set of questions that each owner has to vet the renter and make sure they're comfortable with them operating their boat."
Hall said it takes about three minutes for a renter to get verified, and that the process is similar to how Air B&B works.
"You message the owner, tell them about your boating history and where you want to go, and the owner can approve you. You see different packages—half day, full day, we have people that rent boats for six weeks. You can have a great experience, and it builds a boating community. People look at boating as something they cannot afford, so this makes it more accessible, and cheaper. For example, the boat we're going out in today is a 26 foot Sea Ray. It holds about eight people and rents for $790 a day."
Hall noted that about 30 percent of people who rent a boat have never been on a boat or rented a boat, so a lot of them rent it with a captain. Sailboats are different—it helps to have had sailing lessons, but most sailboats over 40 feet come with a captain.
And to ensure that both renters and owners keep the experience a good one, they are both reviewed after each rental, so if a renter wants to book again, he needs to have positive reviews; same for the owner.
Newport Beach resident Ariel Gabriel is the owner of the 26 foot Sea Ray, which he said is a 2015 model and has only 15 hours on the engine.
"When I bought the boat I did not know about the renting option, but a friend told me the slip is so expensive, you can rent the boat (to pay for it)," said Gabriel. "He told me about the Boatbound website, and within 24 hours the boat was listed on the website. It was very user friendly. Within a few days someone was looking to rent the boat, he was pre-approved and I talked to him to make sure I felt comfortable. And within 24 hours, I get the rental money from Boatbound in my bank account. So far, so good. It covers my expenses. I never thought to rent it, but it's so safe that I'll do it more often."
Gabriel said he owns a second boat that's moored in the Back Bay that he rents out almost every weekend.
Gabriel came to Newport Beach from Israel two years ago and fell in love with the town and the lifestyle.
"Every time I rent the boat, I am so passionate about this area that I tell people where to go. It's fun to help people go out and have a great experience."
Boatbound is available now in Newport Beach, and will be expanding into the summer with additional boats being added. For more information on Boatbound, and to view boats for rent in Newport Beach, visit Boatbound.co.