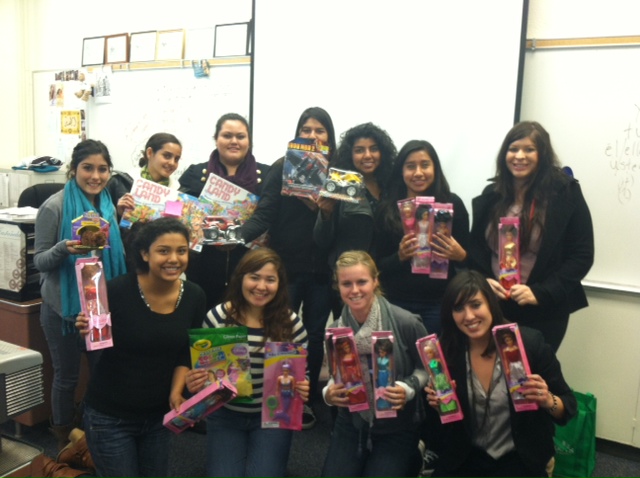 A group of Newport Harbor High School students have learned how to give back to those in need and be part of a miracle.
They're part of the school's Miracles for Kids Club, a group dedicated to helping the non-profit organization of the same name. The organization Miracles for Kids helps families with children who are diagnosed with cancer or other life threatening diseases.  Activities for the club include basket making, toy and canned food drives.
"At the end of the day, they know they are going to make a child happy," said Alma DiGiorgio, the club's faculty adviser.
The club is currently collecting donations for their spring campaign for the Basket of Miracles Program. More than 200 baskets will be filled with games, toys, and household items will be delivered to Southern California families from the Children's Hospital of Orange County grant program.
DiGiorgio said they still need student, parent and community volunteers to help assemble and package the baskets as well as assist in hand delivering them to the CHOC families. Donations are also still being accepted and can be dropped off at the NHHS office.
Students  can earn community service hours too, DiGiorgio said, and there is still time to sign up to volunteer.
They will be setting up March 29 from 9 a.m. to 2 p.m., assembling baskets March 30 and 31 from 9 a.m. to 2 p.m. and deliveries will be the first few days in April.
"It takes a whole town to get something like this done," DiGiorgio said. "We count on the help of the community… I'm so grateful… Newport Beach is an extremely giving community."
They hold three toy drives a year, with the most popular one being right before winter break and just in time for Christmas. The 2011 winter basket project totaled more than 500 toys donated to needy families.
The club has donated over 3,000 toys since its inception in 2008.
DiGiorgio and the club members also get the rest of the school involved and make it a campus-wide effort to collect donations.
"As teachers, we get to see a different side of the students," she said. "A sensitive side… They are really caring."
DiGiorgio encourages holding contests between classes to see who can collect the most toy donations, with the winning class earning a pizza or ice cream party. The kids get competitive, in a good way with positive results, she said.
She talks to her classes about the organization and what they do, to try and get them interested in helping out, she said. She shows videos that give students an idea the struggle a family goes through when a child has cancer or other life-threatening illnesses.
"It's tough to watch," DiGiorgio said and can be very eye-opening for the students.
They learn about CHOC and that the majority of the families that Miracles for Kids help are local and they want to help, she said. She also talks to them about the importance of social service and giving back.
"They are very respectful and open," to ideas of how to help, DiGiorgio said. "They want to find out how to do their part."
DiGiorgio first learned about the organization when a friend invited her to the charity's annual gala.
"I sat there and listened to testimony from families that have been helped," she said. "And listened to the founder… really speak from the heart."
She went home and thought about how she can help. She didn't have the funds to make a big donation, but she knew a lot of students ready and willing to help.
"There is power in numbers," she said, and there are a lot of students in Newport Harbor High School.
Soon it became a chartered club and the ball was rolling. Next year, DiGiorgio hopes to hold a Miracles for Kids assembly, featuring videos, information and live testimony, hopefully from someone in their students' age range.
The club meets every Tuesday during lunch in DiGiorgio's room (253) to discuss ideas, plan campaigns, organize the donation drives and try to think of other ways they can help.
"We try to think outside the box," DiGiorgio said.
This year's co-presidents, juniors Samantha Singer and Sydney Dexter, came up with a brand new idea to help Miracles for Kids: Boutique Holiday Sale. Junior Riley Beek and Senior Tania Trujillo have both also made incredible efforts for the club, DiGiorgio said.
For the boutique sale, the students went door-to-door to local businesses to gather items like jewelry, accessories and home goods to sell at a club-sponsored community sales event.
The club earned 20 percent of sales, totaling $1,400 from just one night.
With the money they raised from the boutique sale the club was able to "fund a family" through the Miracles for Kids organization.
The Fund-a-Family Program allows donors to support one child and their family on a continual basis. It creates a more personal connection between the family and the donor and can be tailored to the donor's wishes, according to the organization's website. The Newport Harbor club funded the Juarez family for just over one year.
It's a great club and a good way to meet other people on campus and help others less fortunate at the same time, DiGiorgio said. The club is always open and welcome students in all grades. They also help out at the annual gala, this year's is scheduled for Oct. 6.
Visit www.miraclesforkids.org for more information.