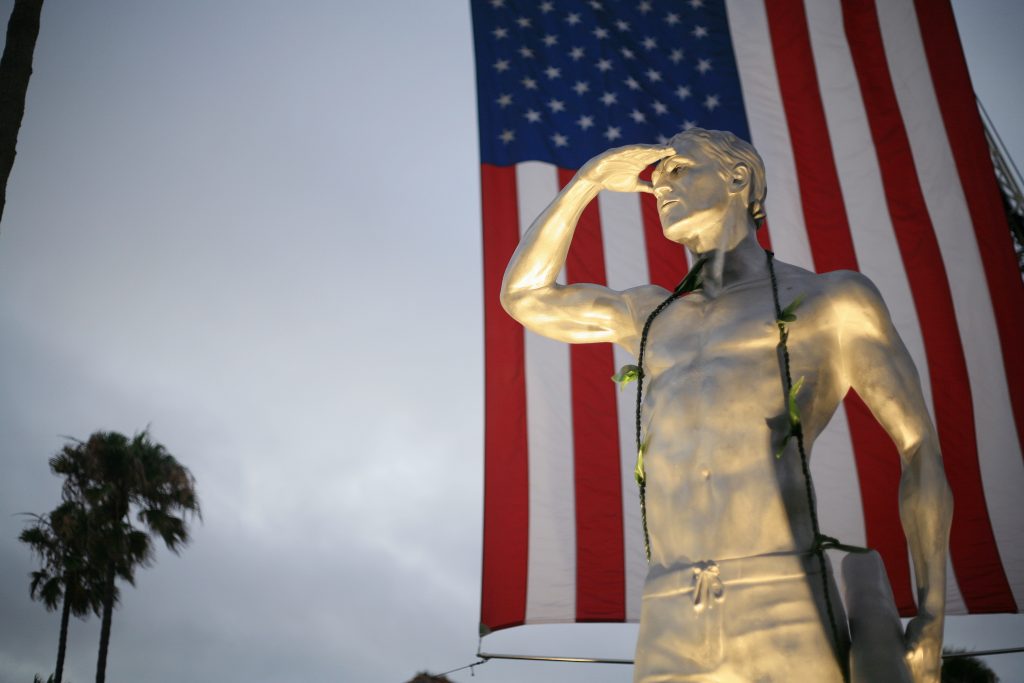 Just steps away from the spot where he made his last rescue exactly two years ago, a larger than life statue of the fallen Newport Beach lifeguard Ben Carlson was unveiled Wednesday, forever watching over the sand and water he cared so deeply for.
More than 1,000 friends, family members, lifeguards, and supporters packed McFadden Square near Newport Pier as the sun set.
The event revealed a 9-foot-tall, almost 1-ton statue crafted out of marine grade stainless steel. He is wearing lifeguard trunks, holding a rescue tube and fins in one hand and using his other hand to shade his eyes, as if in perpetual watch over the coastline.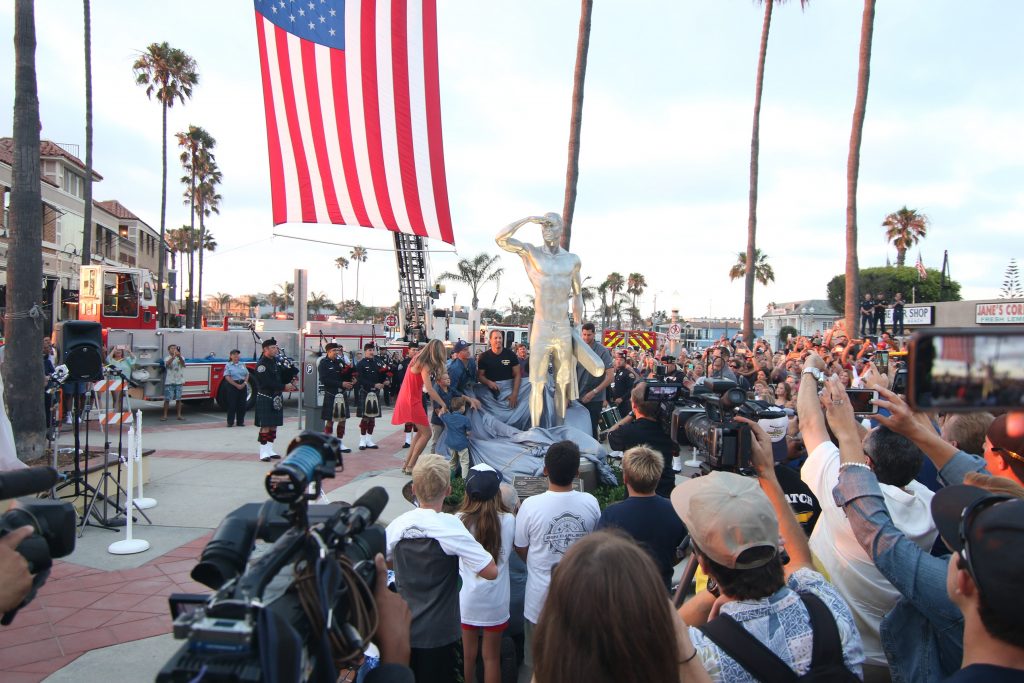 The concept behind the statue's design was to create a stoic and iconic figure over looking the water that Carlson so proudly protected for 15 years, officials explain on the Ben Carlson Foundation website. It will not only be a tribute to his heroism, but also serve as a symbol of respect to lifeguards everywhere.  
On July 6, 2014, Carlson became the first Newport Beach Lifeguard to die in the line of duty.  
The 32-year-old waterman entered the water shortly after 5 p.m., when a Newport Beach rescue boat identified a swimmer in distress in the six-to-eight foot surf near 16th street. After he successfully made contact with the man, both of them were hit by a large wave. Other lifeguard personnel at the scene attempted to rescue and assist Carlson, but due to the turbulent water conditions were unable to do so. After an extensive search, they recovered his body about three hours later.
Several people spoke during the ceremony, including Newport Beach Lifeguard Chief Rob Williams, Carlson's brother-in-law and statue artist, Jake Janz, NB lifeguard George "Skeeter" Leeper, Carlson's good friend, Chris Conway, and Mayor Diane Dixon.
He was a leader, Williams said, and he taught them to respect the ocean.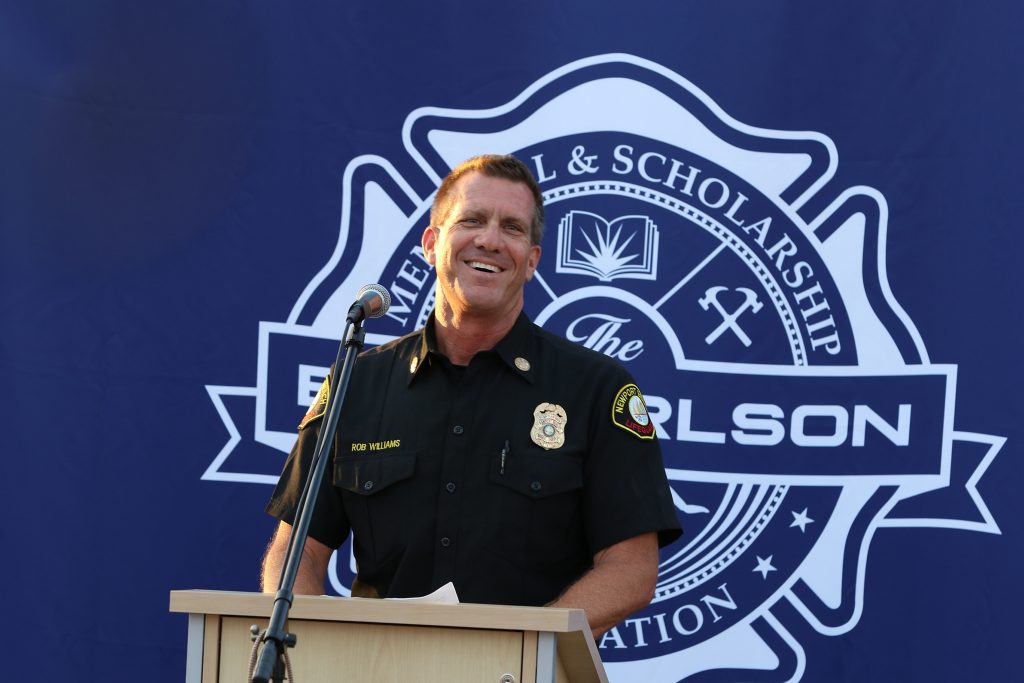 "The statue means people will remember Ben's legacy," Willilams said, "it means people will learn what lifeguards do."
Williams repeated the mantra, "Lifeguards for life," adding that, in this case, "lifeguards forever."
It will help raise awareness about ocean safety for generations to come, Dixon said. She noted that lifeguards made more than 400 ocean rescues last weekend.
Carlson's legacy will forever be linked with life guarding and saving lives, Dixon said.
Chris Graham, a 30-year Newport Beach lifeguard veteran and president of the Association of Newport Beach Lifeguards, said after the event that Carlson was a true professional. A very skilled waterman, he said. He was a wonderful guy, he added.
"It's a great tragedy," Graham said. "When you lose someone you're close to… it leaves you speechless."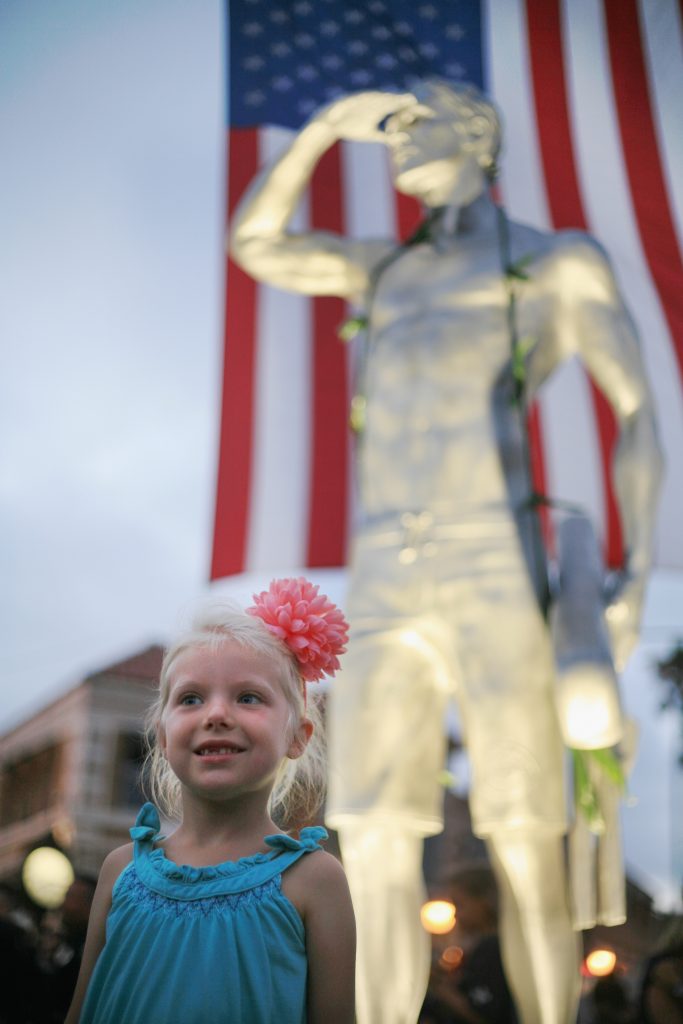 If Carlson were to see the ceremony on Wednesday, he'd probably be honored and say, 'Thank you, but what are you all doing here?' Graham said jokingly.
The big turnout is inspiring, Graham added, the community is very important to the profession.
"Knowing you have support when you're out there, it means a lot," Graham said.
News of Carlson's death made national headlines, reaching lifeguard communities near and far. Flowers were even sent from Honolulu. Thousands of people came together after Carlson's death to honor him during a paddle out. City Council voted to rename the headquarters the Benjamin M. Carlson Lifeguard Headquarters.
Carlson's father, Chris, said at the 2014 meeting when city council voted to rename the lifeguard headquarters that their intent with both the headquarters and the statue is that other lifeguards and members of the public will "take pause and realize the Pacific Ocean that they're about to enter requires a high level of respect."
For more information, visit bencarlsonfoundation.org.