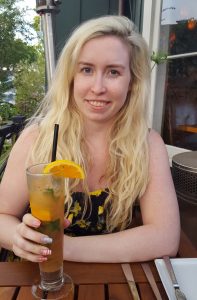 By Christopher Trela & Catherine Del Casale | NB Indy
 Pageant of the Masters is an experience that nearly defies description: People dressed and posed as tableaux vivants ("living pictures") that recreate larger-than-life versions of classic and contemporary works of art.
This unique show has been drawing thousands of people to Laguna Beach each summer for more than eight decades. The Pageant has become more sophisticated each year, and more creative in how it combines still life, real life, and even movement.
We attend the Pageant of the Masters every year, and always marvel at its endless creativity. We also enjoy going to dinner before attending the Pageant (or almost any other event in Laguna Beach, such as Laguna Playhouse productions or the many art festivals including Festival of Arts).
We've been to most restaurants in downtown Laguna Beach (our favorites include Alessa,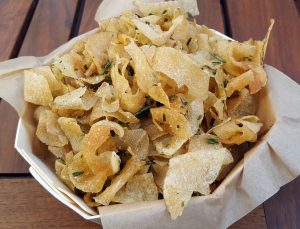 Lumberyard, 370 Common and 230 Forest), so when we attended a special preview performance of Pageant of the Masters earlier this week, we opted to try a new spot (for us) and dined just south of downtown at Sapphire Laguna.
Chef Azmin Ghahreman opened Sapphire in 2007, yet we had not been there for dinner (only lunch and breakfast), so we thought it was time to give them a try.
Known for serving global cuisine, we found many interesting dishes on the Sapphire menu that sounded intriguing—but before food comes libations.
Catherine ordered the specialty blood orange mojito ($14) with Ketel One oranje, blood orange, and mint. She dubbed it "light and fun for summer with an orange twist."
Christopher opted to stick with the bottle of wine he brought for dinner—a Syrah-Cabernet blend from Epiphany Cellars that matched this year's Pageant theme, "Partners."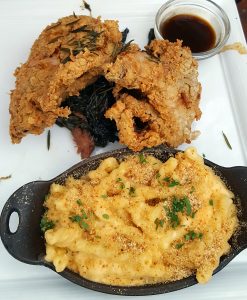 We were somewhat surprised at the $25 corkage fee, which we thought was a little excessive, but have noticed recently that corkage fees are indeed creeping up. Even restaurants that previously had no corkage fees have been adding them. Luckily, the wine we brought was worth the fee.
We ordered the home fried potato chips with sage-rosemary sea salt ($4.75) to start, followed by buttermilk fried half Jidori chicken ($29) with ham hock braised collard greens, mac 'n cheese, and rosemary jus, and a vegetarian four-way tasting ($27), as we were curious to see what a Mediterranean-influenced vegetarian plate might contain.
"The Jidori chicken was awesome," proclaimed Catherine. "The chicken was juicy with a crisp outside, and the amount of chicken was surprising large—plenty for two people."
"I'm loving these potato chips—very addicting," said Christopher as he stuffed a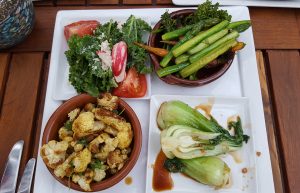 handful of chips into his mouth. "But the vegetarian plate is very nice too, I like the presentation and the combination of flavors. The charred cauliflower was particularly flavorful."
Because we were on a time crunch we paid our bill and drove downtown. Parking can be a nightmare in Laguna during the summer, but we found a parking garage down the street from the Pageant with plenty of space that charged $5. We quickly strolled to the Pageant and made it to our seats a few minutes before 8:30. 
We've been attending the Pageant of the Masters for several years and have never been disappointed. This year, they raised the bar higher than ever with the "Partners" concept and execution.
The Pageant has been adding movement and even vocalists to the mix over the past few years. This year, they added dancing—lots of dancing, as in Fred Astaire and Ginger Rogers, Gene Kelly and Leslie Caron, and other noted song and dance duos (and even the trio of Gene Kelly, Debbie Reynolds and Donald O'Connor from "Singin' in the Rain").
The dancing tribute coincided with posters from famous movie musicals, including "Top Hat," "Holiday Inn," "An American in Paris," and others.
"The dance numbers were fantastic and really pulled viewers into the Pageant," said Catherine.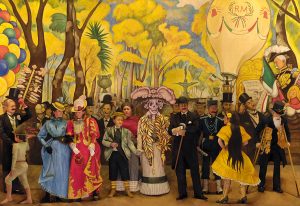 Sandwiched between these excellently executed tributes were more traditional (yet no less interesting thanks to the informative narration) tableaux of works depicting famous partners through the centuries, including Lewis and Clark, Diego Rivera and Frida Kahlo, Gertrude Stein and Alice B. Toklas, etc.
And, following tradition, The Pageant concluded with Leonardo da Vinci's "The Last Supper."     
We agreed it was an exceptional Pageant of the Masters full of surprises.
For information on Sapphire, visit Sapphirellc.com. Sapphire also has an adjacent Sapphire Pantry where you can order sandwiches, salads and cheeses to go (and yes, picnicking is allowed on the Festival of Arts grounds).
For tickets to Pageant of the Masters, visit PageantTickets.com.