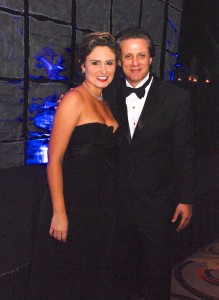 Big Brothers Big Sisters of Orange County celebrated its 50th Annual "Gourmet Dinner" black-tie gala on October 23 at the Balboa Bay Resort in Newport Beach with more than 450 of Southern California's top business and community leaders, who helped to raise over $900,000 to benefit the organization's professionally supported one-to-one mentoring relationships to change at-risk youth lives for the better.
Big Brothers Big Sisters of Orange County's largest annual fundraiser offered a swanky and rat pack-vibe that featured liquor tastings (including with a monogrammed ice sculpture), a hand rolled cigar bar, and beautiful luxury cars.
Attendees had the opportunity to also don Black, Starr & Frost diamonds in the liquor and cigar lounge.
Dinner by chef Vincent Lesage included an entrée of pan-seared filet mignon with truffle perigourdine sauce and béarnaise with gratin dauphenoise and green asparagus, and dessert of salted caramel macadamia nut torte with espresso anglaise.
During the event, Auction.com Chairman and Big Brothers Big Sisters of Orange County Board Member of 25 years Rob Friedman was honored with the Joel K. Rubenstein Award, which is presented to those who have demonstrated loyal and profound passion for Big Brothers Big Sisters and made a lasting and permanent impact on the organization.
A Newport Beach and a Nellie Gail Ranch resident, Friedman is a major financial supporter of Big Brothers Big Sisters of Orange County, including with Irvine-based Auction.com being an ongoing presenting sponsor for the nonprofit's events, such as the Gourmet Dinner.
He also provided the first challenge gift for the nonprofit's capital expansion campaign, and through Auction.com is donating $750,000 for a new building which will enable the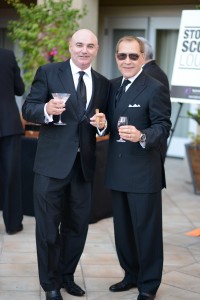 organization to grow its mentorship services by 100 percent over a decade.
"We are deeply grateful to our supporters who help us provide the priceless experience of a mentorship match to our "Littles," and thrilled to have celebrated our 50th anniversary of our largest annual fundraiser," said Big Brothers Big Sisters of Orange County CEO Melissa Beck.
Big Brothers Big Sisters of Orange County's "Honorary Big" program raised more than $228,000 at the event. The nonprofit's version of fund-a-need, each $1,000 Honorary Big pledge funds one year of a mentorship match for one child.
Attendees bid between $1,000 and $25,000 to support the program, with presenting sponsor Auction.com and Friedman capping off the excitement with a $100,000 match pledge should the "Honorary Big" donations hit a total of $100,000.
A live auction was also held, with prizes to include a private jet excursion to golf and stay at Pebble Beach (a $35,000 value), Los Angeles Lakers floor seats (a $15,000 value), a trip for two to China with a six-day personal tour, stay at a 5-star hotel, business class plane tickets and more (a $35,000 value), a one-week stay at a members-only RockCreek Cattle Company cabin in Montana (a $12,000 value), and more.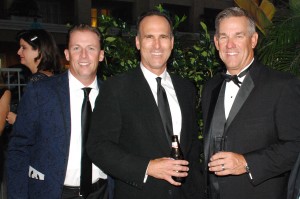 The Gourmet Dinner was made possible by generous sponsors, including; (Presenting) Auction.com; (Platinum) Layer Cake, Farmers & Merchants Bank, Bellingham Marine; (Auto) Irvine BMW, Rolls-Royce Motor Cars Orange County, Irvine Mini; (Media) Orange County Business Journal; (Gold) Albert J. Crosson Family, Wells Fargo, Suzanne & Peter Desforges, Succession Capital Alliance, Balboa Bay Resort, Newport Beach Country Club; (Silver) 270 Capital, Aristotle Capital Management, PCVMURCOR Real Estate Services, Newport Investment Associates, McFarlin LLP, Vizio, Western National Group, Mathis Brothers Furniture, KPMG, Pacific Hospitality Group, The Private Client Reserve; (Bronze) COX, Merrill Lynch, Elkins Kalt Weintraub Reuben Gartside LLP, WirelessEmporium.com, BDO, Syn-Mar Associates, SA Recycling, Palmieri Tyler Wiener & Waldron LLP; (Table Gift Sponsors) Kyle Wescoat; with special thanks to Glenmorangie Scotch, Agave Underground Tequila, Black Starr & Frost, The Cigar Guys, Sir Speedy, Whittier VIP Limos & Coaches, Carving Ice, Fusion Decor, GBS Linens, and Tito's Handmade Vodka.
All proceeds from the Gourmet Dinner benefit Big Brothers Big Sisters of Orange County's youth mentorship programs. Big Brothers Big Sisters of Orange County provides over 2,400 children facing adversity with professionally supported one-to-one mentoring relationships to change their lives for the better.
Youth ("Littles") are matched with volunteer mentors ("Bigs") to develop positive relationships that have a direct and lasting effect on their lives.
For more than 100 years, Big Brothers Big Sisters has operated under the belief that inherent in every child is the ability to succeed and thrive in life. Most children served by Big Brothers Big Sisters live in single-parent and low-income families, or households where a parent is incarcerated. As the nation's largest donor and volunteer supported mentoring network, Big Brothers Big Sisters makes meaningful, monitored matches between adult volunteers ("Bigs") and children ("Littles"). Providing a system of ongoing evaluation and support, Big Brothers Big Sisters is proven by independent studies to help families by improving the odds that "Littles" will perform better in school and avoid violence and illegal activities, and have stronger relationships with their parents and others.
For more information, visit bigbrooc.org.