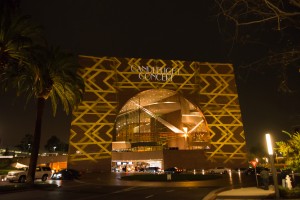 Four decades ago, an event dubbed the Candlelight Concert was held to raise money to build a major performing arts center in Orange County.
The event was held in a vacant Kresge five-and-dime store that was transformed into an elegant ballroom with the use of candles.
Several years (and a few Candlelight Concerts) later, the major performing arts center was indeed built.
Fast forward to the 41st annual Candlelight Concert, held Dec. 5 inside Segerstrom Hall at the Segerstrom Center for the Arts. More than 350 guests attended the event, which raised nearly $1.9 million to support the Center's arts and education programs.
Center Board member Shanaz Langson and her husband Jack served as co-chairs. Center Executive Vice President Judith (Judy) O'Dea Morr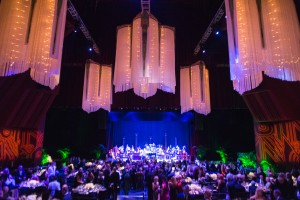 was the evening's special honoree. Morr, who is celebrating her 30th anniversary with the Center, has helped chart its course to become one of the most prestigious and successful arts centers in the nation.
Candlelight Concert is always held in Segerstrom Hall, this year dramatically transformed into a glamorous Art Deco ballroom.
In keeping with the Frank Sinatra Centennial (Old Blue Eyes would have been 100 years old on Dec. 12), star entertainment was provided by his son, the renowned singer, musical director and conductor Frank Sinatra., Jr. and his 37-piece orchestra.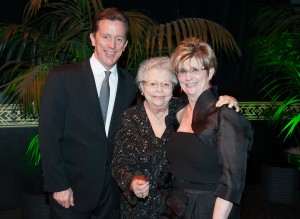 Additional mood and music included San Francisco's super band, Super Diamond, the group that has transcended the label of tribute band by passionately immersing themselves in Neil Diamond's huge repertoire.
The guest list included members of Morr's family, friends and professional colleagues from around the country. These included her daughters Kristen Reynolds and Tania Morr, Orange County philanthropist William J. Gillespie, for whom the recently announced American Ballet Theatre William J. Gillespie School is named, David Lansky, general manager of American Ballet Theatre, Lauren Reid, CEO of the Theatre Division at Broadway Across America, and Roger T. Kirwan, a former Segerstrom Center Board Chairman and current treasurer.
Center Board Chairman Lawrence M. Higby concluded the remarks by announcing that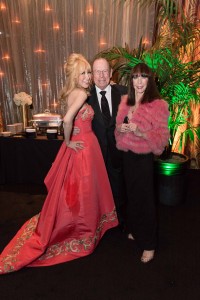 the Center's Founders Hall would be renamed The Judy Morr Theater.
Higby said, ""On behalf of the entire Board of Directors, it is our tremendous honor to celebrate the incredible contributions of Judy with this new name. We hope that she will continue to work her magic for many years to come. But with this name, we know that Judy will always be an unforgettable presence here at the Center."
The theater has been the site of many Center performances and special events, has served for as a rehearsal space for visiting ballet companies and choreographers, and will be an integral studio space for the ABT Gillespie School.
Kia and Versace were sponsors of Candlelight Concert. Kia is the official automotive partner of the Center and provided the evening's valet lounge. Versace hosted an in-store reception and showing of the celebrated women's and men's formalwear designs earlier in the year. A portion of the sales made at that event were donated to the Center by Versace.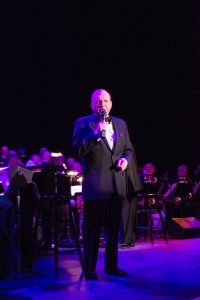 Other Candlelight Concert amenities included a Veuve Clicquot Champagne Bar underwritten by Betty and S.L. Huang and a dessert truffle bar, provided by Linda and Burton Young of Elite OC Productions.
Guests were invited to try two signature cocktails: Bee's Knees (London dry gin, lime juice, honey syrup and a twist of lime), or the Concrete Shoes, with Bullet bourbon and ginger beer.
The Langsons hosted the Silver Oak and Rombauer wines that accompanied dinner.
Guests began their evening with a dramatic walk up the black carpet (in keeping with traditional Deco black, green and gold décor) to Segerstrom Hall's Orchestra Terrace lobby. They were greeted with holiday music performed by the Sonora Elementary Handbell Choir.
After pausing for commemorative photos which they later took home, guests moved directly into the hall. The Orchestra Level seating of the Segerstrom Hall was terraced, with the fifth and top level serving as a large reception area where the Veuve Clicquot and truffle bars were stationed.
Massive chandeliers (underwritten by Angela and James Hsu) were suspended above the four lower terraces, which were used for dining and dancing. Art Deco architectural designs projected against the walks created the illusion of a grand vintage ballroom in a sophisticated bygone era.