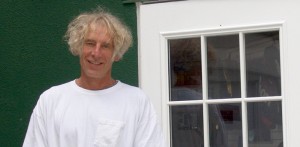 Christopher Burkhardt | Special to the NB Indy
The Palisades Tennis Club of Newport Beach held a fundraiser last weekend for one of its own.
Renowned pro tennis stringer Greg "Homer" Lauter recently underwent a splenectomy at Hoag Hospital after a tennis-related accident. More than 100 tennis players took part in a benefit tennis tournament that raised over $25,000 for his medical expenses.
Among the pros taking part were Taylor Dent, Carsten Hoffmann and Scott Davis.
The event included a pro-am style tournament with 30 local tennis players auctioned off, a silent auction and a bake sale.
Cyndie Borcoman, who planned the event with fellow Palisades member Carlos Lucero, commented, "When a family member needs help, the community comes together. Palisades is a very large, caring family."
Palisades General Manager Terri DeLong added, "It's what our members do. Over the years we have had several successful fundraisers for various causes, and it is a testament to our sport that so many members participate in these social events. In addition to the many fundraising activities on Sunday, we have also had dozens of checks dropped into the Lauter donation box."
Lauter, who spent two weeks in the hospital, was able to attend the event.
Lauter, the Palisades Tennis Club Pro Shop manager, got his first taste of retail tennis nearly 30 years ago when he began to learn the ins and outs of stringing racquets.
He learned his skills in Corona del Mar at Jerry Malloy's Tennis Pro Shop, where Malloy, himself a Palisades charter member in the 1970s, mentored him.
Lauter started buying the merchandise for the Malloy shop, quickly learning the idiosyncrasies of various pro tennis players while he strong racquets for the likes of Roy Emerson, Rod Laver and Jimmy Connors.
He picked up racquets at Newport Beach Tennis Club and strung for that crowd, too.
When Malloy retired, he closed his shop, and Lauter opened his own store in Newport Beach, "The Tennis Zone," on PCH at Dover. He ran it for three years and moved back to CdM.
Lauter took over the pro shop at the Palisades Tennis Club site, and with Tony Prodan as a partner, moved the pro shop into its current site the year before Prodan retired.
Over the years, Lauter has had the pleasure of stringing racquets for such diverse pros as Rod Laver, Roy Emerson, Michael Chang, Jimmy Connors, Andre Agassi, and Lindsay Davenport.
"Rod Laver had 10 or more wooden racquets, but he had one favorite that he would keep restringing until it couldn't be strung anymore," recalled Lauter. "Back in those days, it would be warped and even cracked, and he would want me to keep re-stringing it."
"Roy Emerson had a special way of checking his personal string tension. Back then, stringing machines were not electronic, and capturing the exact tension from racquet to racquet was almost impossible. Emerson would listen to the sound of the strings by placing the grip up to his ear, and strumming the strings like a banjo. If it was not to his liking, he would cut it out and make me start over."
"Jimmy Connors' racquets would take me three times longer to string because of the extra-thin gut he would use in his Wilson T-2000 racquet – not a gut-friendly racquet at all. But with a reputation like he had, I did not mind it a bit."
"In one of Lindsay Davenport's first pro tournaments at the Manhattan Beach Open, she got to the finals. The morning before the match, she sent her mother down to have me re-string her favorite racquet. Lindsay beat Stephie Graff to win the tournament, then stopped by the shop the next day to get all her racquets re-strung before leaving for Europe. It was just then I noticed that on the racquet that she won with, I had missed a few weaves. I pointed it out to the champ, and she just laughed. She was never too picky – and always cool."
In the 30 years Lauter has been serving the tennis community in Newport Beach and the world, the characteristics of the stringing equipment has changed, but not the character doing the stringing.
Christopher Burkhardt is the director of the Palisades Tennis Club of Newport Beach.