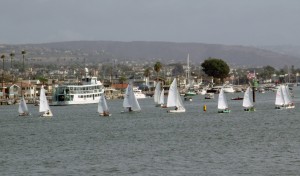 Newport Harbor boating is as active as it has been for the summer months. Last Friday and Sunday I had the pleasure of sea trialing a sportfisher and skippering the vessel for a bay cruise around the perimeter of our harbor.
Friday the air was warm, the wind was slight and the ocean appeared as calm as Big Bear Lake in the early morning hours. On my 1 to 3 p.m. sea trial I witnessed an active group of boaters enjoying our summertime conditions with a large amount of vessels normally seen on weekends.
Sunday the weather was a little cooler with clouds which dissipated after 2 p.m., and summer had returned. Again I saw a very active group with a large Bahia Corinthian Yacht Club regatta being held in the Turning Basin.
The following are the results for this youth regatta. The yacht clubs are abbreviated and are Bahia Corinthian Yacht Club, Newport Harbor Yacht Club and Lido Isle Yacht Club which are local clubs.
BCYC Corinthian Cup:
CFJ Class:                                                                   Sabot C1 Class:
1st   Ashton Brown (BCYC)                                       1st   Haylee Gumey (BCYC)
2nd Cameron Wood (BCYC)                                     2nd Zoe Johansson (BCYC)
3rd  Reid Wiley (NHYC)                                            3rd   Abby Hampton (BCYC)
Laser Radial Class:                                                           Sabot C2 Class:
1st   Matt Hilliard (BCYC)                                          1st   Gordon Withrow (NHYC)
Sabot A Class:                                                    2nd Cole Kristiansen (NHYC)
1st   Eric Hov (NHYC)                                                3rd   Alexander Morehead (NHYC)
2nd Trenton Bashaw (NHYC)                                                            Sabot C3 Class:
3rd   Ian Wells (NHYC)                                               1st   Max Kleha (LIYC)
Sabot B Class:                                                     2nd Aidan Malm (NHYC)
1st   Gray Hernans (BCYC)                                        3rd   Charlie Fishbeck (NHYC)
2nd Davis Winsor (NHYC)
3rd   Jonathon Chance (NHYC)
This weekend Balboa Yacht Club will host, with the Glass Slipper Guild, the Charitable CHOC Regatta. Saturday will include sailboats 20-feet and under for a $25 entry fee. Sunday will include boats 21-feet and up with a $50 entry fee. All entries are encouraged to obtain "Sail-a-Thon" sponsorship fees which will handsomely increase the funds for the youngster's hospital. This is a very worthy cause. At the end of each day of racing, trophies will be awarded and trophies for the additional sponsorships.
Newport Harbor has several regattas throughout the year to raise funds for worthy causes and the participants are to be commended for their charitable work.
Another example of the continuation of the summer boating season is the continuation of one of the best fishing seasons ever.
Wahoo, Yellowfin Tuna and Blue Marlin continue to be caught among the more seasonal common species of Pacific Marlin, Dorado and Yellowtail.
It is extremely unusual to hook Wahoo and the like this far north as those species are considered warm water species, which we still have but temps have started to drop.
Sea Ya,
Skipper Steve